The renowned architecture firm will create the 'World Memorial to the Pandemic' in Uruguay to honour those affected by COVID-19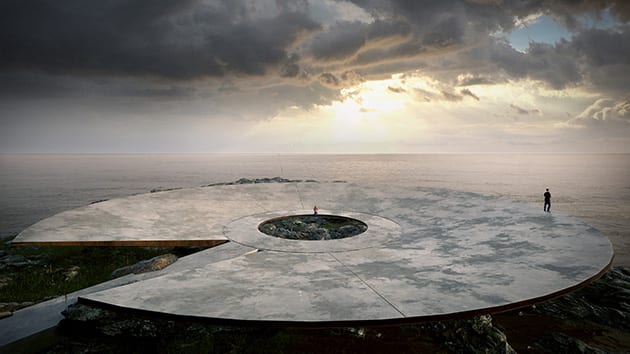 Words by Hugh Metcalf
Uruguayan architecture firm Gómez Platero has designed the world's first memorial for the victims of the COVID-19 outbreak.
The vast, 40m-wide circular structure will provide not only a safe space for mourning, but also reflection and introspection. The concept has been designed to sit on an urban waterfront location, that looks out over an untouched natural environment.
The design can only be accessed by a long pedestrian walkway, drawing visitors away from the sights and sounds of the urban landscape, creating a bridge to the natural world. Suspended over the water, at the centre of the platform there is an open void, which looks down onto the water below.
Made from Corten steel and concrete, the memorial will be able to welcome 300 visitors at a time, while social distancing.
'It is, above all, a collective and historical reality, made of small fragments which survive over time and become culture. It is a way to show who we are on this planet,' says director and lead architect Martín Gómez Platero.
'Monuments mark our shared cultural and emotional milestones. By creating a memorial capable of activating senses and memories in this way, we can remind our visitors, as the pandemic has, that we as human beings are subordinate to nature and not the other way around.'
Gómez Platero is currently in discussion with the Uruguayan government over a potential site for the memorial, one which will bring the most benefit to the local community and least affect the natural environment.
At the time of writing, over 826,000 deaths around the world have been attributed to the pandemic. Despite South America becoming a new epicentre for the outbreak later in the cycle of the year, Uruguay has quietly triumphed against the coronavirus according to some commentators, with just over 1,500 cases and 43 deaths recorded – far lower than the figures of its neighbouring countries.
Social distancing and community tracing was quickly enacted in March by President Luis Alberto Lacalle Pou; however, Uruguay is yet to have declared a nationwide lockdown.
Rendering and video courtesy of Gómez Platero
---