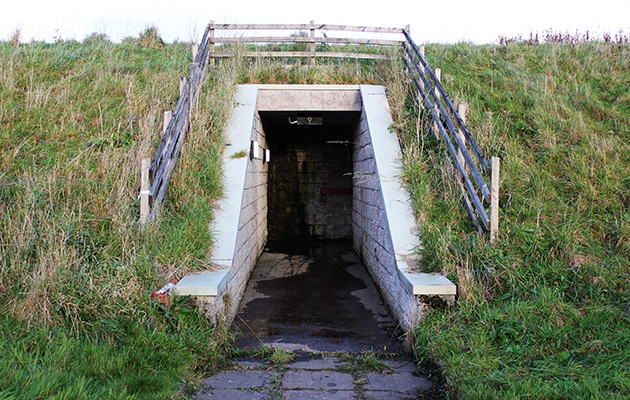 After decades of neglect, UK nuclear bunkers may just have an alternative future ahead as high-tech digital age facilities, writes
Sean Kinnear

.

North Korea have in recent years been doing their best in the ballistic missile and nuclear test game; increasingly determined to ignore international relations and develop a nuke capable of reaching Washington DC. This recent flare up is the culmination of years of slowly escalating tensions and brings the idea of nuclear war back to morning news headlines. However, this apocalyptic threat is not new. To trace its origins one must browse our history of the last 26,645 days.

During the Cold War, the East and West were at political loggerheads; competing in a multitude of disciplines. This quickly led to the unprecedented arms race to build their respective nuclear weapon arsenals. The rapid evolution of the atomic bomb from 1945 to the early 1990s subsequently prompted the need to address protection against nuclear threats in an architectural sense.

Across the United Kingdom, from London to The Shetland Islands, a secure network of top-secret facilities was commissioned for Britain's defence in case nuclear war erupted. These hardened bunkers, surface level, semi-sunken, or subterranean shelters were innovatively designed and constructed to theoretically withstand a nuclear strike (so long as it wasn't a direct hit) and the ensuing fallout.
These super structures exude a sense of solid mass and utilitarian form; ranging from the initial ROTOR 'R' bunkers constructed during the operation to upgrade Britain's air defence system, to advanced RSG's (Regional Seats of Government). Some underground bunkers hosted impressive wall construction up to 3m thick, reinforced in-situ concrete and built 65ft below surface level. Gravel bed foundations to withstand ground shockwaves, and electromagnetic pulse (EMP) protection installed in later examples, alludes to their technological and engineering prowess.
Since the official end of Cold War tensions, most of these once classified sites have been decommissioned and lay stagnant with unknown futures. Structures conceived on a brief to house the nation's core operating government personnel in the event of a nuclear attack, create a very niche typology. Remote locations and subterranean construction would certainly insinuate a single purpose existence. However, there is a growing trend appearing with these bunkers left within our landscapes. Once intended for the basic instinct of shelter and survival, these bunkers are now becoming popular real-estate for adaptive re-use as modern data storage facilities.
Real-estate agents tasked with selling these structures have become experts in this unique property and actively market and promote this regeneration. Particulars for Ballymena Regional Headquarters in Northern Ireland, currently on sale for £575,000 state "the property could lend itself to a wide variety of uses, for example a secure data / document storage facility".
Data security firms 'Centrinet' and 'The Bunker' have been converting ex-Cold War bunkers into data centres since 2003. A decommissioned ROTOR 'R3' bunker in Kent and the Command Centre & Hardened missile stores in Newbury are branded as "the most secure data centres in the UK" according to The Bunker.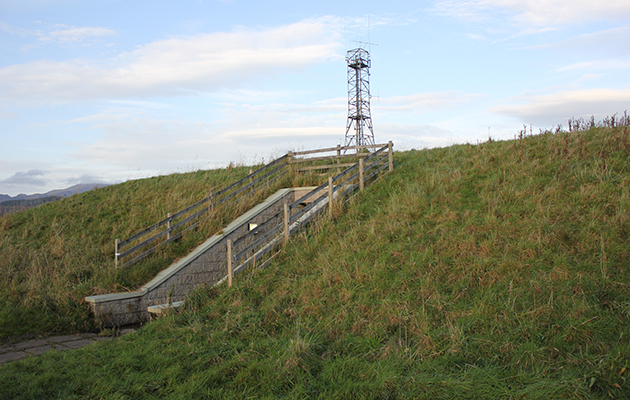 Outside the remote village of Comrie in Perthshire, Brandon Butterworth of Bogons LTD now occupies the bunker at Cultybraggan. With its sophisticated intruder alarm and strategic CCTV system, one could argue this facility is more secure now than during its years as an operational bunker at the tail end of the Cold War. During a guided tour showcasing the project's impressive progress Brandon's enthusiasm for the history of this bunker typology is palpable. Using the existing layout of the decommissioned RSG, the strategy is to populate the cellular spaces that once hosted dormitories, offices and mess halls with data server racks. With minimal intervention of the original structure the rooms are slowly being transformed into secure, microclimates; complete with sophisticated temperature control and fire suppression systems. Peering into one of these chambers it is difficult to separate the newly installed equipment that provides internet service, from the original Cold War bunker.
There is a certain irony that these monolithic structures, conceived in a time of heightened nuclear anxieties to protect government officials, are now being used as data centres. The early beginnings of the internet being partly attributed to Cold War research provokes the notion that these bunkers have travelled full circle. Although the Cold War we recognise in history books concluded in the early 1990's, these bunker structures may just have an alternative purpose with a long future ahead in the forever developing Digital Age.
---