The Grand Palais project in Cahors has turned an underused space into a pedestrian-friendly cultural complex
Words by Francesca Perry
In the historic town of Cahors in southern France, nestled amid 13th-century buildings, a large car park has been transformed into a new cinema and accessible public space designed by Paris-based Antonio Virga Architecte.
The site at Place Bessières had once formed part of an army barracks, but after a number of the buildings burned down in 1943, the newly vacant space was subsequently made into a parking lot. Now, however, Virga's project hopes to make this an active part of the town, which welcomes pedestrians instead of cars.
The 3,653 sq m Le Grand Palais cinema has become the landmark of the redevelopment. The building is divided into two distinct volumes: one is clad in pale brick and the other in golden-lacquered aluminium, perforated in a lattice pattern. The golden theme is continued across details on the brick exterior – on doorways and mounted lettering – as well as inside, where it is used on metal bannisters.
The brick exterior is animated by sections of hit-and-miss – or mashrabiya-like – brickwork. At night, this perforated facade allows the interior lighting to shine through in intricate patterns. These glowing sections on the exterior are them complemented by the backlit lettering on the building – in a typography which is continued across the project.
The interior of the cinema, which accommodates seven screens accessed off a double-height entrance hall, is dominated by a minimal palette of polished concrete floor and white walls that has been enlivened by bold pops of royal blue on doors and entrances.
The project lies adjacent to surviving buildings of the historic army barracks and is surrounded by rows of existing trees which were preserved. The open, accessible public square adjacent to the cinema was created by Virga in collaboration with Paris-based landscape architect Grue.
This 8,500 sq m space is paved in a herringbone pattern of brick and hosts a circular, verdant enclosure for sitting and relaxing called 'The Oasis'. This is complemented by additional stone seating on the edges of the square as well as ramps connecting the complex to the surrounding streets.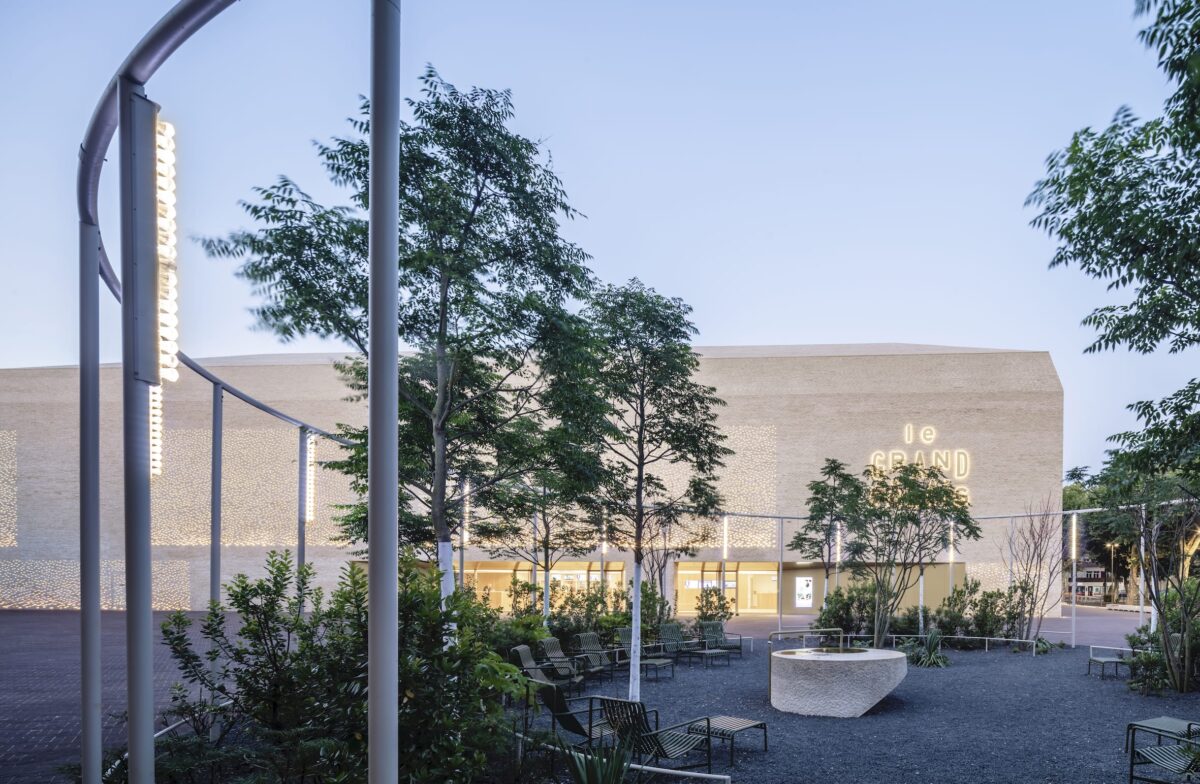 All photographs by Luc Boegly
---