Resembling a mix of beach huts and containers, the East Quay Arts Centre is designed by Invisible Studio and Ellis Williams for a local social enterprise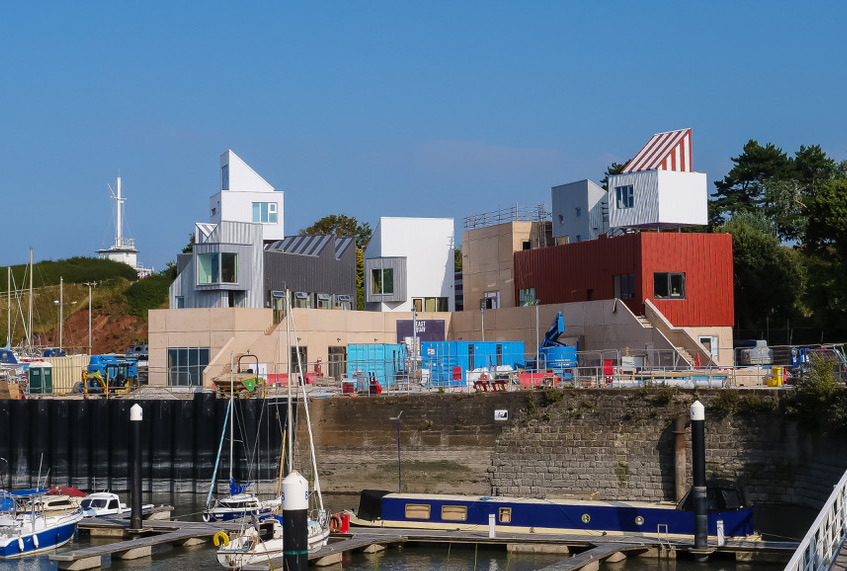 Words by Harriet Thorpe
A new creative hub has opened in the British seaside town of Watchet in Somerset, after an eight-year process of design and development undertaken in close consultation with the community. The colourful, ad-hoc and industrially inspired architecture of East Quay Arts Centre – designed by Invisible Studio and Ellis Williams – is a reflection of its many functions carefully tailored to the needs of its community, as well as of its exposed coastal location.
East Quay was initiated, project managed and is now operated by Onion Collective, a not-for-profit social enterprise led by four local women, whose ambition overrode a former plan for a block of luxury flats on the harbour-side site. Their plan for an economically regenerative creative hub looks both inwards and outwards; it combines much-needed services for the town, while attracting tourists and creative talent from beyond.
Studios provide workspace for local creatives; the restaurant and gallery bring new types of jobs and recreation; education spaces for children and young people inspire alternative ways of learning; a new paper mill provides apprenticeships; and quirky holiday pods seek to stimulate tourism all year round.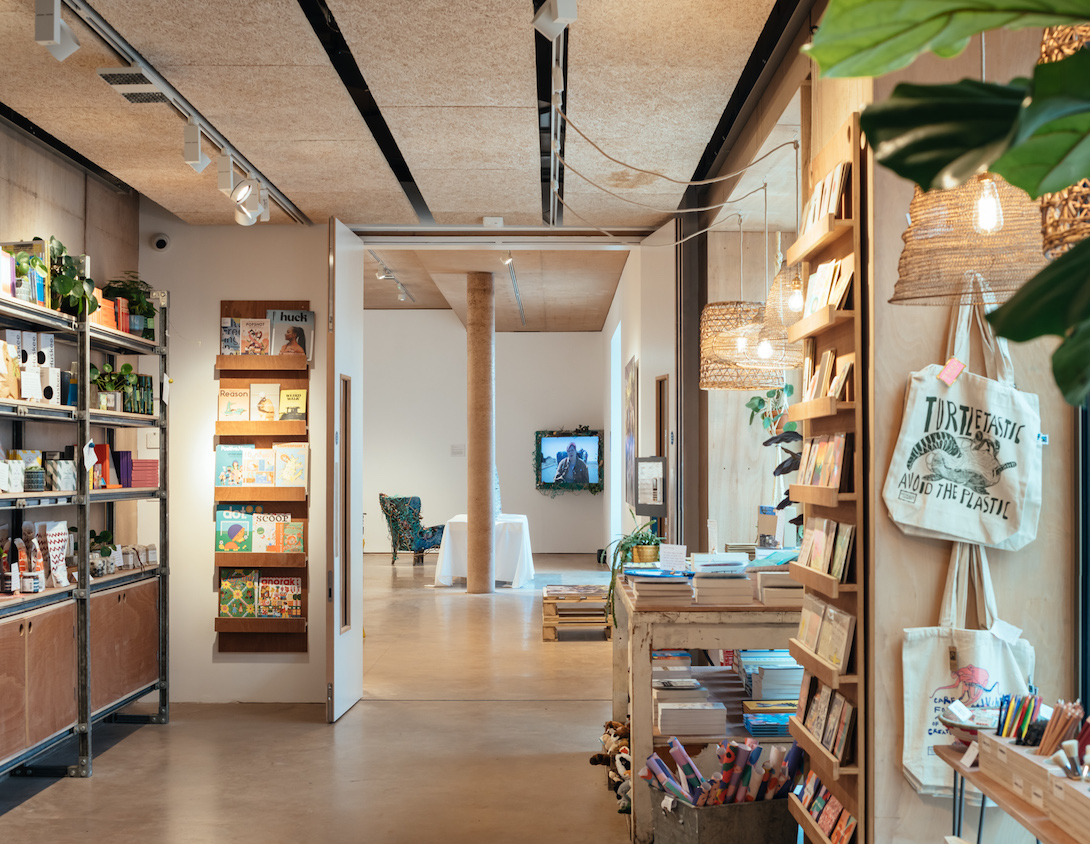 In response, the architecture is a robust collection of forms that enables the building's functions to operate flexibly and independently, while conjuring the curiosity of a folly waiting to be climbed and explored. The horseshoe-shaped concrete plinth cradles a courtyard and the entrances to the restaurant and gallery space. Yet visitors can also climb up the plinth via two external staircases that lead to a 'public street' above.
Atop the plinth perches a series of uniquely shaped buildings encompassing studios, education spaces, and the accommodation pods reached by further staircases. The open-air walkway swells here and there into natural viewing points, and leads around to a little bridge that links up to the coastal path.
'This is by far the biggest building in Watchet, but our challenge was designing a big building that has a domestic scale,' says Piers Taylor, architect and director of Invisible Studio. 'None of us wanted a unified building, we wanted a building that appeared that it could have evolved over time. Consequently, choices were made quite quickly on an ad hoc basis. I like that way of decision-making. Unifying it would have been the wrong thing.'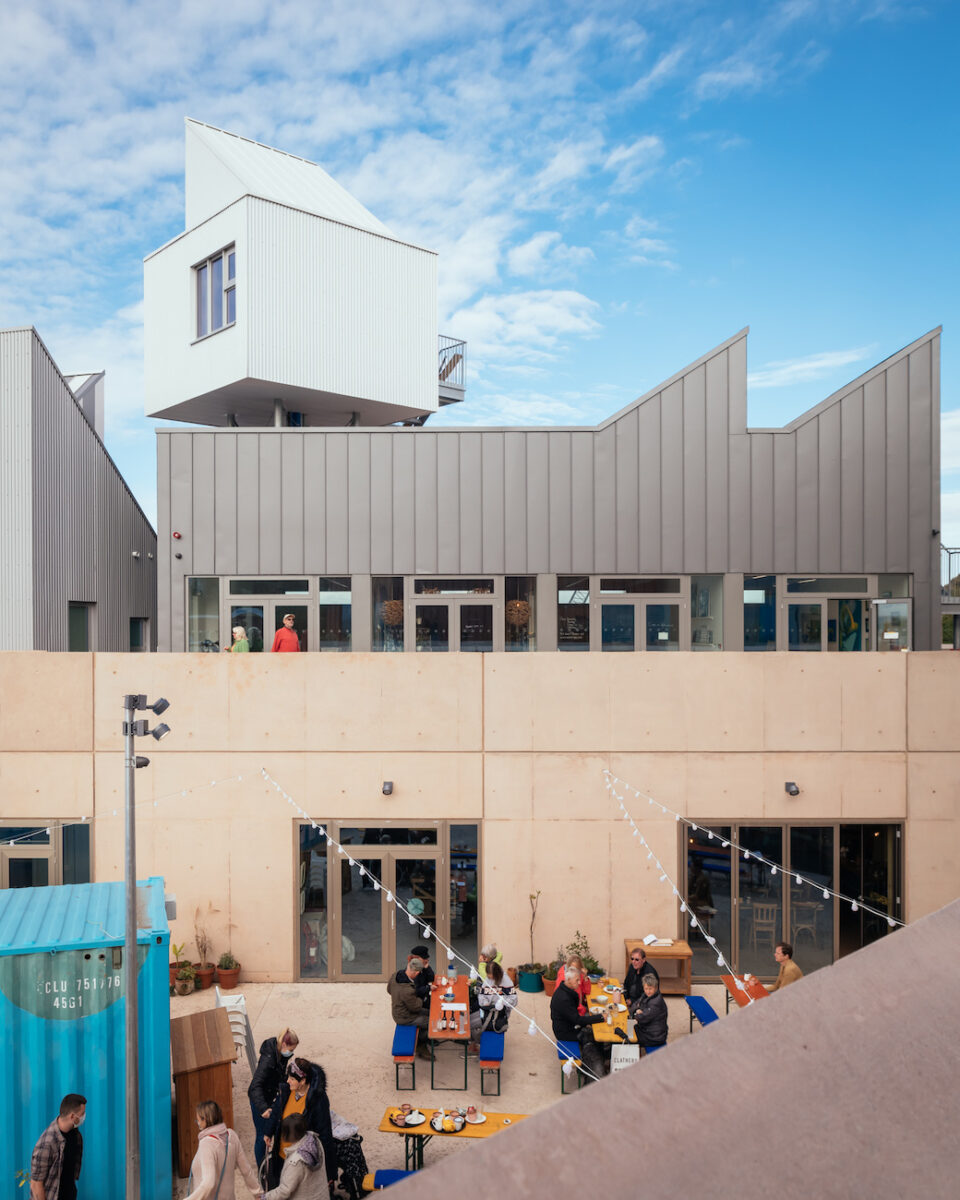 The cladding of volumes on the upper deck recalls shipping containers, but Taylor says this aesthetic link is 'kind of incidental'. The story of East Quay had started with two containers, which Onion Collective had established as cheap artists' studios on the site while they measured the demand for their creative infrastructure.
Taylor never set out to reference these containers in the original design, yet as the project developed, industrial materials were selected, inspired by the harbour location, and bright colour choices were shaped by local red sandstone and striped beach huts. Today, the two original containers have comfortably returned home to the courtyard, making the incidental references appear intentional.
'We think like to think that at Onion, nothing ever goes to plan, almost on purpose,' says Jess Prendergrast, one of the collective's directors. 'If things go to plan, you've probably stopped listening. The plan should always be adapting, changing, and reacting. Otherwise, you're just being dogmatic. So none of it is the plan, and it's kind of wonderful.'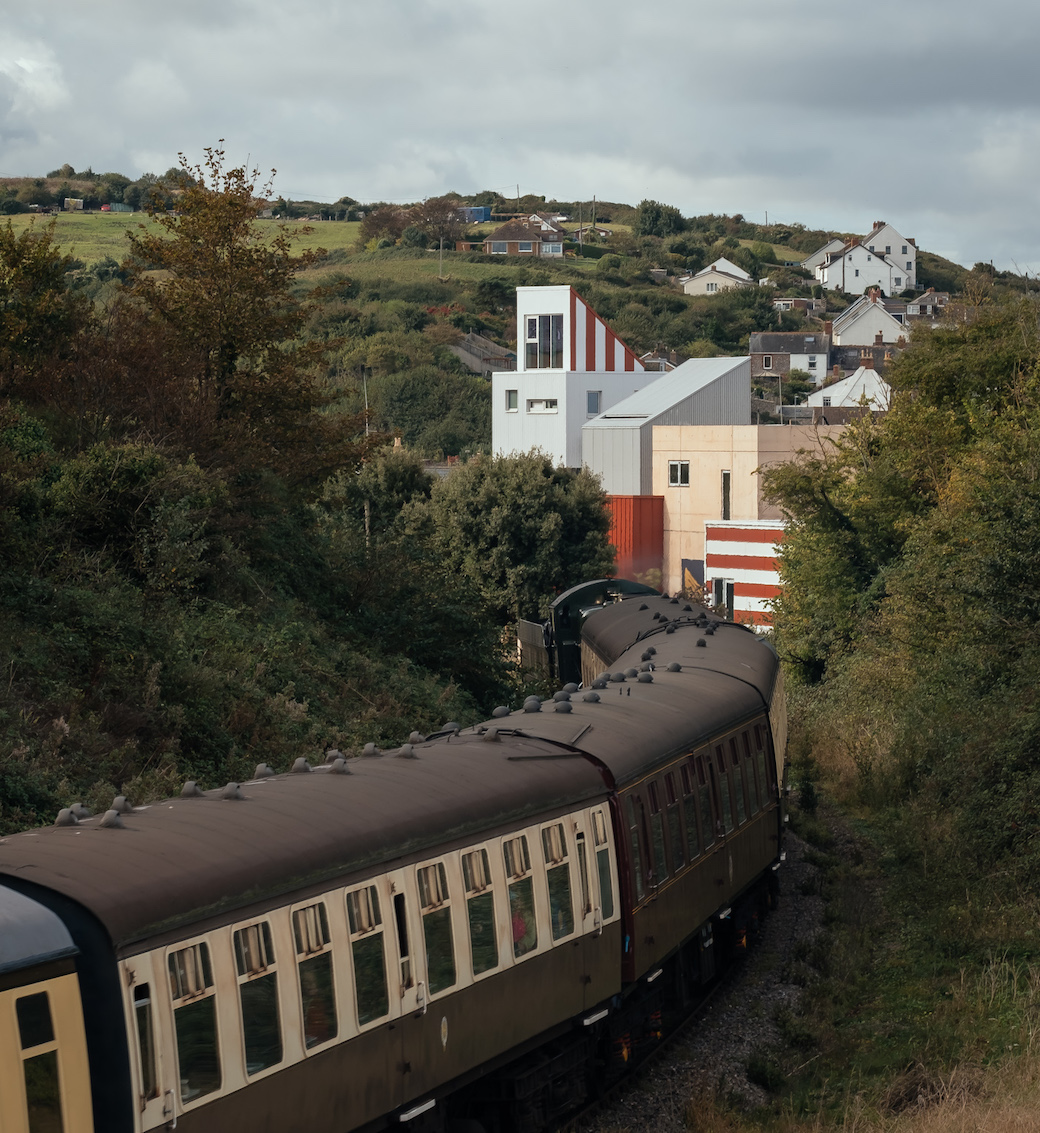 She continues: 'Everyone thinks "community" means "amateur". If you say you're doing a community project, people think you're doing a mural or at best a cafe. There is an assumption that there is no ambition in community, when in fact there are extraordinary and inventive ideas.'
Triumphantly proving those misconceptions wrong, Onion is the largest employer in Watchet with 23 employees. The collective is currently working on another project in the town, Biomill Watchet, where – on the site of the paper mill that closed in 2015 – the team is establishing a plan to manufacture materials contributing to a circular economy.
Top photograph by Piers Taylor. All other photography by Jim Stephenson
---