A new exhibition at the Danish Architecture Center explores the work of SAGA Space Architects and their origami-inspired LUNARK project
Words by Francesca Perry
In 2018, Copenhagen-based SAGA Space Architects began to design and develop a prototype lunar habitat, called LUNARK. Two years later, co-founders Sebastian Aristotelis and Karl-Johan Sørensen travelled to a remote landscape in northern Greenland with LUNARK to test it out, by living there for 60 days. Now, the micro, spaceship-like structure has been returned to Denmark and installed in a new exhibition at the Danish Architecture Center (DAC), titled A Space Saga. 
As well as practical design considerations of shelter and stability in an extreme environment, LUNARK has a special origami-insired design, so that it can be compact during transport, but then unfold at its destination and increase its volume by 750%. Nevertheless, even when expanded the habitat interior measures only 4.5 sq m, meaning it had to be very carefully organised to provide places to sleep, work, exercise, eat and store materials. A high-tech space suit was designed for trips outside the habitat, so that the 'astronauts' could stretch their legs and get some alone time.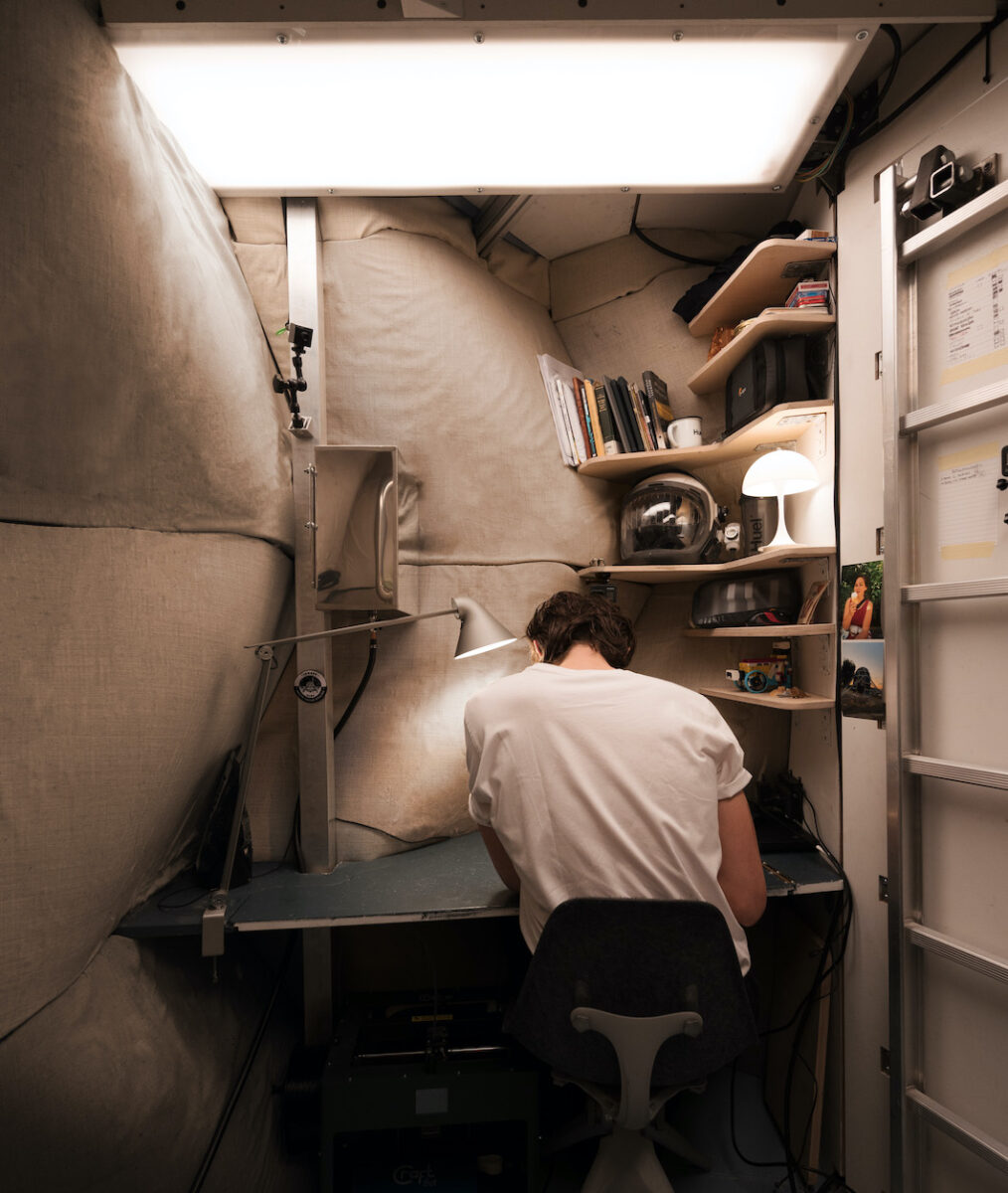 The project also investigated the psychological effects associated with isolation. SAGA developed circadian LED light panels in LUNARK to simulate the passing of time using light and colours. Aristotelis and Sørensen reported that these light panels became the element with the biggest positive effect on their wellbeing during the Greenland expedition.
Life on the moon may still sound far-fetched, even if NASA is planning to send astronauts to the moon in 2025 – the first manned moon landing since 1972. SAGA, howver, is led by the belief that extraterrestrial settlement is a future reality, and is dedicated to designing experimental habitats for that future. Even if it is possible, however, whether humans would be happy in a 4.5 sq m habitat is certainly another question altogether. 
A Space Saga is on show at the Danish Architecture Center until 4 September 2022
Photography by SAGA Space Architects and Claus Troelsgaard
---