Eschewing blank space for an intricate wall-hanging system, TEMP's design looks to evolve the modern art gallery

Words by Hugh Metcalf
Photos by Jin Weiqi
For its latest project, the X Museum in Beijing, architecture and design studio TEMP has sought to create an epicentre for contemporary art and culture for a younger generation in the Chinese capital.
The design of this new gallery space started with a simple question – how should a painting be hung on a wall? In this question, TEMP has dissociated X Museum from the concrete and white box museums that make up the majority of the art world – making an audacious decision to simply try something different in the way this space displays art.

The studio's solution was to clad the interiors with custom made terracotta bricks which incorporated horizontal slots that allow for metal clips to hang. Its a versatile wall-hanging system that allows for paintings, installations, projectors and even, if demand requires, white walls to be installed on it.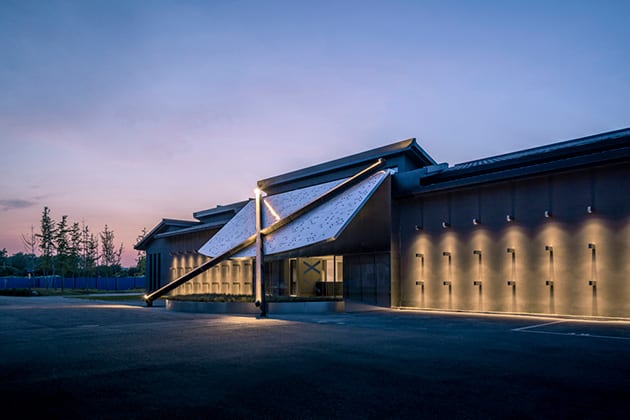 Externally, a large X, made from an intersection of two H beams which support not only each other but the curved roof, becomes the main motif of the museum. The perforated roof filters patterns of light into the entrance space.
On the façade of the building, 54 light boxes have been installed on the rendered walls. As well as an aesthetic addition, creating interesting shadows throughout the day and embedded with downlighters for post-dusk illumination, these also form another installation system – one that allows for large posters and displays to be hung.
X Museum is a place with a strong thread of visual texture running throughout it. While the traditional white box gallery offers breathing space for an artwork, TEMP's design sets up a new dynamic between art and its surroundings for visitors to explore.
Project: X Museum
Design team: Howard Jiho Kim, Vince Qianyi Xie, Zhenkun Cai, Xiaojing Guo
---