As part of a competition brief, architects have created designs for an educational centre in balance with the local eco-system
Image courtesy of Dave Edwards Design
Hosted by architectural competition platform Bee Breeders, the competition brief called for innovative concepts for a new visitor centre located in the Al Wathba Reserve, Abu Dhabi, including an information centre, café, terrace, souvenir shop, display area for specimens, training centre, toilets, and a car park.
The jury sought designs with sustainability factored in, as well as site designs that balanced the need for an architectural landmark with the fragility of the eco-system. Al Wathba is a five square kilometre reserve home to 260 species of birds, including 4000 pink flamingos, which flock to the reserve every autumn to mate.
This brief represented the second challenge set out for the site, after architects previously proposed an observation tower design in 2019.
To See And Not To Be Seen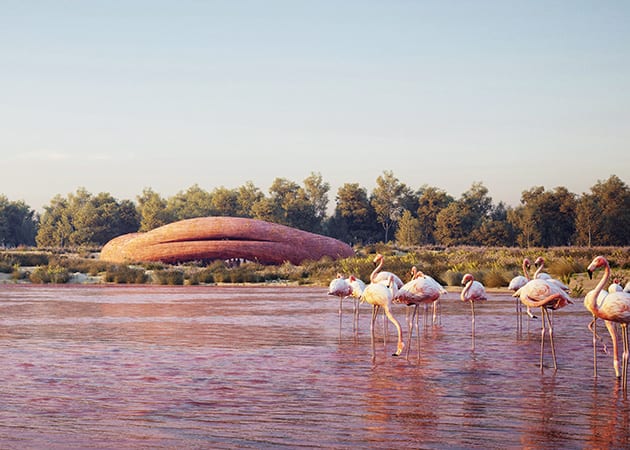 Image courtesy of Bee Breeders
The winner of the competition is this design from Petr Janda, Anna Podroužková and Kateřina Tšponová. Taking the brief in their stride, the resulting design is boldly sinuous and otherworldly, yet also disappears into the landscape. The judges noted it was complex, and may be prohibitively expensive to build in its current form, however.
Incubator
Image courtesy of Bee Breeders
Offering a familiar motif to this bird sanctuary centre, US architects Wenqi Huang and Yi Yan's design is reminiscent of a broken eggshell, with a single opening oculus. Stone cladding panels on the façade are shattered to hammer home this visual of an egg dropped from the heavens. This entry placed in second place.
The Dune
Image courtesy of Bee Breeders
The Dune, by Mexican design team Laurent Herbiet and Giordana Rojas, is perhaps the most expected of these structures – a series of dispersed pavilions unified under a single roof canopy with a central void. The judges noted that it felt 'appropriate for the site', which made the design a sensible third place runner-up
Feathered Fabric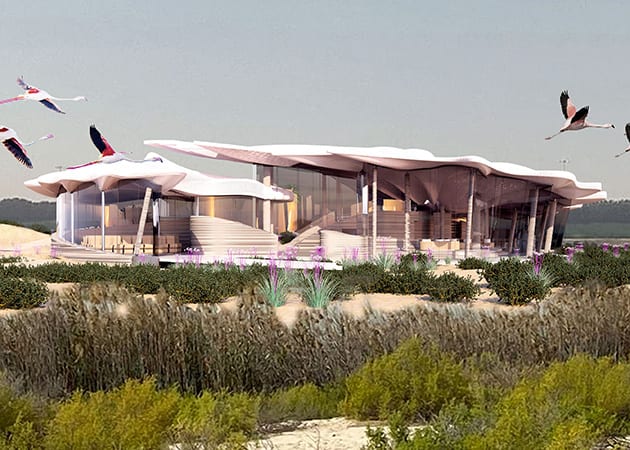 Image courtesy of Dave Edwards Design
Conceptualised by British design team Dave Edwards Design, this visitors centre design takes its visual cues from both feathers and rippling fabric – creating a roof that appears soft and fluid in form from above and from within. This billowing soffit sits atop an internal structure of terraces, designed to creating viewing platforms for visitors, offering multiple perspectives out over the reserve's landscape.
More entries can be seen via the Bee Breeders Flamingo Visitor Centre website. 
---