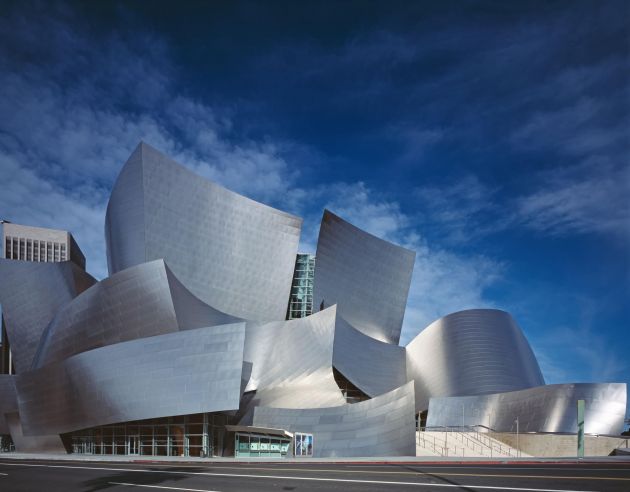 Frank Gehry's Walt Disney Concert Hall
Frank Gehry is a Canadian-American architect who is known for his sailing-inspired postmodern designs, including the Guggenheim Bilbao in Spain and the Walt Disney Concert Hall in Los Angeles
Frank Gehry's bold designs have earned him a place amongst the most prestigious architects of the last 100 years. Now at 90 years old, his career has spanned more than half a century. Many of his most famous buildings have become hugely popular tourist destinations, which attract visitors simply to experience the buildings themselves. His consistent use of unusual materials and expressive forms give his work an instantly recognisable look.
Gehry was born in Toronto in 1929 to Jewish immigrant parents. His birthname was Frank Owen Goldberg. His grandfather owned a hardware store, and from a young age Gehry would play with the scraps and objects in his grandfather's store and make miniature cities with his grandmother. These early experiences influenced his later eclectic use of materials.
Gehry's family relocated to Los Angeles in 1949, and he did a number of different jobs including delivery-truck driving and serving in the US Army before embarking on his path to becoming an architect.
After a short course ignited an interest in architecture, Gehry won a scholarship to study at Southern California Architecture school. He changed his name from Goldberg to Gehry while at university in an attempt to avoid antisemitism.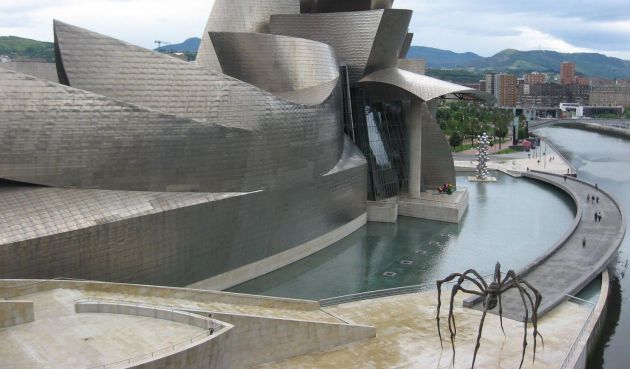 Guggenheim Museum Bilbao. Photo by Sam Valadi via Flickr
Gehry later went to Harvard Graduate School of Design to study city planning, but dropped out before the end of his course. He found that the curriculum and its professors didn't reflect his socialist views of architecture and how architecture could be used as a force for good; although not overtly political, Gehry has always expressed a more leftist attitude to the world.
After Gehry left Harvard he launched his own furniture manufacturing company Easy Edges, creating pieces with cardboard. The furniture he made was featured in several magazines and sold well.
In 1978, with the money he earned from his furniture, he renovated his own residence in Santa Monica and caught the attention of the architecture world. He wrapped the bungalow with corrugated steel, plywood and a chain-link fence and added an angled skylight to the roof. The once-traditional building now seemed as if it was split open. Gehry's Santa Monica home was designed in the Deconstructivist style and breaks the established modernist belief that form should follow function. This style of architecture was becoming particularly popular in California.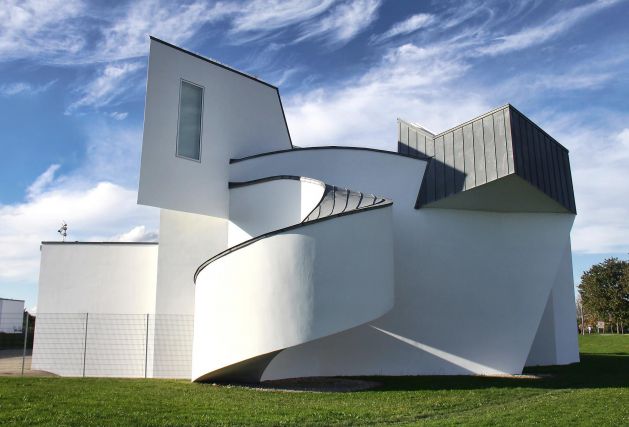 Vitra Design Museum by Frank Gehry. Photo by O Palsson via Flickr
In the late 1950s and early 1960s Gehry worked with Los Angeles-based firm Victor Gruen Associates as well as Pereira and Luckman. He eventually started his own studio in 1962, naming it Gehry Associates.
In the 1980s he worked on many other private homes in California, but as his career gathered steam he began working on larger-scale projects including the Walt Disney Concert Hall in his hometown of Los Angeles and the Guggenheim Museum in Bilbao Spain. All of these buildings embody his signature sculptural style. In 1992 Gehry also designed a vast bronze fish for the city of Barcelona's Oylmpic village.
The Guggenheim's Spanish museum branch in Bilbao is as much a destination for the building as it is for the art that it contains. A mammoth structure built with stone, glass and titanium, the building is designed to follow the movements of the Nervion River. Gehry used advanced computer technology to help bring his ideas to life. It opened in 1997 to huge critical acclaim.
The Guggenheim Museum in Bilbao was so popular that it caused something now known as the "Bilbao effect", where in the first 12 months that it was open it attracted so many visitors to the area that the Basque economy benefited by $160 million.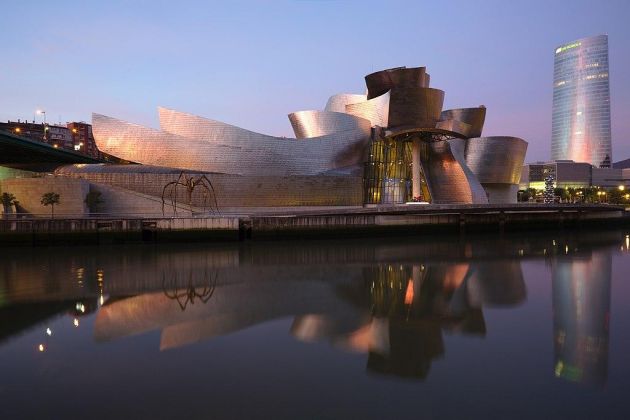 Guggenheim Bilbao by Frank Gehry. Image by Wikicommons user PA
Similarly fluid in shape, the Walt Disney Concert Hall is the home of the Los Angeles Philarmonic. The structure, like many of Gehry's most recognisable buildings, was inspired by his life-long love of sailing. The many expansive stainless steel facades billow out into the street like sails. In the interior these shapes are echoed by wooden panels inside the auditorium.
Frank Gehry's first skyscraper Beekman Tower, also known as 8 Spruce Street, in New York launched in 2011. It is a 76-storey apartment building with a pleated facade made of glass and stainless steel.
Read more: Frank Gehry's New York Theatre
His most famous works, however, tend to house cultural institutions. In 1989, he was commisioned by the Swiss furniture brand Vitra to design the Vitra Design Museum in Weil am Rhein, Germany. The building features sculpted geometric forms with white plastered surfaces and a roof made of zinc, and sits as part of an ensemble with structures by Zaha Hadid, Tadeo Ando, Álvaro Siza and Herzog and de Meuron.
Gehry has taught at the architecture schools of Columbia University, Yale and the University of Southern California. He is also a senior fellow of the Design Futures Council.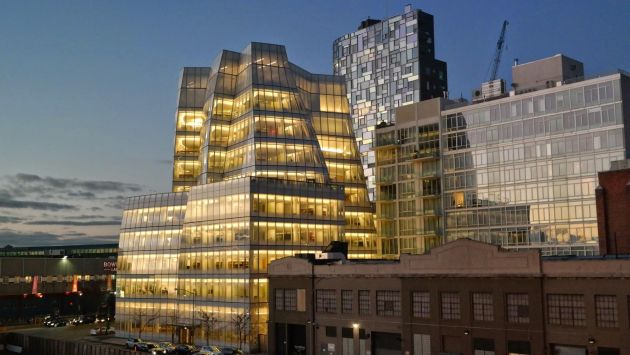 IAC Building by Frank Gehry. Photo by Joe Senft via Flickr
In 1989 he received the illustrious Pritzker Prize and was also awarded the Gold Medal from the American Institute of Arts in 1999 for his impressive body of work in the United States. Gehry also received the Presidential Medal of Freedom from Barack Obama in 2016. As well as his notable buildings, Gehry has worked on furniture, clothing and jewellery for Tiffany & Co.
In 2006 Sydney Pollack made a documentary film, Sketches of Frank Gehry, that focused on the architect's life and career. He has been the subject of several exhibitions, including Frank at the Los Angeles County Museum of Art in 2015, and has also had the honour of appearing as himself on The Simpsons.
Although he is one of the most prominent architects of the modern age, Gehry has always rejected the term 'starchitect. And although often praised and garlanded, he has been crtiiquqed throughout his career for the immense resources consumed in the execution of his designs, and for not always taking the context and surroundings into consideration.
His work nonetheless made architecture more approachable and interesting to the layman – and has certainly never failed to ignite conversation.
Read more: Interview with Frank Gehry: Frank as ever
---