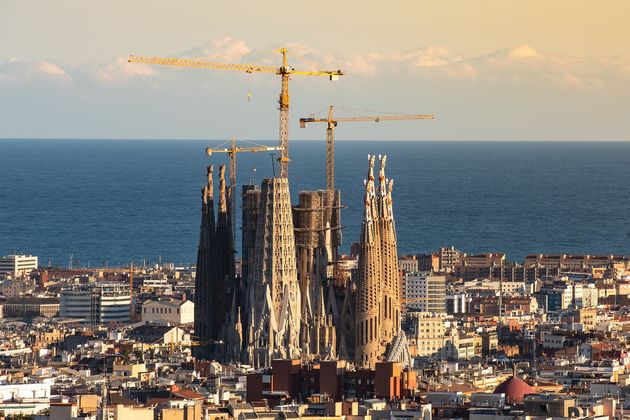 Everyone knows that Barcelona houses the many peculiar works of Antoni Gaudi, but here are a few other buildings that you should know about
Barcelona is a patchwork city. In its 2000-year history it has had many influences, and almost all of them are still visible in the urban fabric. From Roman structures, through the city's Gothic architectural heyday, Catalan art nouveau, to the contemporary architects leaving their mark on the city's skyline today – it is the distinctive and varied style that makes Barcelona worth an architectural pilgrimage.
The city is best known for Antoni Gaudi's unfinished basillica, the Sagrada Familia, and for his many other eccentric works. Juxtaposed to these intricate and complex creations, Barcelona is also known for Mies van der Rohe's modernist masterpiece: his Barcelona Pavilion. A paramount of simplicity in form, open space and extravagant materials.
Other than these two architectural juggernauts, little else was known. However, around the time of the 1992 Olympic Games that there was an international revival in interest in the Barcelona's architecture and a surge of new works.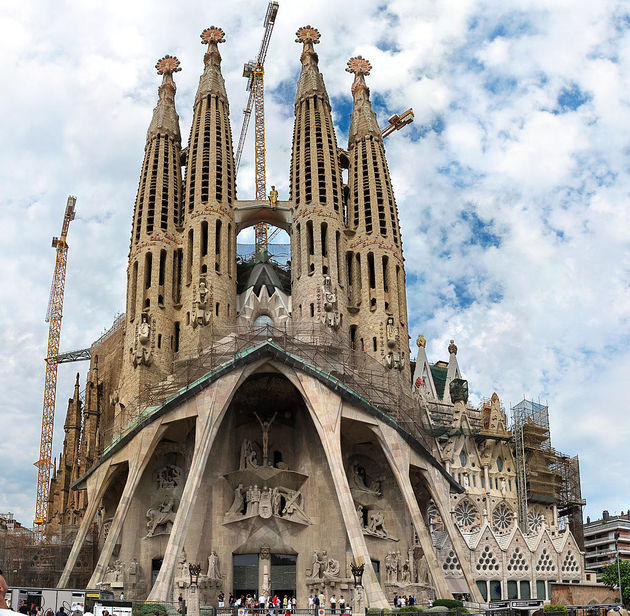 Sagrada Familia, Antoni Gaudi
This extraordinary unfinished church is a testament to Gaudi's imagination and religious devotion and is arguably Spain's most iconic building. The devout Gaudi famously declared 'my client is in no rush', and construction has been going on for the last 138 years, predicted to only be completed in 2026 to coincide with the centenary of Gaudi's death.
Controversial from the very beginning, the church is loved and hated in almost equal measure. While Bauhaus founders Walter Gropius and Le Corbusier praised the intricacies and technical excellence of Gaudi's pinnacle project, it has had many critics. George Orwell called the temple 'one of the most hideous buildings in the world.' He hoped that the Spanish Civil War would damage it beyond repair.
The design is comprised of multiple towers and facades that are crammed with ornate sculptures and mosaics. 18 spires rise out of the cathedral, each symbolising one of the Twelve Apostles, Virgin Mary, Four Evangelists and finally Jesus Christ. Its three grand facades represent the Nativity, Passion and Glory of Christ and feature sculpted scenes of tormented figures in hell as well as scenes from the stories of Jesus.
More than three million people visit the Sagrada Familia each year, with the ticket money going towards the construction costs. When Gaudi died he was nicknamed 'God's architect' by the people of Barcelona. He is laid to rest in the crypt of his greatest work.
Església de Santa Maria del Mar. Photo by Paul M.R. Maeyae
Església de Santa Maria del Mar
This grand, Gothic construction is one of the best examples of the pure Catalan Gothic stye. It is found in the Ribera district of Barcelona. Completed in the 14th Century, it took over 50 years to built – not as long as the Sagrada Familia, but long enough. It features a simple interior, free from any imagery and stark, simple exterior. This is said to give the church its serene atmosphere.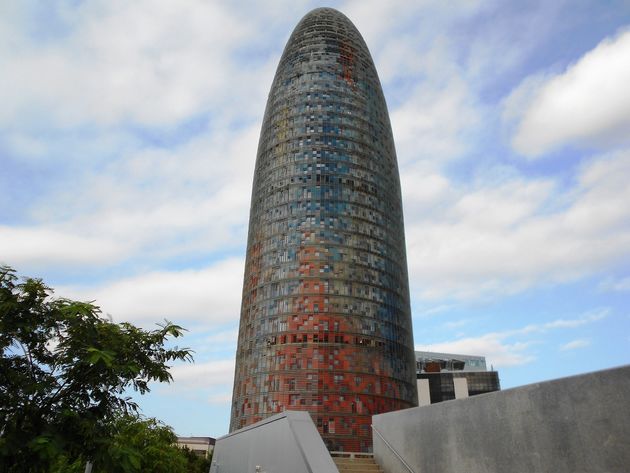 Torre Agbar, Jean Nouvel
At 143 metres tall, the Torre Agbar bares some resemblance to Norman Foster's London Gherkin. It was designed to imitate a shoot of water rising into the air. French Architect Jean Nouvel called it a 'fluid mass that has perforated the ground – a geyser under a permanent calculated pressure.' Nouvel wanted to design a tower that would fit in with the mysteriousness of Gaudi's Barcelona.
The skyscraper has a three-layered skin: one fo corrugated iron, one in glass and one in coloured windows. Its 4,500 windows reflect light to help evoke the feeling of water. It was built to house the headquarters of the Aguas de Barcelona (Agbar), the municipal water company. It also has a pool of water around the base that acts like a moat.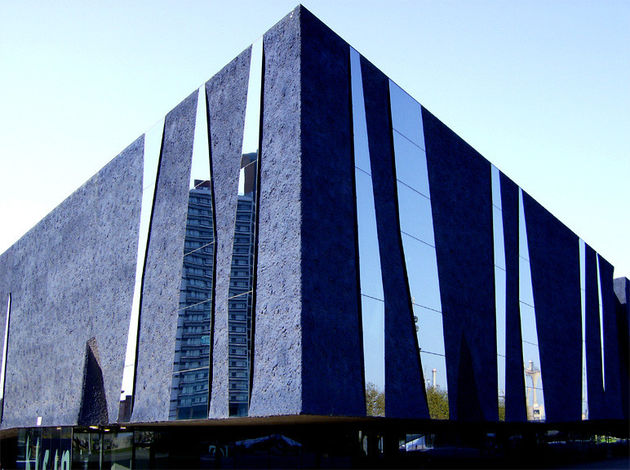 Forum, Herzog & de Meuron
Forum was completed in 2004 as a showcase for architecture. It housed a temporary Expo and has been known since 2012 as the Maseu Blau. It was designed by the minds behind the Tate Modern and the Bird's Nest Stadium in Beijing: highly influential Swiss architects Herzog & de Meuron.
The triangular blue building was designed to look like a sponge saturated with water and is known for its sensitive use of materials. It is lifted off the ground to create an accessible public space below the building and features a facade of solid concrete intermixed with reflective panes.
Museum of Contemporary Art, Richard Meier & Partners
The Museum of Contemporary art is situated in Raval, one of Barcelona's poorer areas. It was built there as part of a process of restructuring the Gothic district of the city into a new arts district, and sits alongside the Casa de la Caritat cultural centre and a new university building.
The museum played a major role in the regeneration of this area and was nicknamed 'the pearl' because of the way it stood out amongst its old neighbours.
The large, white building has many strong references to Modernism. It's southern facade is predominantly glazed, allowing the visitors to have a view out over the new plaza as well as allowing natural light to enter the interior. The plaza links up to pedestrian walkways running through Barcelona's old city.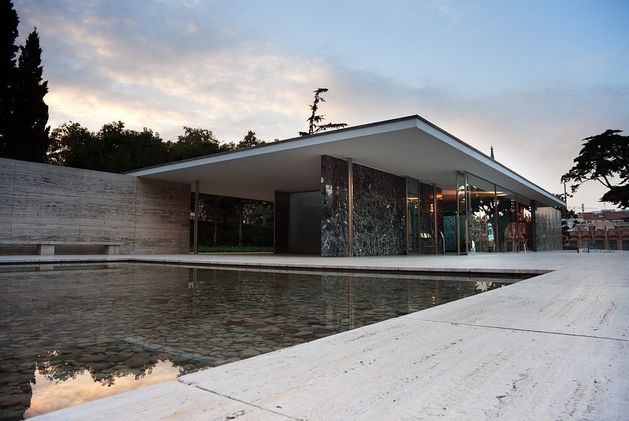 Barcelona Pavilion, Mies van der Rohe
The original Barcelona Pavilion was built by Modernist pioneer Mies van der Rohe in 1929 and was only intended to be a temporary structure. It incorporates many of the characteristics that became synonymous with Modernism: a free and open layout and a thin, flat roof.
The Pavilion was reconstructed in the 1980s by the Mies van der Rohe Foundation, largely from materials sourced in the same quarries as those of the original structure. Many small alterations have been made by leading architects and artists, including Kazuyo Sejima and Ai Weiwei.
Palau de la Música Catalana. Photo by Jiuguang Wang
Palau de la Música Catalana
The impressive concert hall of the Palau de la Musica Catalana is also a great creation of Catalonian art nouveau and is listed on the UNESCO World Heritage sites.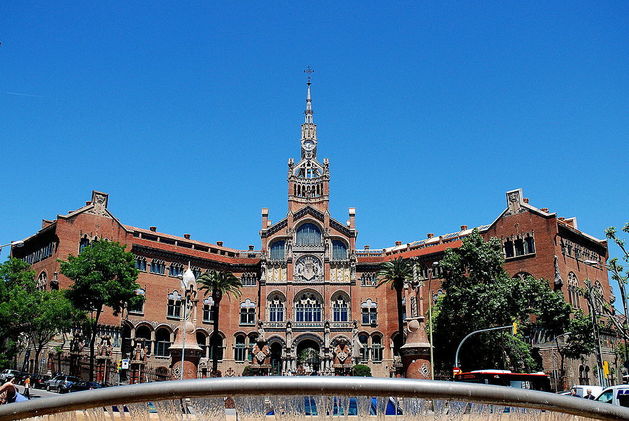 Hospital de la Santa Creu i de Sant Pau. Photo by Paul Hermans
Hospital de la Santa Creu i de Sant Pau
One of the most outstanding Modernist complexes in the country, the Hospital de Sant Pau by Art Nouveau architect Lluís Domènech i Montaner features delicated pavilions, ceramic decorations and landscaped gardens. It was designed to be a 'city within a city', where the environment would add to the healing of the patients. It is one of the city's landmarks. Incidentally, Gaudi died in this hospital after being hit by a tram in 1926.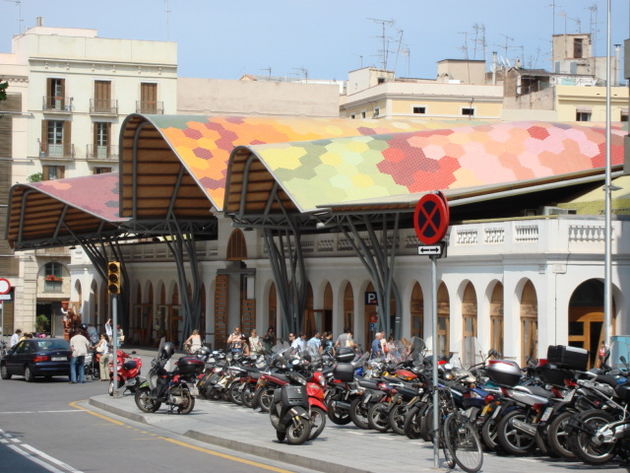 Mercat de Santa Caterina. Photo by Sergio Calleja
Mercat de Santa Caterina
This modern food market features an undulating, colourful roof. The building is close to Barcleona's Cathedral and was highly controversial when it was first built. As with many buildings that split opinion, its divisiveness is likely part of its popularity. Unfortunately its colourful mosaic roof cannot really be seen in its entirety from street level.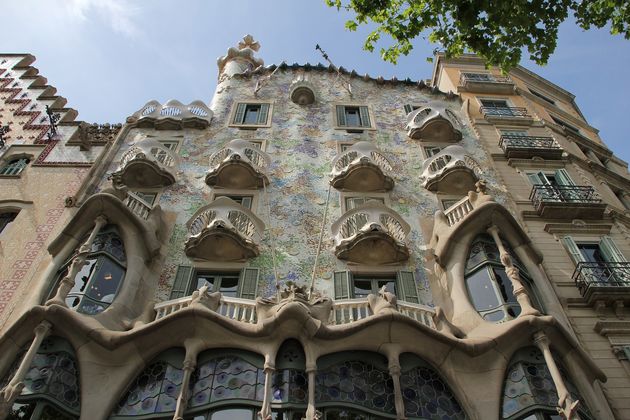 Collected works of Gaudi
The Casa Vicens was Gaudi's first creation. A fresh graduate, he designed the house in the Neo-Mudéjar style in the 1880s and decorated it with floral ceramic motifs. It has been open to the public for over a decade and is a listed UNESCO World Heritage Site. The Palau Guell palace was build in the late nineteenth century in the Raval neighbourhood. It was intended to be a meeting place for Barcelona's bourgeoisie and is also on the UNESCO list.
Casa Batllo was a modest block of flats until it was renovated by Gaudi in 1906. It now looks like some kind of colourful sea creature. The building represents the battle of Sant Jordi against the dragon, and Casa Batllo's roof is designed to evoke the dragon's back with tiles of different colours in a graded scale. The surreal facade features peculiar textures, colours and large sculptural balconies that led the to building's nickname "house of bones".
The Casa Mila (also known as La Pedrera) residence features six floors of sinuous curves. Much like Gaudi;s other work, the design imitates natural forms and culminates in chimneys that are sculpted into the shape of warriors.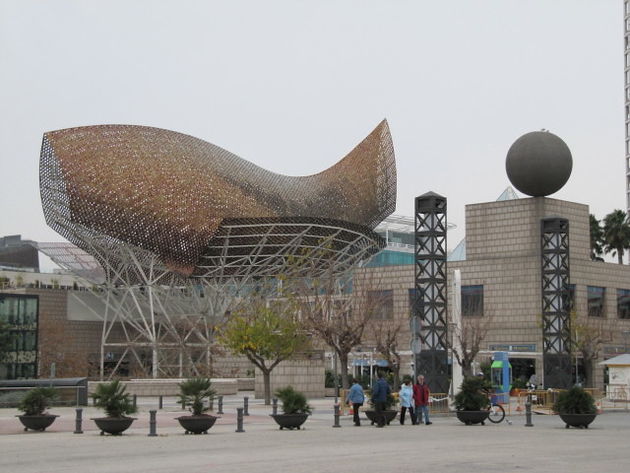 Other buildings worth noting in Barcelona inlcude Casa Amatller, another modernist building and one of the most notable works by architect Josep Puig I Cadafalch. It was built as a private residence for a chocolate manufacturer. There's also Norman Foster's communications tower Torre de Collserola, built in 1991 for the Barcelona Olympics and Frank Gehry's shimmering fish, a giant scupture visible from the city's beach.
---