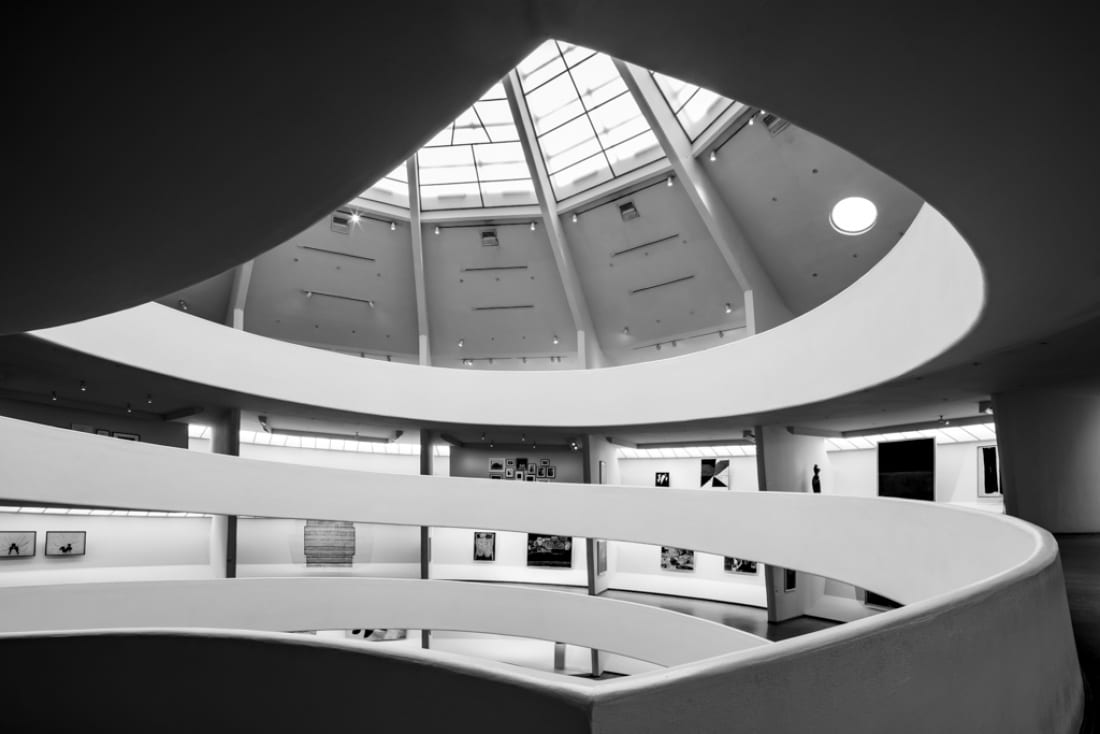 Frank Lloyd Wright worked to create a distinctly American and organic style and designed many iconic buildings, including Fallingwater and the Guggenheim Museum.
Frank Lloyd Wright was an American architect and writer whose distinctive aesthetic led him to become one of the most iconic architects of the early twentieth century. He worked towards defining a distinctive American style, developing an aesthetic that became known as Prairie School. Wright believed that architecture could have a transformative power on society and that buildings should be created with integrity. 
As a young man he worked as the chief assistant to the famous architect Louis Sullivan and then went on to found his own studio. Wright developed a style that was known as Prairie School that aimed to create organic architecture in its designs for private homes and commercial buildings. 
Born in 1867 in Wisconsin, Wright's mother was a teacher and his father a preacher and musician. He moved many times during his early childhood, before settling in Madison, Wisconsin, and spent a lot of time exploring the open spaces of the countryside around him. 
After school, Wright studied civil engineering at the University of Wisconsin, and worked to pay his tuition with the dean of the engineering department, assisting the well-known architect Joseph Silsbee on the construction of Unity Chapel. This work opened his eyes to the world of architecture, and in 1887 he left school to take up a job with Silsbee in Chicago. 
The following year Wright began an apprenticeship with the prominent architect Louis Sullivan, often known as the father of skyscrapers. Sullivan was determined to define a distinctively American style and had a clean, elegant approach differed from the more ornamental European style. Sullivan was a mentor to Wright, who throughout his own architectural career also sought to define Americanness. Wright left Sullivan's offices in 1893. 
In 1889 Wright had married Catherine Tobin, and the home they shared in the Chicago suburb Oak Park is his first architectural triumph. He purchased the plot with a loan he negotiated with Sullivan and built his first house. Wright experimented with geometric shapes and volumes. The property is now known as Frank Lloyd Wright home and studio, was Wright's first headquarters the he founded his own practice in 1893. 
That same year he also designed Winslow House in River Forest. This building was the first example of Wright's own particular style, which later became known as 'organic architecture.' Winslow House was simple and elegant, featuring a large, open-plan interior space. 
Wright designed a series of houses and public buildings that exemplified the Prairie School of architecture, which Wright defined as indigenous American architecture. The homes were often single storeys with pitched roofs, built using wood and locally available materials. They rarely had attics or basements and featured long rows of horizontal windows. Buildings that best represent the Prairie School include Robe House in Chicago and Unity Temple in Oak Park. 
Read more: Frank Lloyd Wright retrospective exhibition at the Guggenheim
Wright left his wife and family and moved to Germany in 1909 with Mamah Cheney, the wife of one of his clients. They moved together back to the US in 1913 and Wright designed Taliesin, their new home. It was one of the best received buildings of his career, but was tragically burnt to the ground in 1914, killing Cheney and six others who were trapped in the flames. Taliesin House was rebuilt almost immediately. It was destroyed in another fire in 1925, and rebuilt for a third time. 
In 1915 Wright was commissioned by the Emperor of Japan to design and build the Imperial Hotel in Tokyo. The project took Wright seven years, and he proclaimed that the hotel was earthquake proof. A year later it was tested in the Great Kanto Earthquake and was indeed the only large building in the city to survive. 
In the 1930s Wright spent a lot of time writing and teaching. During this time he wrote 'An Autobiography' and 'The Disappearing City'. He set up the Taliesin Fellowship – an immersive school that was based in his home studio. He also built Taliesin West in Arizona, where the fellowship was hosted in the winter months. 
In 1935, now nearly 70 years old, Wright designed the famous Fallingwater house in Pittsburgh. Built for the Kaufmann family, the house forms a series of cantilever balconies and terraces that are built over the top of a waterfall. It has become one of the most notable designs of Wrights career and is considered one of the most exquisite houses to have been built. 
Read more: Fallingwater by Frank Lloyd Wright
During the 1930s Wright also created his first Usonian house in response to the Great Depression. The Usonian house was a model for affordable housing, a simplified residential building that still created a beautiful living environment for Americans. 
In 1943 Wright began the design work for the Guggenheim Museum of modern and contemporary art in New York. The project spanned 16 years, and though it was met with controversy in its time, it is now one of the city's most iconic buildings. The museum takes the form of an large white cylinder that spirals upwards into a plexiglass dome. 
Wright died just 6 months before the museum was opened in 1959. He was 91 and had remained engaged with his work until his death. His last decade, in fact, was one of his most prolific. 
He is widely considered to be one of the most significant architects in modern American history. Last year, he became only the second modern architect to have a set of buildings designated UNESCO World Heritage Sites, a worthy honour for a uniquely important figure. 
---