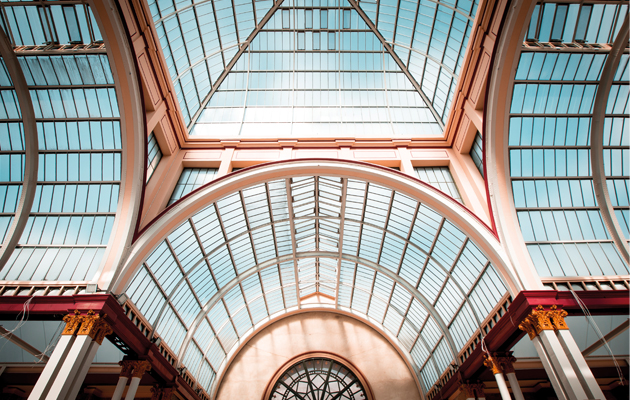 Alexandra Palace East Court. Photo by Lloyd Winters
Three acts and a surprise – we uncover the story of Alexandra Palace theatre's return from the brink
There's one version of Alexandra Palace's history that you're likely to read in tourist books, which spin its story into a sequence of unlikely triumphs. After all, it was here that actors were shot out of cannons to amuse thousands-strong Victorian crowds, and where the BBC broadcast its first nightly television.
But even at the quickest glance, its buildings tell a different tale. At Alexandra Palace today is a pummelled, seven-acre giant. Patched up, its arches are bricked in and it has a giant antenna tacked on one end. It has been subject to unlovable architectural interventions from about every decade of its 140-year history.
From the point of view of the original architects, John Johnson and Alfred Meeson, it ended up being very much less than the Italianate pleasure palace they imagined in 1873. Even more so than its south London antecedent at Crystal Palace, it tells of how patrician gestures to civilise the working classes in a swelling Victorian London fell flat amid imperialist fervour for size and spectacle. Rare historic successes came as punctuation points in a long line of financial difficulties and chronic failures – not to forget fires. Opened to great fanfare, Alexandra Palace burnt down just 16 days later.
During the 20th century, its vast interiors were leased as drab offices, a rat-chewed store for BBC props, a refugee shelter for Belgians during the First World War and even a prison for 17,000 Germans, Austrians and Hungarians, who were locked up here once the Belgian refugees had been rehoused.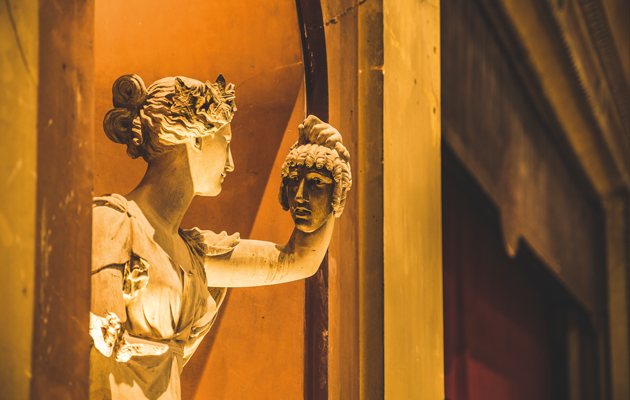 Alexandra Palace theatre detail. Photo by Lloyd Winters
In short, Ally Pally has been a mess longer than it was ever a palace. And nowhere has this history been truer than its ghostly theatre: a hulking misshapen cavern in its east wing, designed by Victorian architects hamstrung by a lack of any experience in constructing a functioning playhouse, and which has sat empty of audiences for most of its life. Built for the palace's opening, at its peak it seated 3,000, but it closed its doors eight decades ago.
Preserving the past
Architect Matt Somerville of Feilden Clegg Bradley Studios (FCBS) says that when he began work on the theatre's £27 million redevelopment five years ago, few in the Muswell Hill neighbourhood even knew the theatre existed. In meetings with locals and contractors during the early stages of the project, far more said their most vivid memories of Alexandra Palace were of 10 July 1980, when North London watched much of its edifice burn to the ground for a second time.
So when architects told workmen not to spray-paint marks on the walls, or strip out cracked plaster and broken boards, they were understandably asked why. FCBS had announced plans to keep the theatre in a state of 'arrested decay'. Yet builders took a while to be convinced that they meant it, says Somerville.
Alexandra Palace is not the first venue that architects have chosen to portray in a warts-and-all manner, exposing its chequered history. In 2015, Wilton's Music Hall in east London returned after a refurbishment looking more grizzled than ever, and Flores & Prats' colourful Sala Beckett in Barcelona rehabilitated a 1920s industrial building as a performance space. FCBS's own Middleport Pottery (renovated in 2014) turned one of the longest surviving Victorian potteries in Stoke-on-Trent into a visitor centre with a meeting room in an old kiln.
It takes skill and patience to fit modern wiring and structural engineering into a building while protecting the scruffy memories written into its walls and floors. Each of these projects makes its own claim to exhibit historic value as part of the visitor experience. At Wilton's, Tim Ronalds Architects resurrected a type of pub-theatre that had all but disappeared, and gave contemporary artists a context rich in history to respond to, winning the RIBA London Building of the Year award in 2016. Sala Beckett – ironically duplicated, lifesize and inauthentic, at last year's Venice Biennale – serves as Flores & Prats' manifesto for restoration.
But the alternative outcome of such approaches is the hackneyed rough-round-the-edges warehouse style of Shoreditch/Brooklyn-branded bars worldwide. Worse still, comparisons have been drawn to the 'shabby chic' aesthetic (the architects squirm at these words) beloved by the likes of former prime minister David Cameron.
Alexandra Palace foyer bar. Photo by Richard Battye for FCBStudios
In the case of the theatre at Alexandra Palace, whose history is nothing to write home about (more pantomime performers than theatrical greats have trodden these boards), the question of why we should preserve this history at all is important.
Walking out onto the theatre's balcony, this question is already partly answered. It is an arrestingly odd space: shoebox-shaped and too long and thin for a theatre. While a generic stage might have been dull when presented in a state of decay, this one appears more like a historical riddle. Somerville's stated aim is to 'do everything and do nothing'. The team raised the angle of the balcony where sight lines had suffered, excavated the old raked floor in the pit, flattened and relayed the original boards. It is a striking sight, finessed by the burnt pink seating – the rare sight of something completely new, softened by its distressed hue. Underneath, adaptable bleachers allow the floor space to be cleared for standing or used for various staging options.
Maintaining a crumbling theatre in situ
Asked if they ever considered a more restorative restoration, the architects' response is a refreshingly irreverent reflection on the palace's history. The theatre was 'notorious for not being very good', says FCBS's Daniel Burt. Plus, the cost of restoring it would be far beyond the £27 million raised by the Alexandra Park and Palace Charitable Trust, mainly from the Heritage Lottery Fund, according to Sommerville. Besides, it was 1924 last time it was fully restored. 'The photographs of it back then – of this immaculate space – make it look incredibly bland,' he says.
The scuffs and scars inevitably draw your eye. Across the walls, the traces of accidents have been left, including a BBC technician's scrawled complaint about working hours. Much of what is here is from the period from 1934 to 1981, when costumes for dramas were stored here.
But the triumph is above. The ceiling, a mass of yellowed plasterwork, has been restored in situ, preserving what's there but leaving holes unplugged. Heavy engineering above the plasterwork keeps the renovated roof in place, and provides a home for ancient fibres and their new repairs. It's almost a shame more of this nuts and bolts isn't on view to audiences below.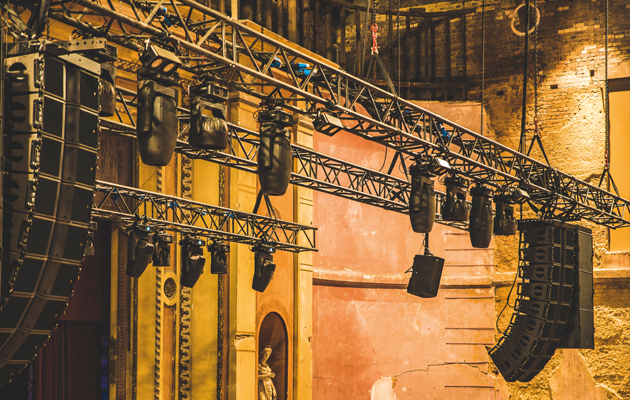 Alexandra Palace theatre detail. Photo by Lloyd Winters
Backstage, a full set of Victorian stage machinery still lives, plus some terrifying steampunk pneumatic transistors that were once used to dim stage lights. Thanks again to dodgy design by Johnson and Mersin, the stage never had a fly tower, meaning scenery would instead disappear into a technical basement below. This quirk resulted from the architects' demands that the building retain symmetry (even though it was soon to be ruined by architectural interventions anyway) Below stage, Somerville and Burt show off a tiny platform, scarcely shoulder-width, that can be hoisted downwards. It is for a Victorian cannon, they explain, loaded with a person.
The future for Ally Pally and its ilk
The lack of a fly tower means that many plays may struggle to move here without adapting to the stage's demands. Yet a successful trial run of children's shows, classical concerts and live talks was held in December. The theatre hopes to commission site-specific shows and later this year will stage Richard III with touring company Headlong.
There is also plenty new outside the theatre hall. A new bar opens out into a vast entranceway, which holds untold potential for after-show entertainment. Climbing the hallways is a joy, and it's easy to see why the architects emphasised the sense of discovery. It feels like a landscape designed with families in mind, and it's easy to imagine excited primary schoolers being enthused.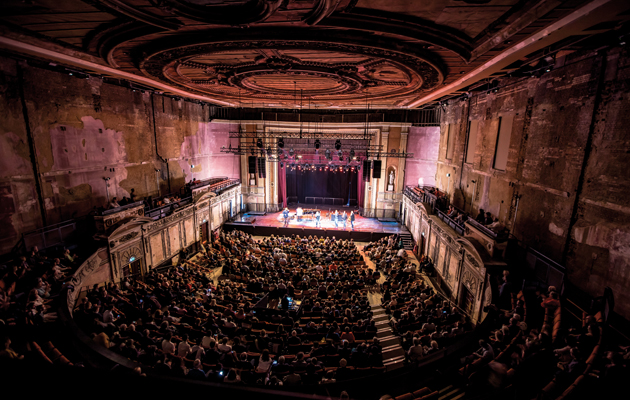 Alexandra Palace theatre. Photo by Lloyd Winters
Alexandra Palace was removed from the Theatres at Risk list this January. It's worth pointing out that the same funding could have been used to save at least a few of the other threatened institutions that remain listed. Arguably there are others on the list, such as Burnley's neglected Empire, more deserving in terms of theatrical heritage, as well as being located in communities not already served by nearby theatres.
What the architects have achieved, though, is an impressive re-imagining of a people's palace. The theatre at Ally Pally is not so much arrested in decay, as it is a glorious workshop with seats. A work likely to be in progress for years to come – subject to further phases of funding – it sits happily along the ice-skating rink of the rock gig venue. FCBS has delivered a fun palace, which treats its theatrical history without undue reverence.
---