The fashion designer has redesigned the classic G-Class SUV with Mercedes-Benz chief design officer Gorden Wagener
Words by Francesca Perry
'The initial idea… was to have this car that is luxurious in a deconstructed way', says Off-White founder Virgil Abloh, in a digital launch for Project Geländewagen, an artwork which reimagines the Mercedes-Benz G-Class in collaboration with the company's chief design officer Gorden Wagener.
Designed in 1979, the G-Class enjoys a reputation as a boxy, luxury SUV – and has been manufactured more or less unchanged over the past 41 years. The model is also known as G-Wagen, short for Geländewagen, meaning 'terrain vehicle'.
Together, however, Abloh and Wagener have radically transformed the G-Class. 'We have turned an off-road icon into a racecar,' says Wagener. First, the car was stripped back to its absolute essentials. The car body was widened and lowered, much like a racecar, contrasting with the G-Class' tall, boxy shape.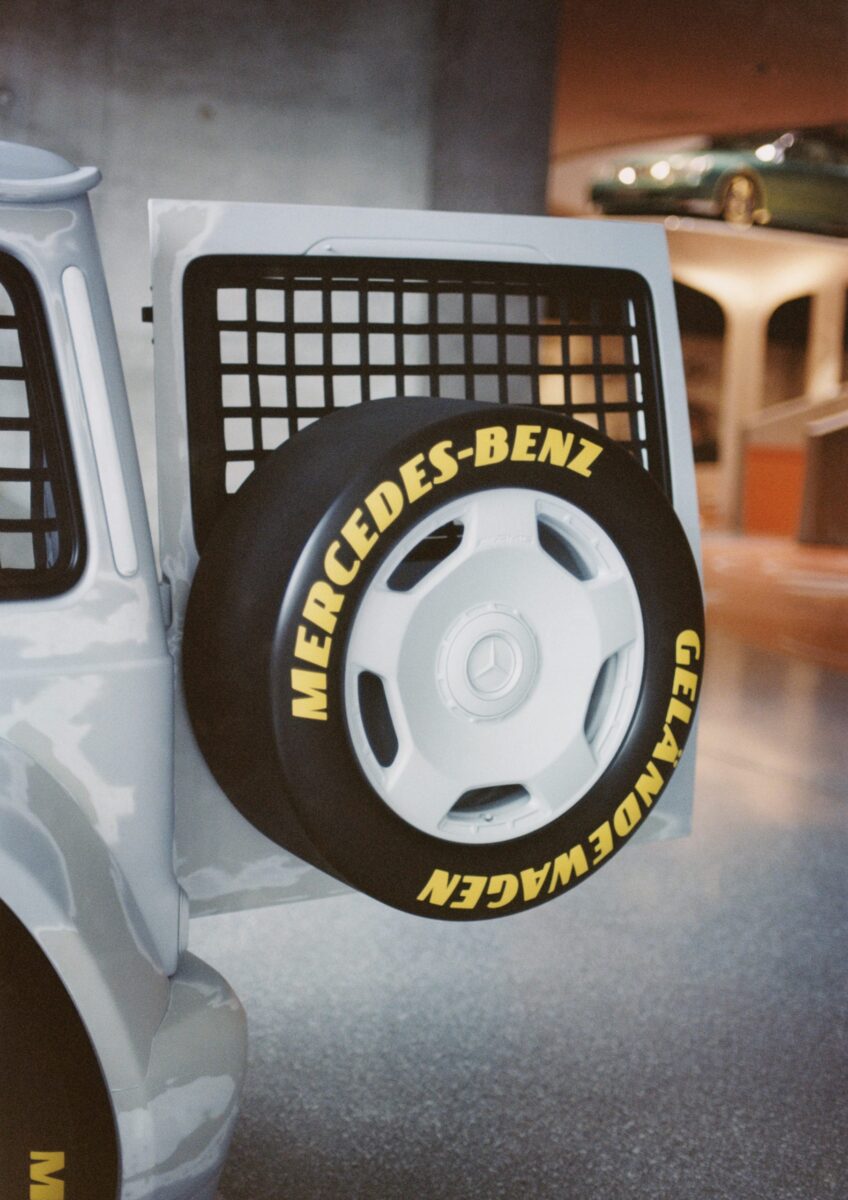 The tyres, on enlarged wheels, are emblazoned with bright yellow text – Mercedes-Benz Geländewagen – recalling both classic Goodyear race tyres as well as Off-White's text-based aesthetic, especially its yellow and black slogan-printed belts and straps.
The paintwork – which was partially sanded by hand – is deliberately styled to look scuffed, giving the car the appearance it has indeed been through a race (or twenty). 'The idea of the paint is unique in that it runs away from the idea of perfection,' says Abloh. 'The finish is typically like the underlining of a car. The idea here is to embrace the human touch.'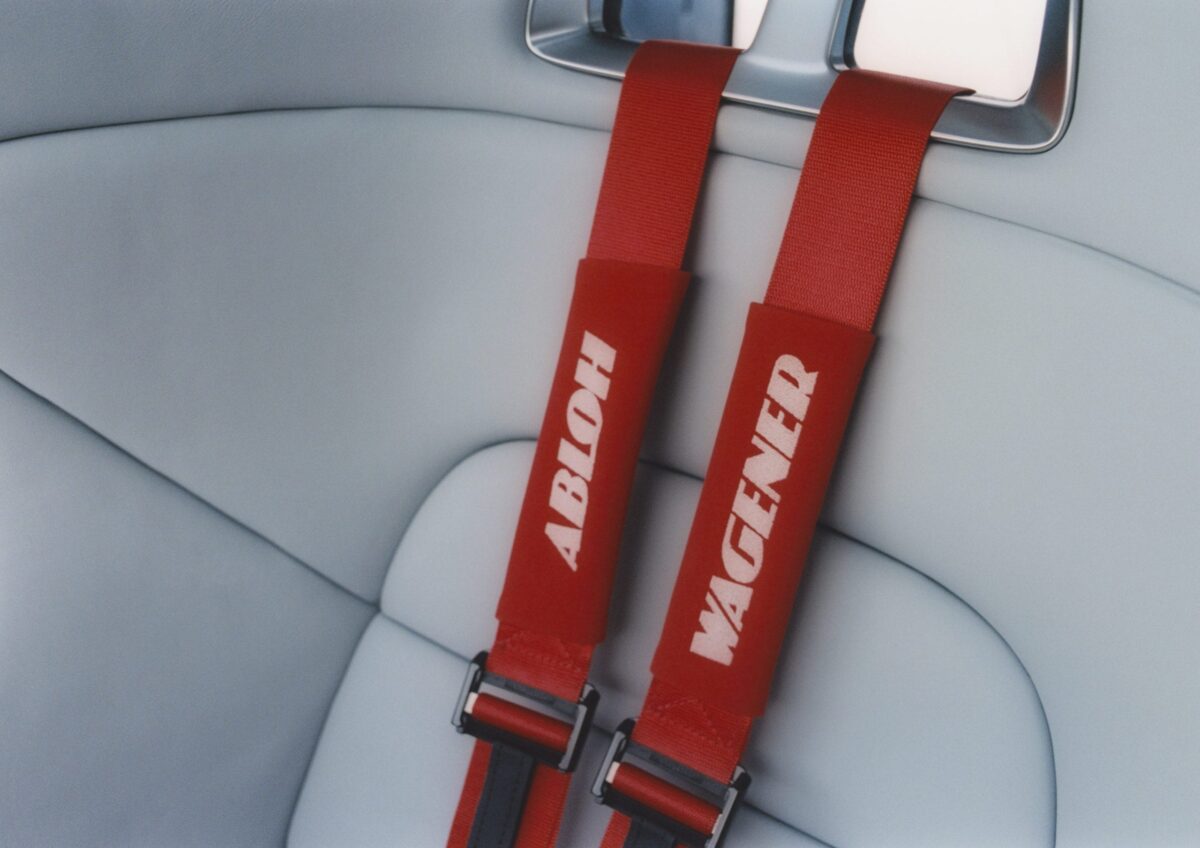 Inside, the G-Class has been redesigned almost entirely into a racecar interior. Visually, it is largely white with strategic accents of colour. A racing steering wheel from Mercedes-Benz's Formula 1 car is inserted, as are racing seats from its DTM racing cars. The safety frame, in baby blue, dominates; 5 point safety belts are designed in bright red, branded with Abloh and Wagener's names. An analogue speedometer and fuel gauges recall classic car design.
The digital launch of Project Geländewagen itself – which premiered on 8 September and is online now – takes us inside an altered, dreamlike version of the Mercedes Benz museum in Stuttgart. As if in a glitching video game, we rove through strange windowless spaces, surreally filled with the outdoor terrain the G-Class is historically associated with – desert sand and snow – before arriving at a darkened courtyard of a classical, colonnaded building, where the new car-artwork is unveiled.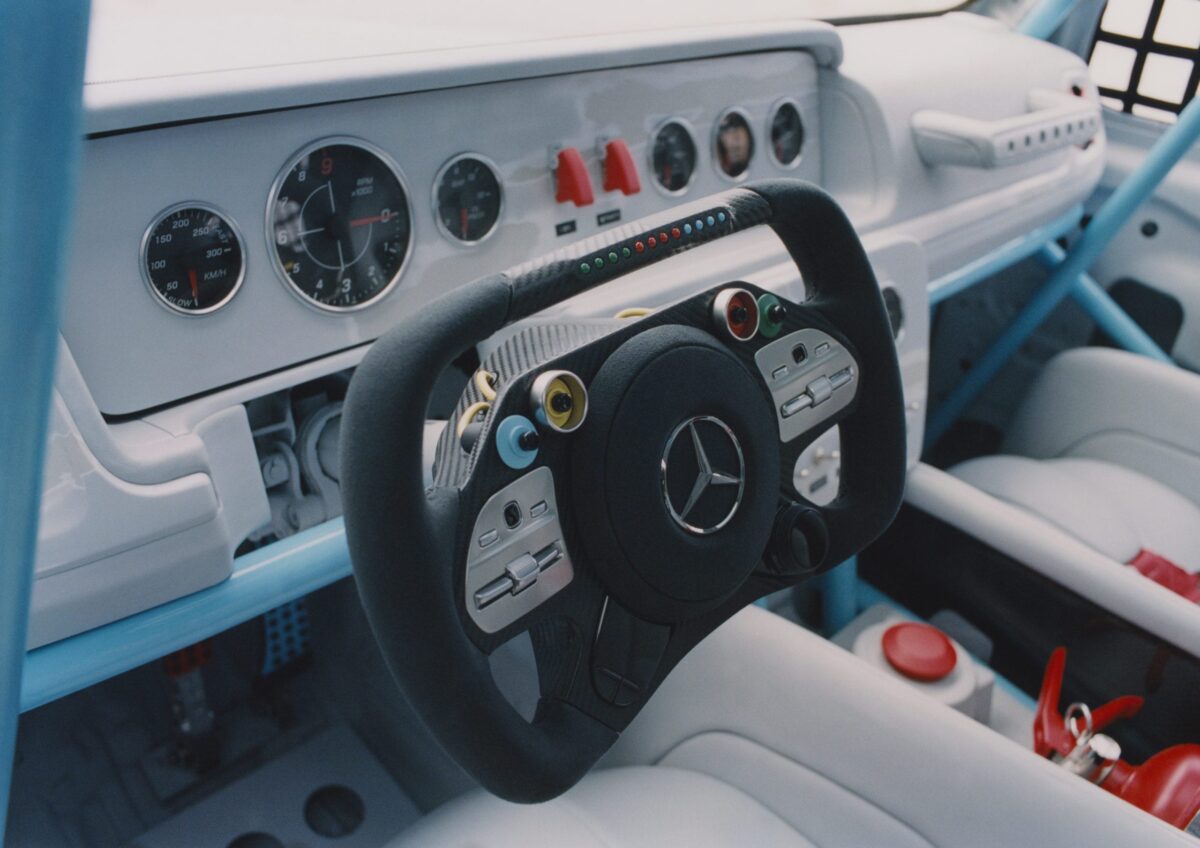 'It's a very progressive step towards the future of luxury,' says Wagener during the launch. An overly ambitious statement, perhaps, but what Project Geländewagen certainly demonstrates is Abloh's ever-expanding, industry-spanning design virtuosity – as well as Mercedes-Benz's appetite for playful collaboration.
A one-of-a-kind replica of the artwork will soon be auctioned off as part of Sotheby's Contemporary Curated, with all proceeds donated to a charity that supports the arts internationally.
All photographs by Bafic
---