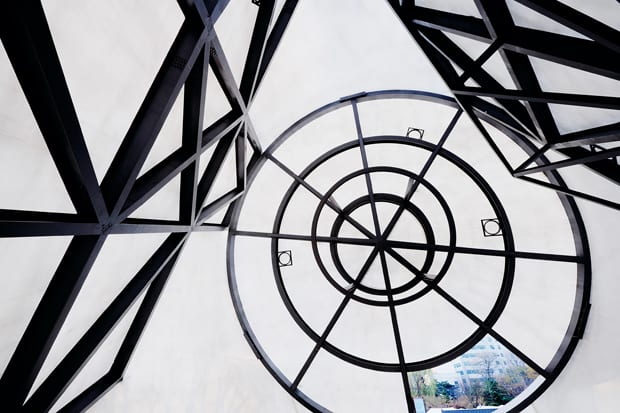 words Justin McGuirk
You can roll the Prada Transformer like a four-sided die, and you'll get a different building every time. At least, in theory. In practice, a crane will pick up this mobile pavilion, which has just been completed in Seoul, and rest it down on a different side every month.
Designed by OMA/Rem Koolhaas for the Prada Foundation, the Transformer can be a cinema, a gallery or a fashion venue. The walls of this tetrahedron – or the floors or the ceilings, depending on which way up it sits – are made up of a cross, a circle, a rectangle and a hexagon.
The structure, which sits outside the 16th-century Gyeonghui Palace, is composed of steel girders with a translucent white elastic membrane stretched around it. The material was provided by another Dutch firm, Cocoon Holland, and is more commonly used to cover aeroplanes when they're not in use.
Transformer is cleverer than showpiece pavilions commissioned by other fashion houses, such as Zaha Hadid's coiling art house for Chanel – there is more focus on content, for a start. You'd expect that from a collaboration between Koolhaas and legendary curator Germano Celant, the director of the Prada Foundation.
However, its ultimate purpose and resting place are unclear. The events programme ends in September, at which point the Prada Foundation will have to decide what to do with it. See next month's issue for the full story.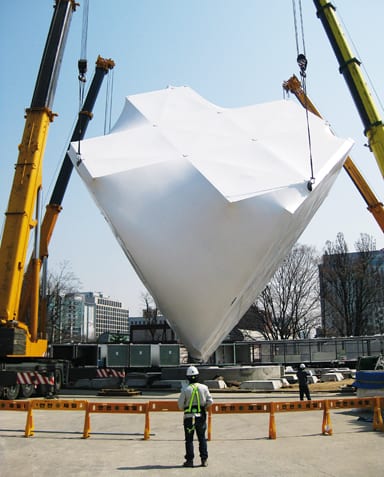 ---