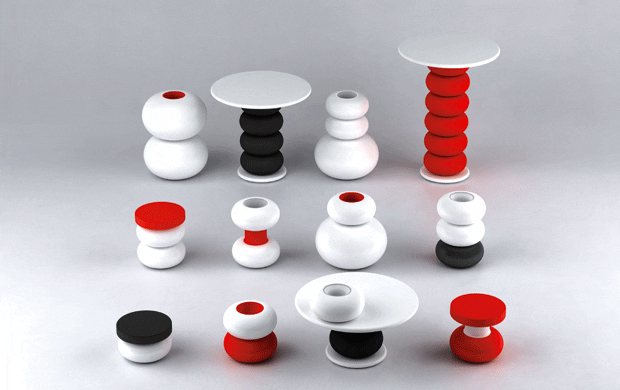 words Diego García Scaro
The last design by Ettore Sottsass will be put into production in July by Italian manufacturer Serralunga. Faituttotu, a collaboration with his partner, British designer Chris Redfern, is a collection of home accessories made of rotation-moulded plastic, with four elements that can combine to form vases, bowls, ashtrays, umbrella stands, flowerpots, stools or even a table.
"Serralunga wasn't very specific with the commission, which was a good thing because it kept us open," says Redfern. "I was thinking a lot about the ceramics that Ettore did in the 1960s – the repetition of volumes that creates a sculpture."
Sottsass didn't want to step on the toes of his gallerist, for whom he was still designing glass and ceramic pieces, so he charged Redfern with continuing the project as an industrial job by Sottsass Associati. "Fai tutto tu," Sottsass told Redfern – you do it all.
The project developed from sketches for a fruit bowl into an expansive vocabulary of stackable forms. Sottsass saw the modular potential of an early foam model, and variations in size and shape followed. Yet the logistical difficulties of such an open-ended design meant that the concept was reduced to four shapes, without hindering its capacity to grow. The plastic was enhanced with painted aluminium inserts and its surface lacquered in white, red and dark silver colours, to make the objects more precious. "It's not very nice to put a plastic object on your table," says Redfern. "At the Salone, people actually thought they were ceramics."
Don't miss the chance to win one of Ettore Sottsass' Nine-0 chairs for Emeco in our online competition.
---