The Copenhagen-based design brand transformed 7115 by Szeki, a contemporary boutique in the heart of Brooklyn, using natural and reclaimed materials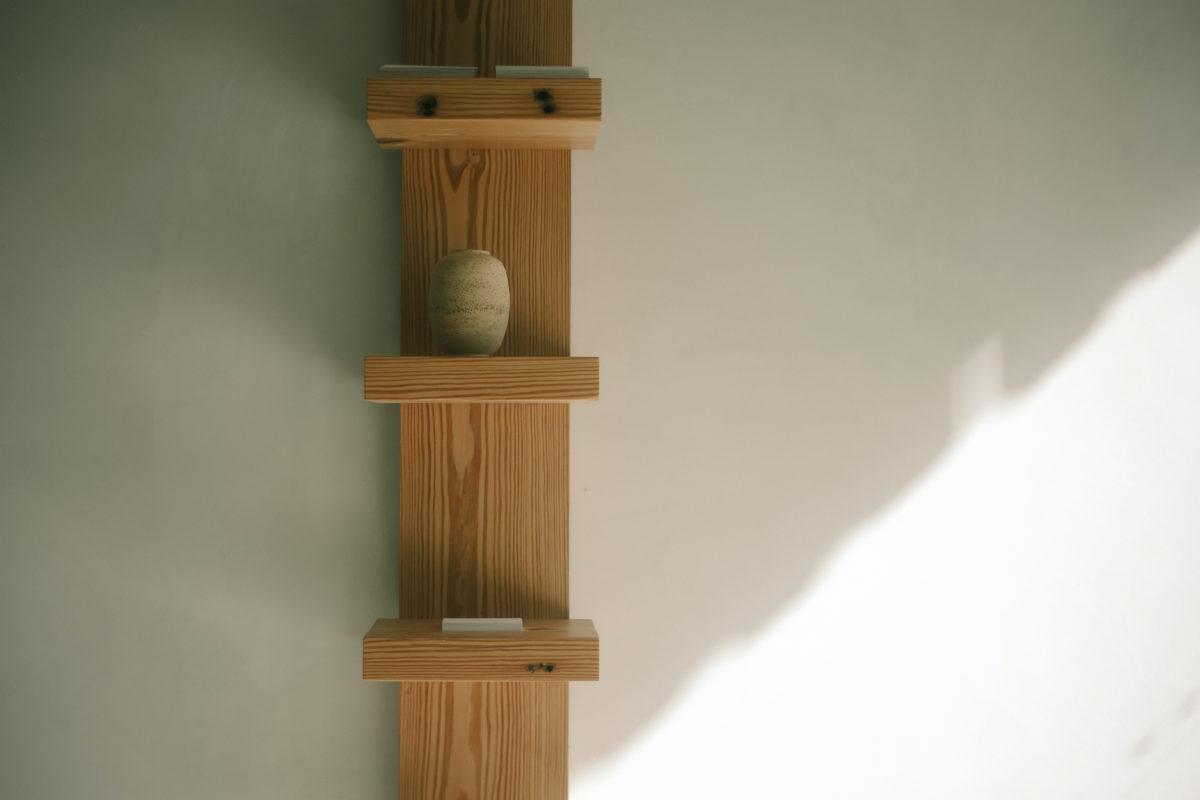 Words by Jessica-Christin Hametner
While the line between the digital and physical worlds of retail has become increasingly blurred, brick-and-mortar stores continue to have appeal. Providing customers with tangible and multi-sensory experiences, physical shops deliver the magic of real-life moments and community-based events.
Case in point is 7115 by Szeki, a minimalist retail space located in New York's vibrant neighbourhood of Williamsburg, Brooklyn. Known for its scenic Manhattan skyline views, bustling shops and eateries, the boutique aims to capture the area's thriving, creative spirit.
Founded in New York City and established back in 2008, 7115 focuses on creating an artful and robust wardrobe. The collections, which are reliably minimalist, are designed to reimagine the dressing experience with timeless hits.
Danish design brand FRAMA has now joined forces with 7115, following the opening of the brand's first international location in Copenhagen three years ago. Since its inception, the New York-based company continues to look toward its local community and neighbours to inform its design process.
As a result, the collaboration with FRAMA felt like a natural evolution. Bringing a slice of Copenhagen to the Big Apple, the 60sq m space aims to deliver a holistic experience of the brand's lifestyle and story where visitors can discover 7115 and everything it has to offer on a sensory and personal level.
Nestled on 223 Grand Street, the facade – clad in red brickwork – brings a sense of warmth and texture to the entrance, while inside the boutique soothing neutrals and a choice of exquisitely quiet materials lend a welcoming note to the interior.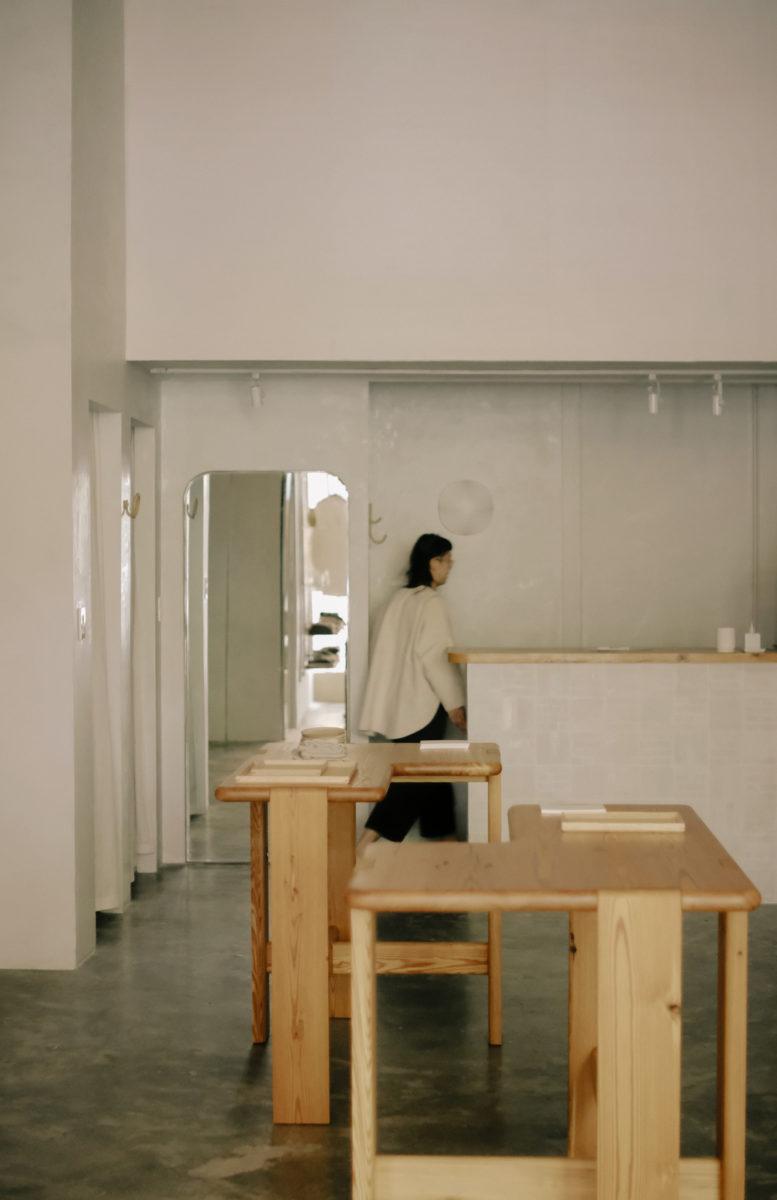 Taking a streamlined and minimalist approach, a neutral material palette consisting of concrete floors, stainless steel fittings and reclaimed pine amount to a 'less is more' mantra and instil feelings of calm and tranquillity throughout.
To make the most of the shop's narrow spaces and high ceilings, FRAMA teamed up with local timber supplier Husdon Company to create a beam-column structure with reclaimed pine wood lumber from Hudson Valley, a New York State region that stretches along the Hudson River.
Unadorned walls become focal points, as the construction serves as shelving systems for displaying 7115's carefully curated collections. Elevating the spatial characteristics, the result is a gallery-like space that resembles the industrial heritage of the Williamsburg Bridge connecting Brooklyn and Manhattan.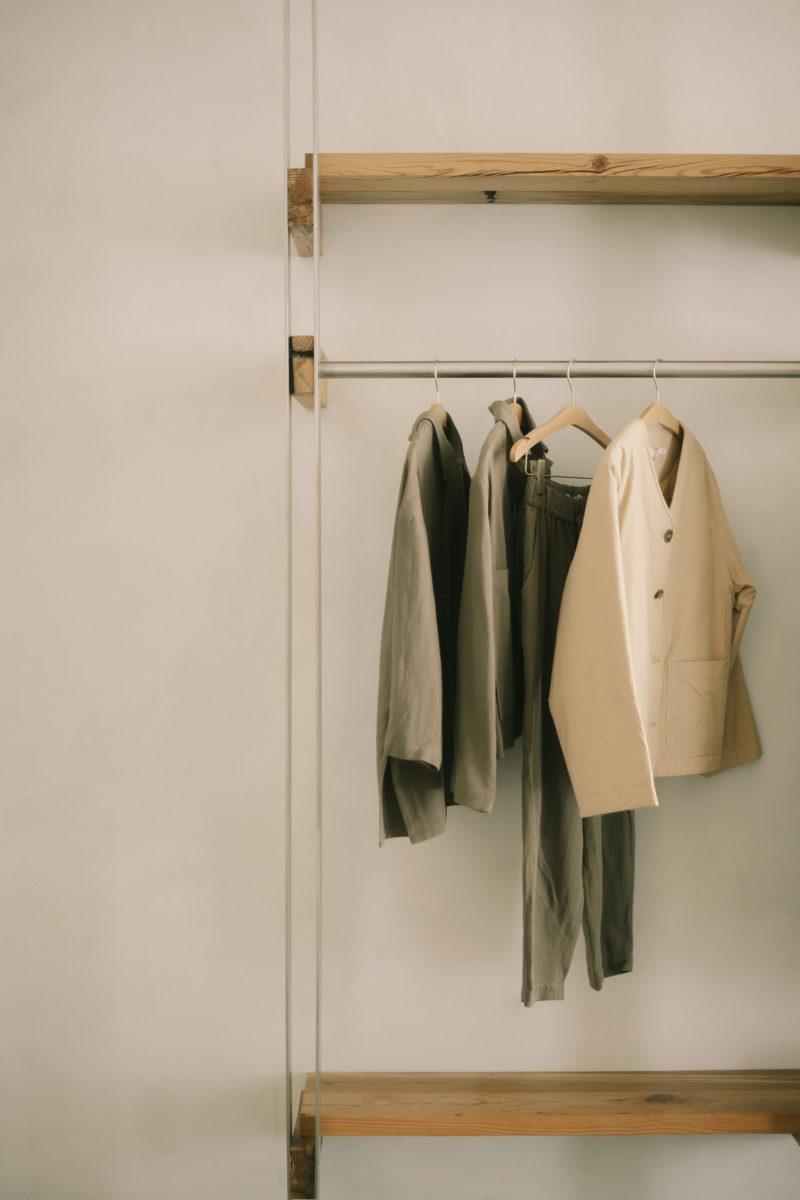 FRAMA also designed other bespoke pieces of furniture, such as the versatile L-shaped display tables made using reclaimed pine from Hudson Valley. Giving the space a contemporary edge, thanks to their multi-functional design, these can interlock to form a larger table or be placed apart to add flexibility.
To further streamline the space, FRAMA removed some of the original faux ceilings and balanced both cooler and warmer elements. While contrasting textures like icy blue-grey plaster and accents of aluminium add visual interest, Japanese-inspired paper lights and warm LED fixtures layer the space with subtle illumination.
The overall feel is of a soft, calming light permeating the ultra-minimal boutique, while the graceful juxtaposition of materials within the space creates warmth and dimension. By using clean shapes, neutral colours and quality materials, 7115 contemplative interiors exude serene beauty.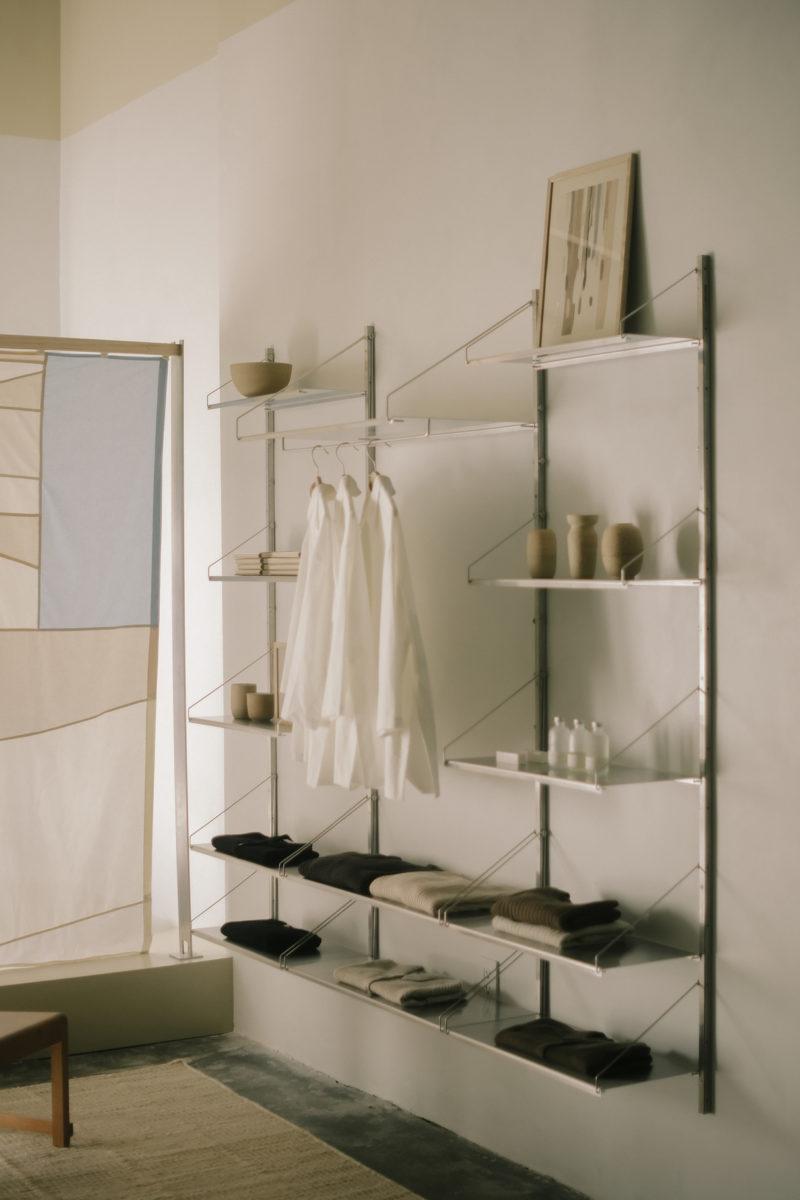 'The industrial heritage of the Williamsburg area inspired us to implement beam elements for the central storage structure to create rhythm and scale,'  says FRAMA Founder and Creative Director Niels Strøyer Christophersen.
'The overall programming is balanced with sophisticated and simple systems that are an extension of the 7115 brand identity. Juxtaposition plays an essential role in the programming of the interior, and the aim was to create monumental purity that enhances the silhouettes of the garments.'
In opening the Williamsburg boutique, FRAMA and 7115 had a vision to create a thoughtful interior that would connect with the local community. With an emphasis on natural materials, simple geometries, and uncompromising quality, this New York City boutique serves as an example of authentic brand storytelling, understated elegance and timeless design that sits in tune with its surroundings.
Photography by 7115 by SZEKI
---