The international campus of Juilliard pays homage in design and spirit to the original New York school of performing arts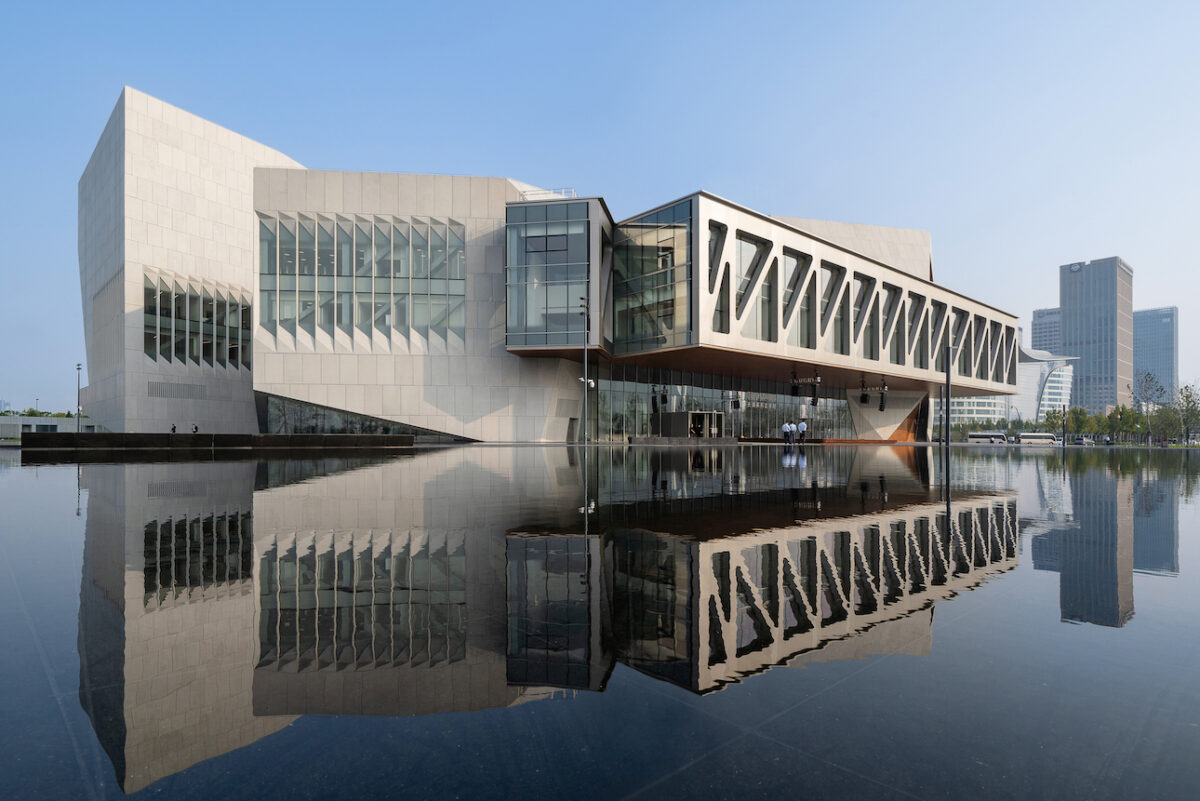 New York-based firm Diller Scofidio + Renfro (DS+R) has completed the Tianjin Juilliard School (TJS), a centre for performance, practice, research, and interactive exhibitions in the northeastern Chinese city. The 32,515 sq m building comprises four pavilions that house a 690-seat concert hall, a 299-seat recital hall, a 225-seat black box theatre, large rehearsal rooms, a library, and various other learning and practice spaces, as well as communal areas that are designed to welcome in the public.
A 2,260 sq m, column-free lobby space in the centre of the complex extends the surrounding park into the building. Here, sky-lit atriums draw light down to areas programmed by a cafe, grove seating and grandstand seating. Five glass bridges span above the lobby space, visually defined by bold structural trusses. Each bridge hosts two levels of educational spaces including classrooms, teaching studios and practice rooms. Where the bridges intersect, students can gather in double-height lounges with views of the surrounding city.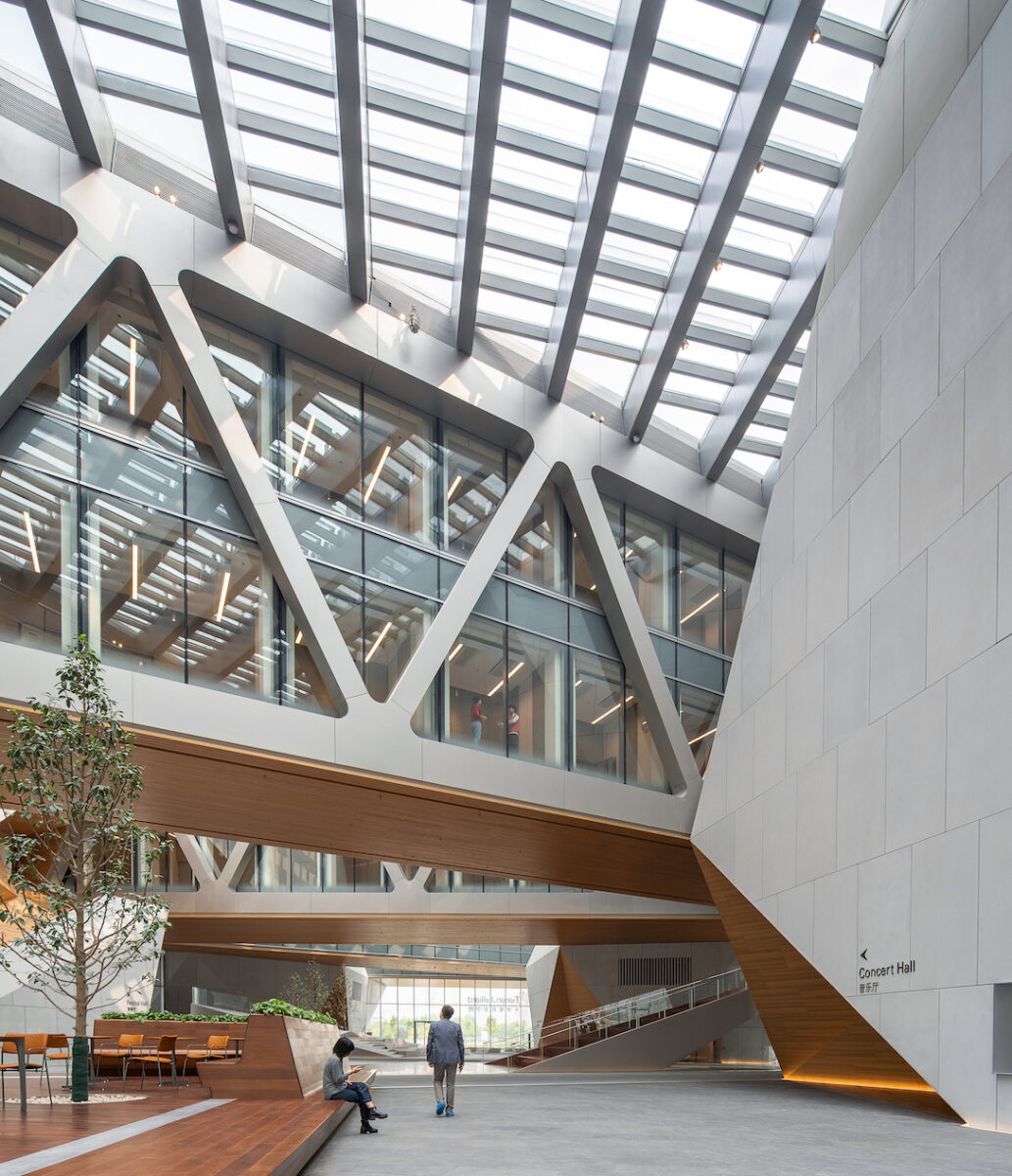 The main concert hall and the recital hall both feature a surround-configuration, allowing for an intimate relationship between the audience and performers. The halls are also both clad in eucalyptus wood, giving a warm and natural atmosphere. Designed in collaboration with Jaffe Holden, the same acoustician for Juilliard's New York campus, TJS was built to meet the high demands for world-class acoustics and sound isolation, without compromising the building's openness.
The exterior materials for the building include glass, bead-blasted stainless steel, glass fibre-reinforced concrete (GFRC) and wooden panelling. A publicly accessible rooftop terrace features planting, paving and bench seating. The new park surrounding the building, which overlooks the Hai river, includes a series of gardens in the north plaza designed in collaboration with Hargreaves Jones, as well as reflecting pools and stepped piano key-like seating in the south plaza which functions as a performance, event and community space.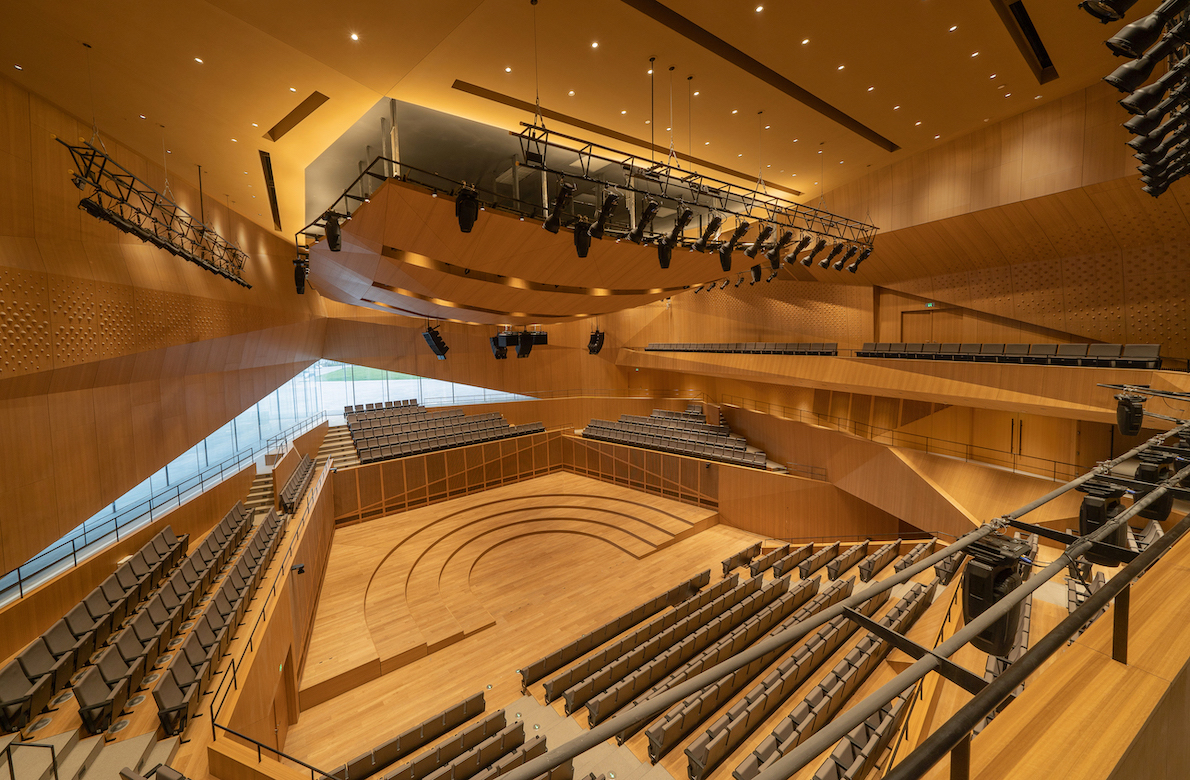 Throughout the project, design features pay tribute to the Juilliard School in New York, the 2009 expansion of which was also designed by DS+R. 'Both projects seek to increase engagement with the public through openness and transparency; offer informal spaces for students to mix and gather; and provide teaching and performance spaces with world-class acoustics,' says DS+R partner-in-charge, Charles Renfro.
'In Tianjin, the ground-floor lobby acts as a continuation of the surrounding park, accessible through multiple entries open to the public,' Renfro continues. 'All of the teaching and practice spaces occupy five glass-clad bridges that span between the performance pavilions, bringing daylight and views to and from these education spaces while broadcasting the activities of the school to the general public. As both an educational tool and a performance vessel, the building acts a finely tuned and highly crafted instrument in and of itself.'
Wei He, artistic director and dean of the TJS says: 'The spaces within the building are filled with light and communicate a sense of openness and connectivity, where students can explore the depths of collaborative musicianship, a common thread weaving through our programmes.'
Photography by Zhang Chao courtesy of Diller Scofidio + Renfro
Get a curated collection of architecture and design news like this in your inbox by signing up to our ICON Weekly newsletter
---