Scott and Caroline designed and built The Bide by hand during lockdown. A labour of love, the design combines the couple's passion for contemporary design and interiors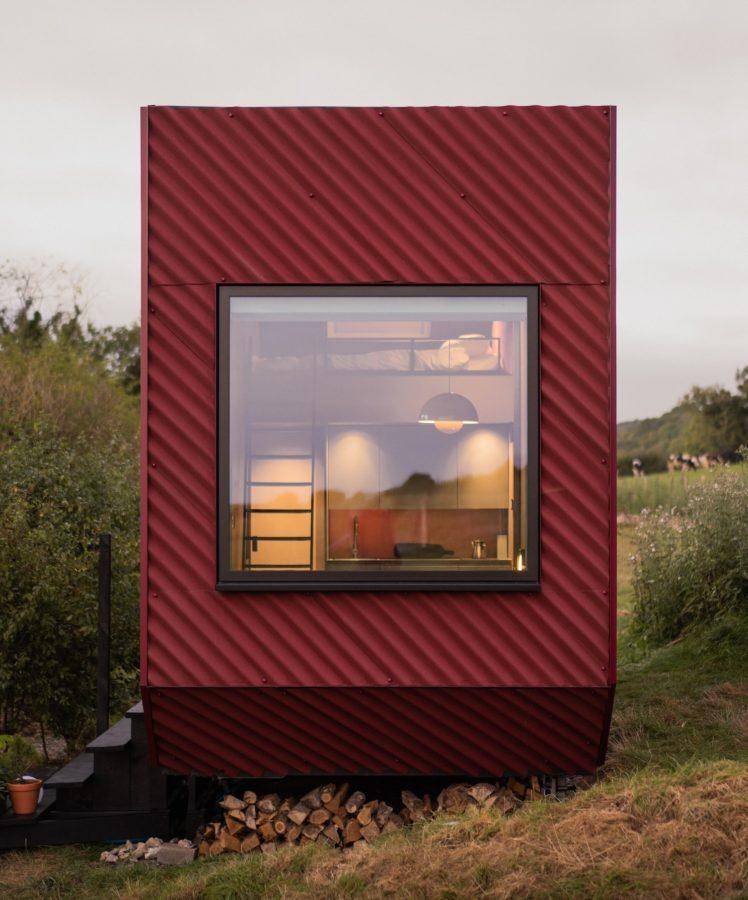 Words by Shawn Adams 
On a picturesque Dorset farm near Milton Abbas, sits a striking architectural jewel. Titled The Bide, the crimson cabin acts as a contemporary departure from the nearby cob and thatched cottages.
Designed by architect Scott Lewis and furniture buyer Caroline Jenkinson, who previously worked for the Conran Shop and now for Nordic design brand Åben, the project is a humble holiday getaway that provides spectacular views over the tranquil landscape.
The idea for the project came about after Lewis and Jenkinson visited the Bauhaus Archive in Berlin where they went on a walking tour of small cabin houses. Inspired by the trip, the duo set out to design their own holiday home once they returned to London.
'During our research, we came across many designs which felt squeezed and slightly claustrophobic. We wanted our building to achieve a fine balance between spaciousness and cosiness,' says Jenkinson. The result was a comfortable 1.5 storey metal clad structure that sits lightly in the landscape.
Inside, the holiday getaway features a super-king bed located on a mezzanine above the bathroom and kitchenette and a double height living space that boasts a projector above the large picture window. 'The window is absorbing – this wide screen to nature allows you to lose time just watching the birds,' explains Jenkinson.
As there was limited space to work with, the furniture was intricately designed by the pair. 'We wanted as much of the furniture to be recessed as possible. The dwelling smartly incorporates a floor-to-ceiling bookshelf with a rolling ladder to reach each book.'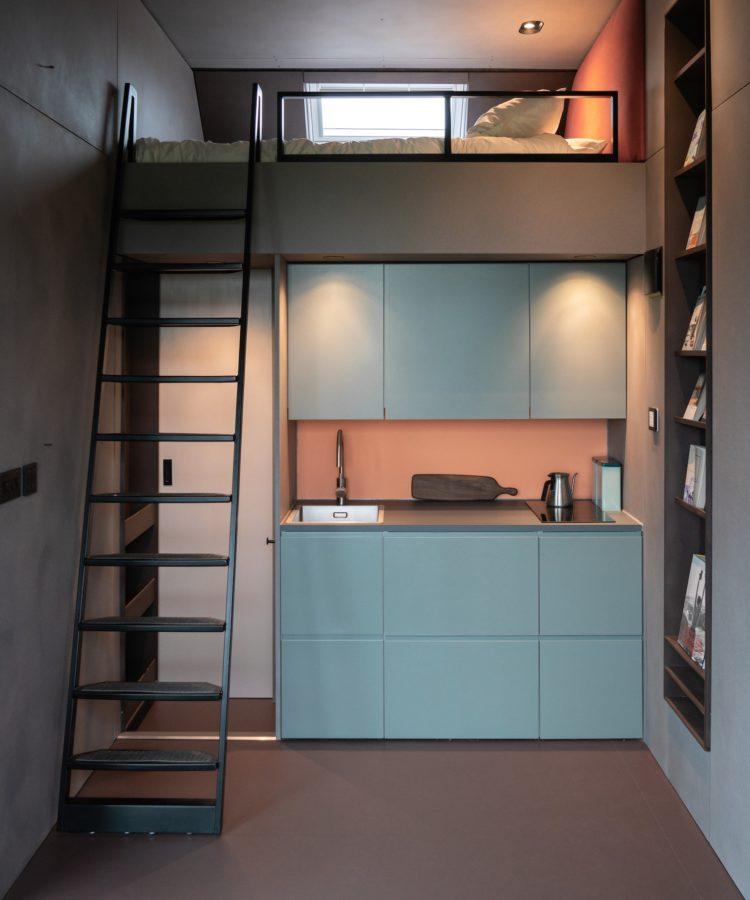 'We loved the concept of taking an old idea and making it new. Storage within the seating and alcoves by the bed to stow away possessions,' says Jenkinson.
Throughout the cabin, there is a careful touch of understated luxury. Here, grey sheets of Valchromat line the interior faces, creating a minimal and contemporary feel while matt green tabletops are cleverly paired with linen upholstery.
Peach acrylic splashbacks can also be found, adding a punch of colour to the subtle tones. 'We wanted as many of the internal materials to be as natural as possible, the key palette, therefore, included a natural rubber floor and organic pigmented MDF panels for the walls and ceilings,' states Jenkinson.
Sustainability is at the core of the design, and the timber frame building was cut by CNC and bolted together by hand by Lewis and Jenkinson. Low-carbon materials such as sheep's wool and woodfibre insulation were also employed contributing to the eco-friendly design approach.
With the success of The Bide, the pair are now planning their second cabin, which will be located 100 metres away. 'It will be a treehouse structure with a modern interior. We are excited to commence the next build!'
Photography by Jake Balston
Get a curated collection of design and architecture news in your inbox by signing up to our ICON Weekly newsletter
---