The project extends a 19th-century synagogue with a corten steel-clad volume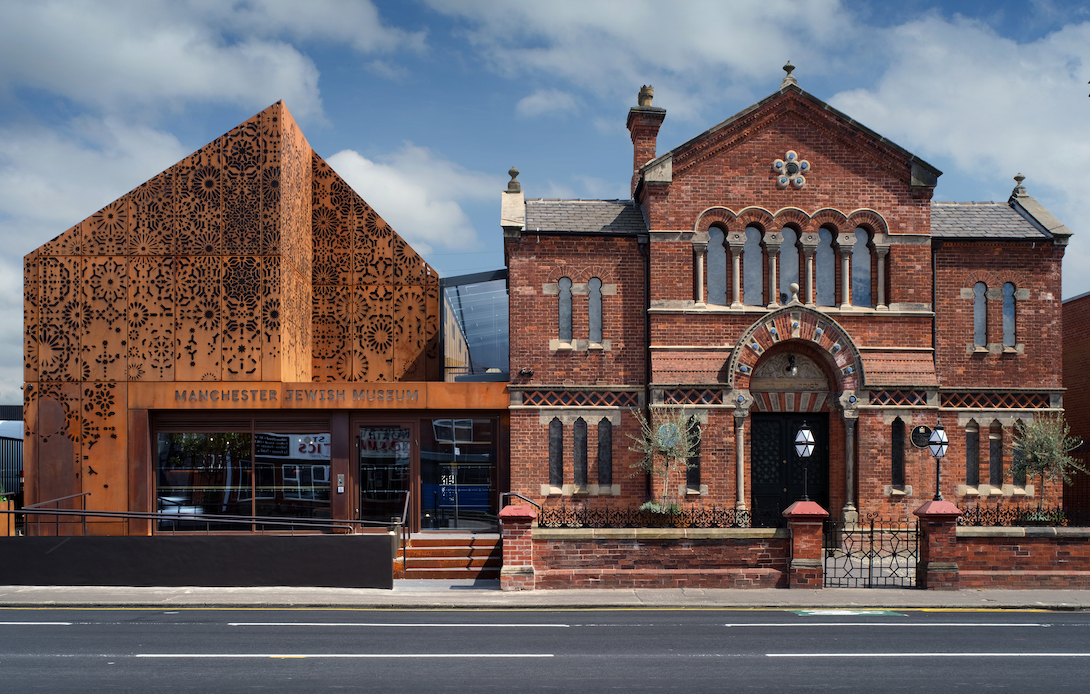 Words by Nile Bridgeman
Either side of an A-road in the centre of Manchester's Cheetham Hill neighbourhood sit many former synagogues, now used as all manner of retailers, tailors, and an eclectic mix of cafes established by migrants who call the city their home. One such synagogue – Manchester's oldest – also found new purpose after its deconsecration in 1984 as the Manchester Jewish Museum.
Today, surrounded by industrial units, storage facilities, and builders merchants, the museum has been restored, refurbished and extended by Citizens Design Bureau to accommodate its evolving programme and role in the community.
The London-based architecture practice, led by Liverpool-born Katy Marks, won the commission in 2016. Rather than asking for an outline design, the competition brief asked entrants to articulate their attitude towards the history, geography, existing architecture and legacy of the site. It also called for the building to become the 'living room of Cheetham Hill'.
The design studio renovated the original 19th-century red brick synagogue building and expanded it with a similarly sized extension. A finely patterned, monolithic corten facade wraps the restrained, pitched volume of the new extension. Marks explains: 'We can never be as perfect as the divine – so the pattern isn't perfect either; every node of the eight-point geometry is different.'
At dusk and dawn, light spills through the delicate screens that conceal the glazing of the entrance and cafe, falling onto the pavement in a manner reminiscent of the living rooms of nearby Victorian terraces. During the day, set-back glazing combines with the asymmetrical elevation to create an informal composition entirely respectful of its fathering structure.
Inside – alongside a new cafe/kitchen, leaning space and archives – a painstakingly curated collection of publicly accessible artefacts, objects, research and stories are articulated in an array of audiovisual mediums. Some pieces were unearthed in jumble sales, some contributed by eminent international Rabbis, and some found in the synagogue's storage.
Each element combines to tell unique stories that build a colourful and nuanced picture of the Mancunian Jewish experience. Stories underpin everything on display, every experience and even the architecture. Amongst the main timber-lined exhibition space, a simple floor-to-ceiling window frames a fragment of the existing synagogue, strikingly drawing it into the collection.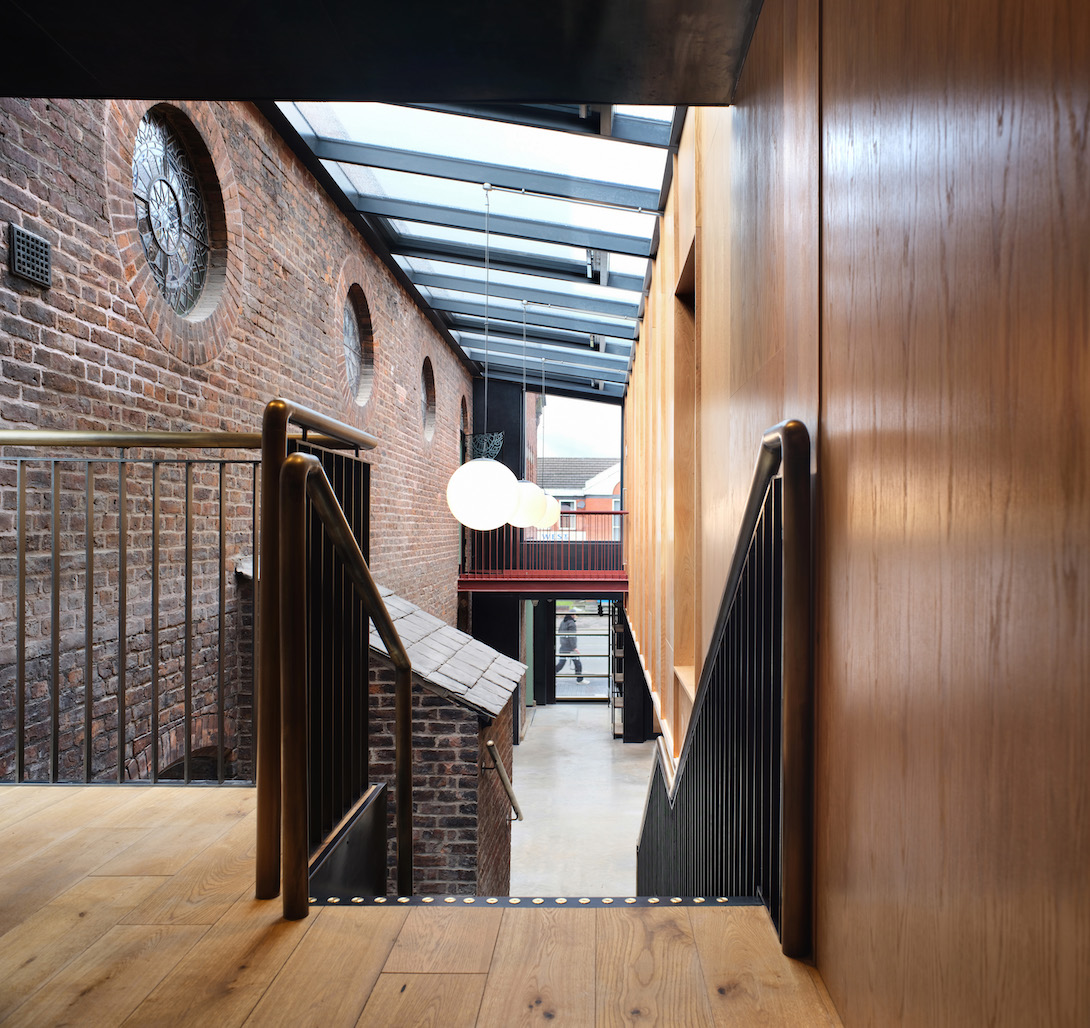 The synagogue, built in 1874, also becomes an artefact. Unpicking layers of paint inspired its current natural, earthy colour scheme, red carpets and gold accents. Archival imagery was used to create the bespoke lights and balustrades. All original flooring, furniture and fixtures have been restored to their former grandeur. 
The museum opened in early July, alongside Manchester International Festival, a two-week long celebration of culture, art, design and architecture. Each discipline expertly intertwines at the Manchester Jewish Museum, creating a fittingly vibrant container of a rich and ever-evolving social history.
Photography by Philip Vile and Joel Chester Fildes
---