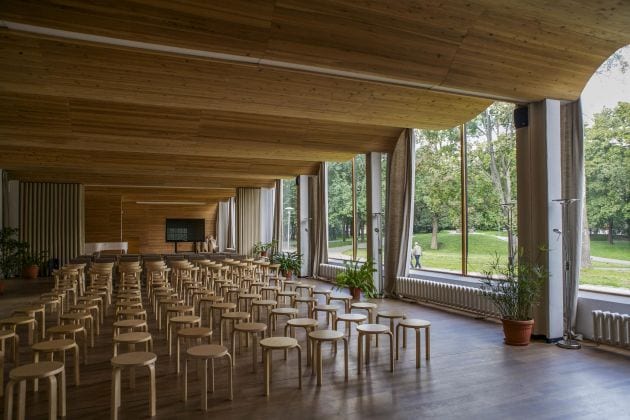 Vyborg Library with furniture all designed by Alvar Aalto. Photo by Ninara via Flickr
Finnish architect Alvar  Aalto was a well-known modernist whose style was a unique blend of international influence, local material and individual expression
Alvar Aalto is inarguably Finland's most famous architect. He is also one of its most celebrated furniture designers, credited as the first designer to use bend plywood. Aalto founded his own studio in the 1920s, and through the years his aesthetic evolved through Classicism, International Modernism and Functionalism, always with his own unique sense of expression. He became internationally famous for complex forms and for his deep regard for Finnish heritage.
As a young man, Aalto had loved drawing and went on to study architecture at Helsinki University of Technology. During his student years the Finnish War of Independence broke out and Aalto served as a soldier. He graduated in 1921, traveled Europe and then returned to his hometown of Jyvaskyla, in the centre of Finland. In 1923 he set up his own studio, which he then relocated to Turku In 1927. He eventually ended up in Helsinki in 1933. Aalto married fellow designer Aino Marsio, with whom he had studied, and she worked with him until her death in 1949.
Aalto's many travels around Europe exposed him to the International Style, the leading form of Modernism at the time. He brought much of this inspiration back with him to Finland.
Paimio Sanatorium by Alvar Aalto in Finland. Photo by Leon Liao
In 1927 and 1928, still a young architect, Aalto received three significant commissions that quickly rocketed him to fame. These commissions were the Turun Sanomat Building, the offices of a newspaper in Turku; the tuberculosis sanatorium in Paimio, and the Municipal Library at Vyborg in Russia.
For both the sanatorium and the newspaper office, Aalto's designs were chosen from those submitted in a competition, as was often the means of choosing architects for public buildings in Finland. These two designs showed an individuality in style, without heavy references to old styles. They went beyond simple classicism that was common in Finnish architecture towards the end of the 1920s, having more in line with Bauhaus thinking than with Classicism.  Both featured the simple exposed materials, ribbon windows flat roofs and open terraces that were common in the Bauhaus and Modernist style.
Read more: Alvar Aalto Second Nature
Completed in 1933, the Paimio Sanatorium was a significant landmark in Aalto's career.  Along with the Vyborg Library, the sanatorium showed the Aalto was moving into designing with his own sense of individuality rather than taking influence from other architects working at the time. Aalto won a competition hosted in 1929 for his innovative design. His plans considered every detail, including the furniture. These pieces became part of the collection available through his company Artek when it was founded a few years later.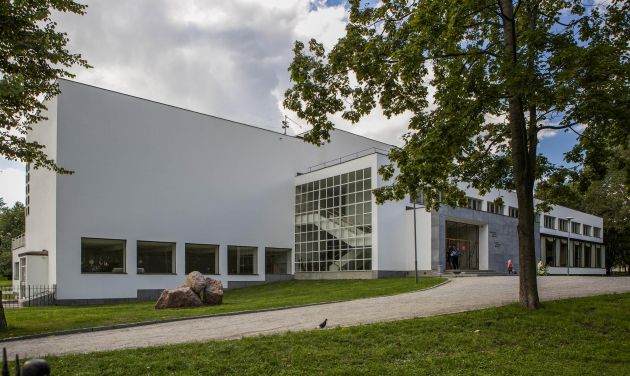 Vyborg Russia Library designed by Alvar Aalto. Photo by Ninara via Flickr
The Municipal Library in Vyborg was a significant building as, although it took inspiration from the Bauhaus, it also differed from the style enough to demonstrate Aalto's particular aesthetic and architectural philosophies.
Read more: Alvar Alto through the eyes of Shigeru Ban
The library building is arranged across several levels, with an auditorium with an undulating wooden roof, designed to maximise acoustics. Aalto also designed a selection of custom furniture for the library, also using warm wooden materials. His use of natural materials softened the building, where classic Modernist style might have been more harsh, and also countered the more austere white of the exterior of the building.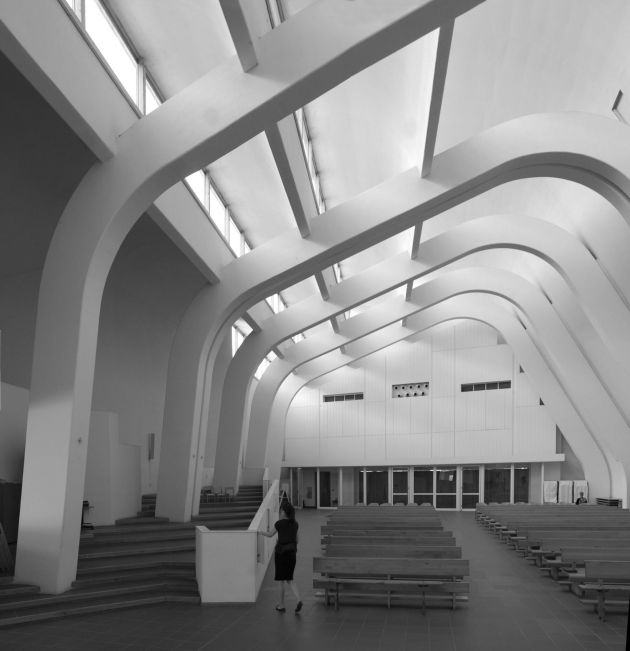 Riola Church in Italy by Alvar Alto. Photo by seier+seier via Flickr
The library came to mark the beginning a pattern in Aalto's design work, where he continued to play with different floor levels and the use of organic materials, skylights and unusual forms. He quickly became recognised as one of the more impressive architects of his generation.
In 1935 he established the Artek Company with Maire Gullichsen in order to manufacture and sell his furniture pieces. One of his most noteable furniture collections is the L-leg Collection, an elegant series constructed with bent wood and L-shaped legs that meant the legs could be directly attached to the table and chair tops. Aalto is credited with being the inventor of bent plywood furniture.
Read more: Postmodernism in Finland
Aalto also contributed two Finnish Pavilions for major world fair: Paris in 1937 and New York 1939. These pavilions also won Aalto a lot of international attention and acclaim, both were built using wood. His later work in the 1950s was more varied in style and in function. He designed a high rise in the town of Bremen, West Germany, and a church in Italy. He also designed an art museum in Iran in 1970.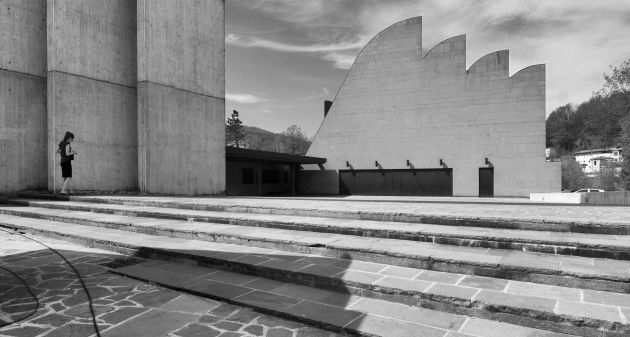 Riola Church in Italy by Alvar Alto. Photo by seier+seier via Flickr
Aalto was acclaimed within his lifetime. In 1938 the Museum of Modern Art in New York held an exhibition focused on his work. The exhibition featured Aalto's furniture design and photographs of the buildings he had designed.
During his career Aalto received many prestigious awards, including the RIBA Royal Gold Medal for Architecture in 1957 and the Gold Medal from the American Institute of Architects in 1963. Aalto was also the president of the Academy of Finland from 1963 to 1968 and a long time member of the Congrès Internationaux d'Architecture Moderne.
Aalto's work has come to represent the best of Scandinavian architecture and modern design. His mix of modern design, complex forms and local materials captured the imagination of the architecture world during his life, and remains influential today.
---