Toto Washlet SX. Courtesy Toto
Japanese manufacturer Toto has pioneered bathroom innovation for over a century. This year, Toto has delivered two new Washlet models: the Washlet RX and Washlet SX, designed with the UK market in mind.
First launched in 1980, the Washlet is Toto's signature product and has revolutionised bathrooms across Japan for nearly four decades. Toto has sold over 40 million Washlets worldwide, with their tried and tested technologies making the Washlet unrivalled in performance and quality.
The newest slimline Washlet SX boasts luxurious functions including a heated seat, the Tornado Flush, a deodoriser, and a retractable wand, with warm water spray. It is pre-programmable for two personal profiles offering adjustable seat and water temperature and an alternative wand direction setting.
Washlet SX stands out with its angular design, explains Hubertus Bruggemann, Sales Director TOTO Europe. "Washlet SX provides great comfort and perfect hygiene in a new, striking design – and is also an excellent value for your money," say Bruggemann.
With excellent price-performance, the especially hygienic Toto Washlet models have become the exclusive choice for many private households and luxury hotels. Toto works extensively in the hospitality, commercial and residential sectors in the UK and throughout the world. Included in its portfolio are some of the leading hotels of the world: The Stafford Hotel, St James's, The Marriott Park Lane and County Hall, Claridge's, The Berkeley, and the Shangri-La.
The streamlined SX model is the latest addition to Toto's range of shower toilets, one of seven models currently available.
The Washlet RX and SX enable entry level access in price and product specification. Also launched this year, the Washlet RX was designed exclusively for the European market. The RX model is narrower in width and has curved lines designed to enhance any interior.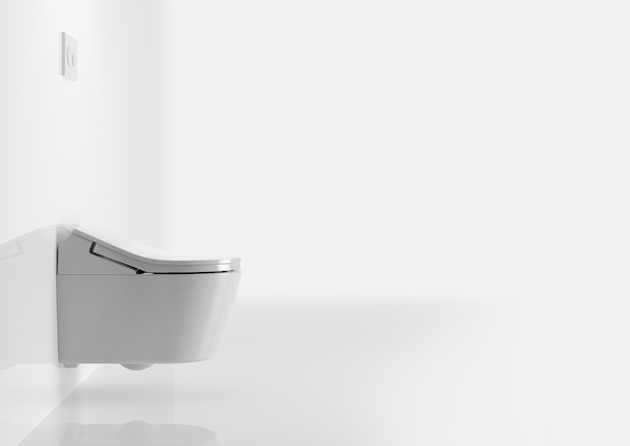 Toto Washlet RX. Courtesy Toto
At Toto, rimless toilets have been part of the standard product range since 2002. Combined with the highly effective Tornado Flush and extremely smooth, long-lasting CeFiONtect glaze, the rimless design makes Toto toilets and Washlet true pioneers in the area of hygiene. Toto's range of Washlet have the following added benefits: Pre-mist, warm water washing, heated seat, deodoriser, optional air dryer and Actilight technology.
Toto's range of integrated, automatic, sensor-activated functions, including the self-opening and -closing toilet lid, automatic air purifier and the self- activating flush. These auto functions not only provide ease of use and convenience, but also another key benefit: there's no need to touch the toilet, increasing the level of hygiene in the bathroom.
CLEAN TECHNOLOGY FOR LONG TERM SAVINGS
For technology to be truly clean it must do more than enhance personal cleanliness – it must also lead to a cleaner, greener environment. Toto's Washlets are energy and water saving. With their custom glaze, intelligent design features and hidden technologies all combine meaning less chemicals and less time spent cleaning.
This is an advertorial feature.
---