Image: Neolith
This cool and contemporary Costa Bravan Hotel references the nearby coastline in its sintered stone finishes
When Hotel Llevant, located in Llafranc on the Costa Brava, Spain, commissioned Pau Llimona to redesign and redecorate the whole building's interiors, the architect came back with a design concept that incorporated the intrinsic link between the local area and the sea.
From sea to shining sea
A major component of the overall aesthetic would be textured flooring, specified throughout the hotel. Principally, the architect wanted a surface which would recreate the roughness and shine of the seabed, with a slightly pearlescent finish. When illuminated, the surface would reveal subtle flecks of blue and red, recalling the sparkling reflection of the bright sun on water.
To realise this ambition, Llimona approached Neolith®, which resulted in the sintered stone brand developing a unique, custom-made colour which became a major design component in the project. In order to achieve the desired surface texture, Neolith created the Riverwashed finish, and the slabs were cut into rectangular tiles varying sizes and laid to create an interesting uniform, but irregular, tessellating effect with a clean finish.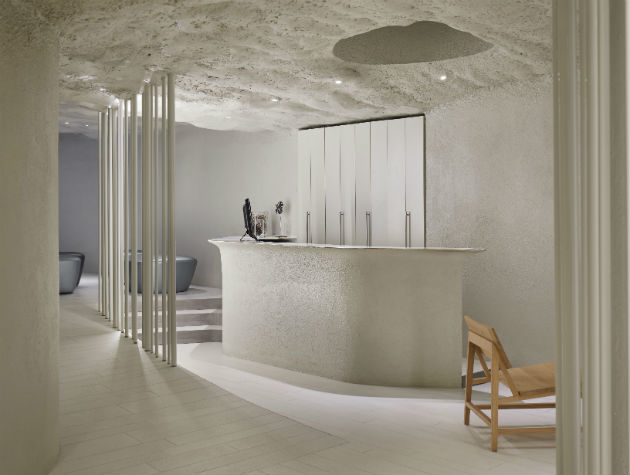 Image: Neolith
World of water
To further harness the effects of the sea, Llimona took the inspiration right up to the ceilings. He wanted to represent the dissipating foam of a breaking wave to place guests in the heart of the tide itself.
To achieve this ambitious stippled effect, he used layers of plaster punctuated with cleverly angled lighting to imply the gaps in the froth where the darker colour of the sea comes through.
As the visitor makes their way through the hotel, from the restaurant to the upper rooms, they will see that the texture of the ceiling becomes smoother with every floor, representing the evanescent nature of a wave.
Large spec, floor to ceiling windows also allow daylight to flood into the building, further emphasising the link with nature and adding to the cool, airy atmosphere of the hotel.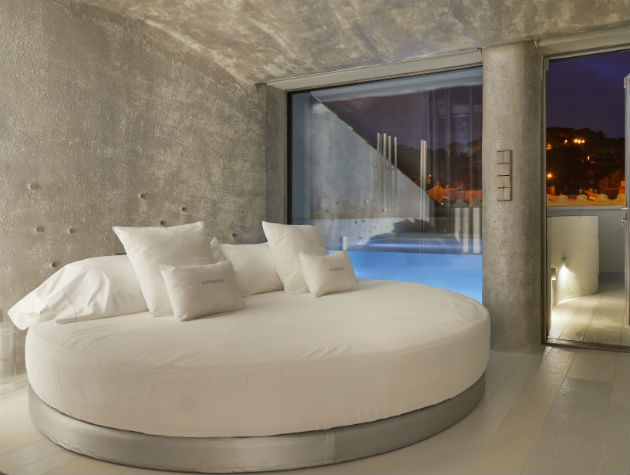 Image: Neolith
Commenting on the finished interiors, the owners of Hotel Llevant said, "Pau has done an incredible job. The hotel's interiors really offer guests a totally immersive experience. It's like stepping into another world! A real highlight was having the opportunity to create a material unique to our requirements, one which reflected the architect's vision; it's something that doesn't happen often."
For more information on Neolith, visit the brand's website
---