Focus launches the gas Gyrofocus: an icon reinvented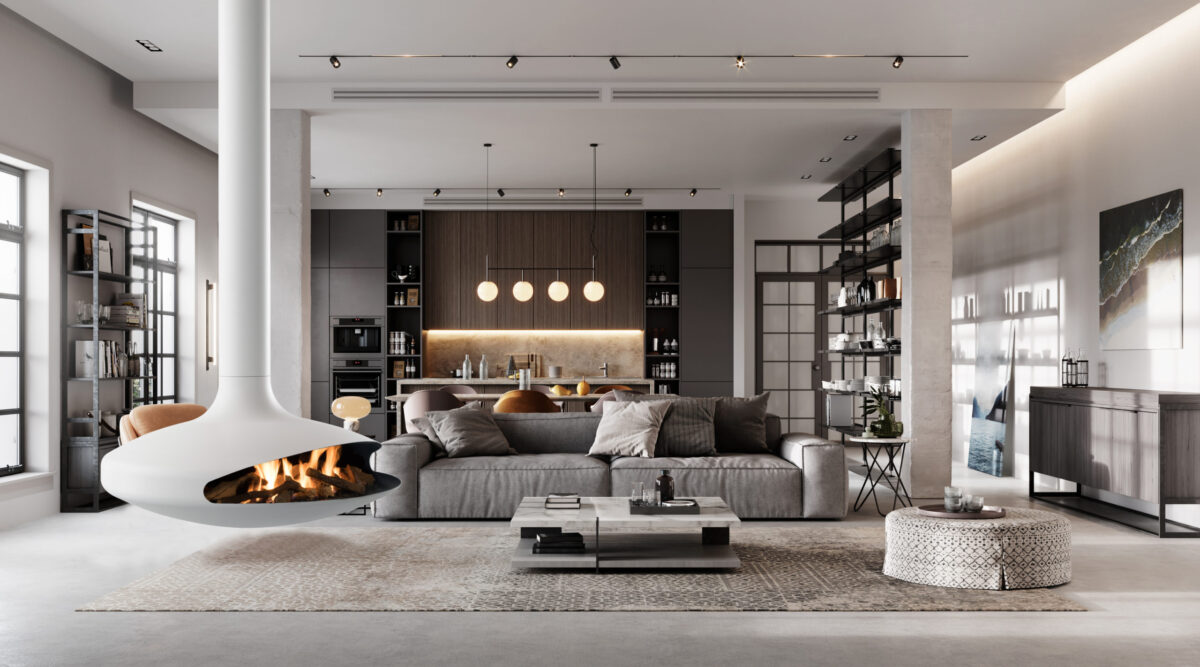 Focus has reinvented fireplace technology with the announcement of the world's first pivoting gas fire, the gas Gyrofocus – a new patented global innovation. This design meets the highest environmental standards and is the very symbol at the brand's heart – once again shaking up established codes of design.
Global innovation with a registered patent
This legendary design, originally created over 50 years ago as a wood-burning stove, has a newly patented technology allowing the gas to be brought down through a sealed pipe into the suspended fireplace whilst pivoting 100°. This is a real technological feat and a world first recognised by the filing of a patent.
Simplicity and control at your fingertips
The gas Gyrofocus is practical, easy to maintain and a stress free fire. It is a generous and spectacular fireplace with ceramic logs that perfectly imitate the dancing flames of a real wood fire. The first suspended and pivoting gas fireplace is energy efficient with an output of 13 kW and allows for ease of installation above any type of flooring. The gas Gyrofocus is also equipped with remote control: instant ignition, adjustment of flame and heat intensity, programming for controlled, constant and comfortable heat.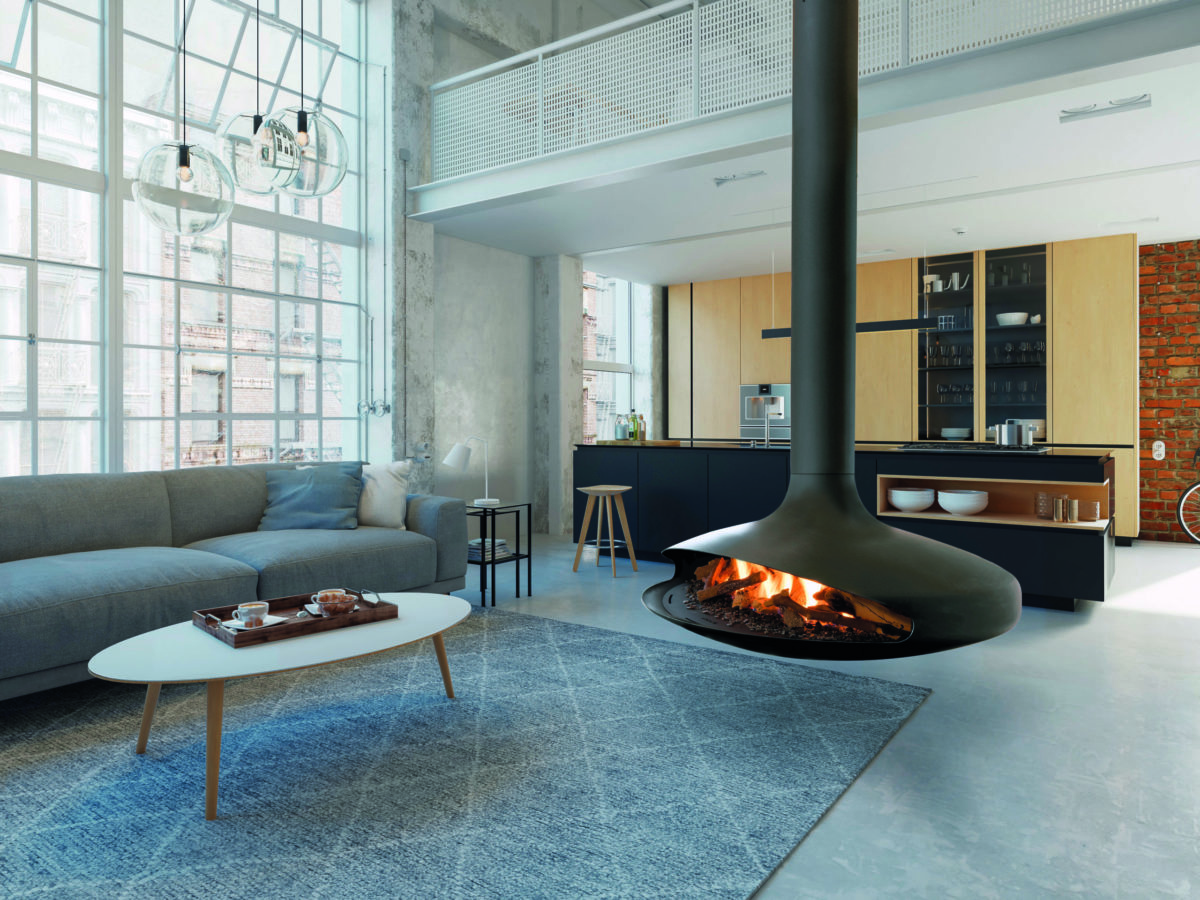 The pleasure of fire in the heart of urban spaces
Odourless and with zero particle emissions, this icon can naturally finds its place in an apartment in any geo-location. Thanks to its ease of use, this sculptural design can be installed in the reception areas of large hotels, restaurants and establishments open to the public as well as private residential projects.
Technical Information
With its advanced technology, the gas Gyrofocus cannot be sold without a preliminary technical survey of the site and its installation must be carried out by official Focus partner-resellers trained in this technology. The model is equipped with a specially designed plate to allow the gas to pass through the pipe. The installation operates on batteries and the burner is controlled with a remote control. Focus has an extensive UK network of trusted partners and resellers.
Established for more than 50 years Focus is based in the South of France, and employs over 100 people. They design fireplaces that break with the usual conventions of chimney design; are archetypally modern and combine technical innovations with craftsmanship. They were the first company in the world to suspend a fireplace in the centre of a room and also the first to make it with a pivoting hearth, maximising heat distribution.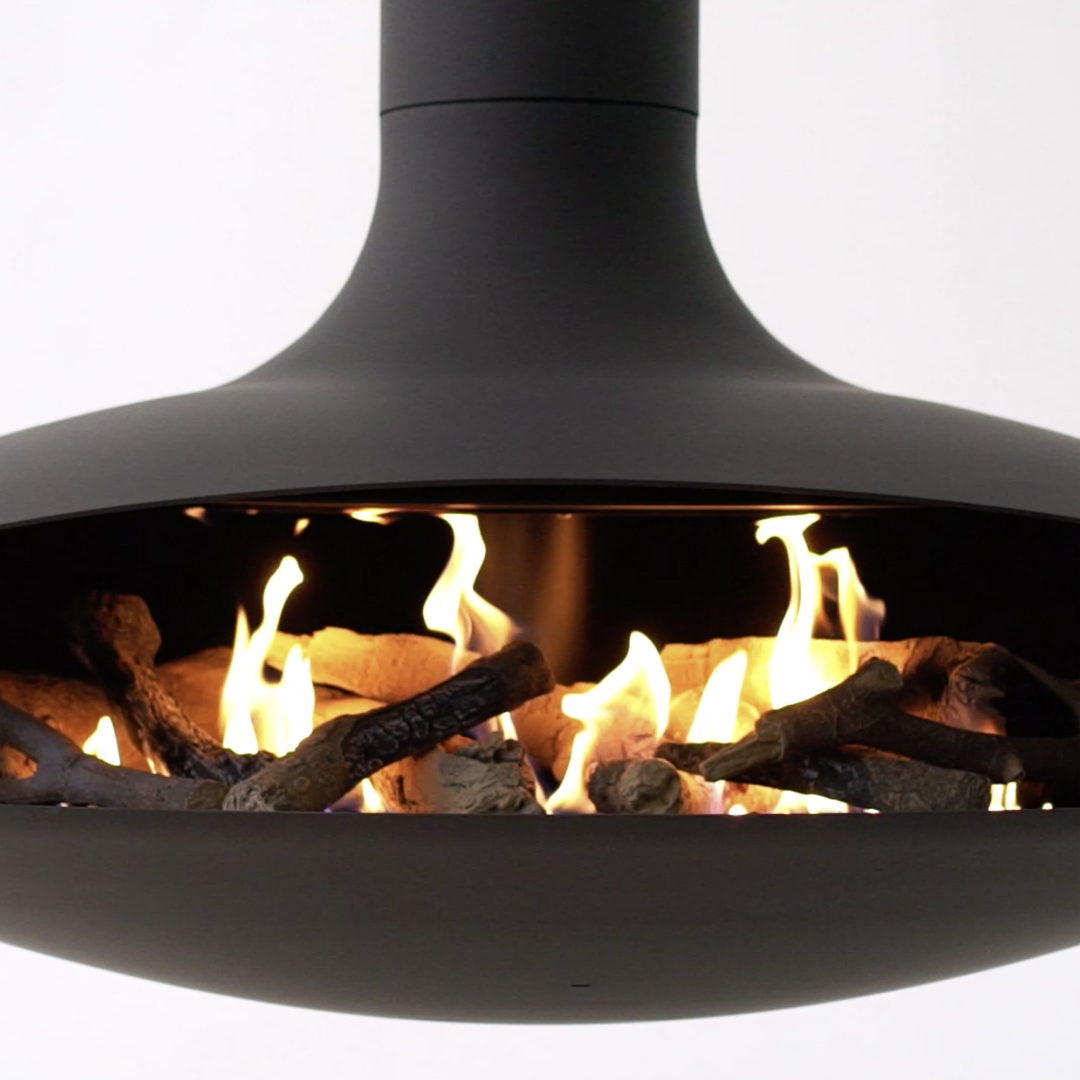 Their fires are crafted by artisans and made to order, each one created specifically for each client's project. Focus is committed to both people and planet, making fireplaces that conform to all the strictest regulations across the UK, Europe and around the world. They have many models that are EcoDesign Ready, DEFRA approved and suitable for Passivhaus and low energy building projects. They design and fabricate chimneys that are suitable for both wood-burning and gas; for inside or out . They have over 60 models and more than 60,000 clients worldwide. FOCUS remains where it began life, in the medieval village of Viols-le-Fort in the south of France, in the original stone house renovated by FOCUS' Founder Dominique Imbert. This is where he created the very first fireplace and today it is the company's head office.
For more information visit focus-fireplaces.com
All images courtesy of Focus
---