Will shared e-bikes continue to be a part of the city furniture? Peter Smisek ventured to Shoreditch to find out more about dockless e-bikes and their users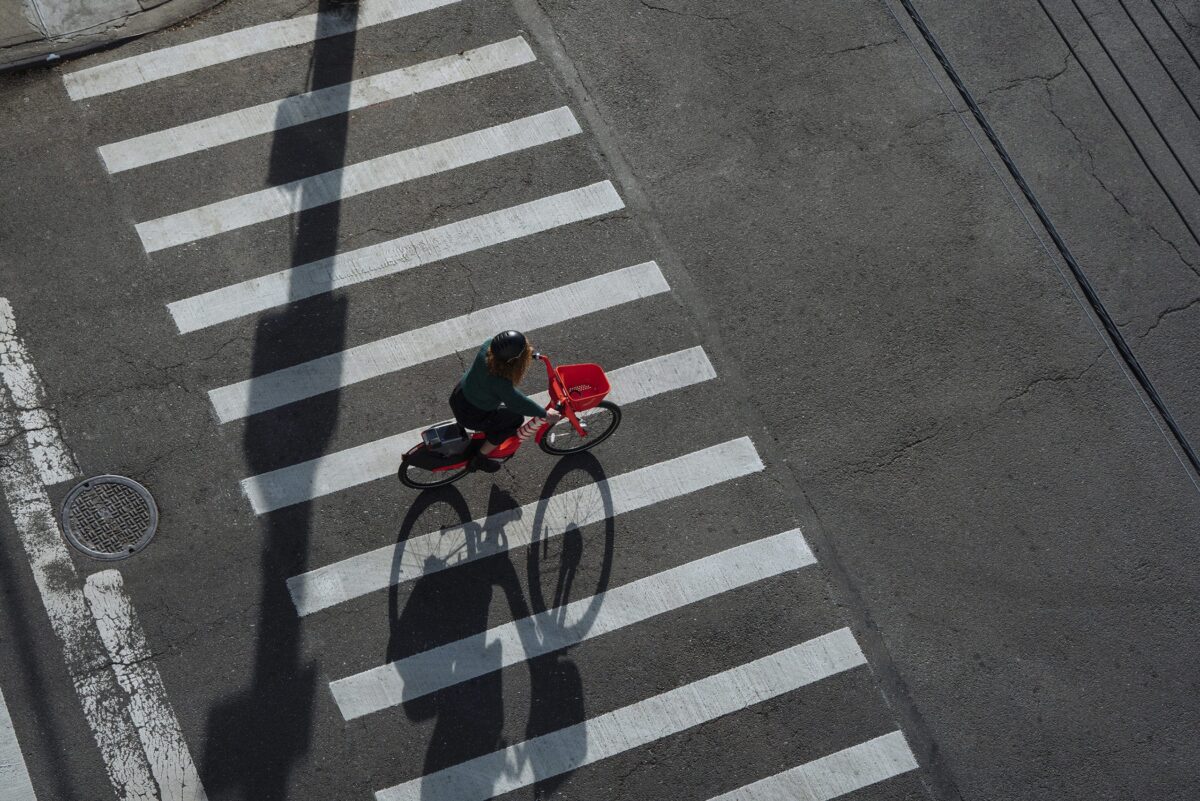 Words by Peter Smisek
Cycling is on the rise in London, and the stereotype of the cyclist as a lycra-clad, middle-class middle-manager ploughing his pedal-powered two-wheeler through crowds of unsuspecting pedestrians couldn't ring more true. Although the cycle path network is not expanding as fast as it should, accidents are down and ridership is up.
Not everyone has their own bicycle, and – thanks to various schemes in the city – not everyone needs one. Santander Cycles, London's own bicycle sharing scheme launched in 2010 and is operated by Transport for London (TfL). However, its network is limited to inner London. It generally offers a good value for money with a £90 annual membership, and last year the system clocked almost 10.5 million rides.
Dockless bikes – which can be unlocked using a smartphone app and could be spread much further – were briefly popular when they were introduced to the city by the Alibaba-owned Ofo and its rival Mobike in 2017 and 2018 respectively. But these were prone to theft and vandalism. Ofo withdrew from the UK in 2019 and Mobike's operations were since scaled down. Thankfully, London was spared the scourge of e-scooters, which have come to litter pavements across European metropoles, because the TfL refused to allow their operations.
This, however, did not deter e-mobility start-ups from entering the city by other means. Instead of scooters, London now abounds in electrically-assisted dockless bicycles. Lime, a startup from San Francisco, introduced its fleet of 1,000 green e-bikes across Islington, Ealing, Brent, Croydon and Bromley in December 2018. Within a year, one million riders had used them. Uber, never one to shy away from trying to increase its share of the mobility market, followed by launching its bright orange e-bike Jump in May 2019. Beryl, another dockless e-bike startup, is available in Hackney and the City of London.
There are still issues with e-bikes. Users are only allowed to use them in certain boroughs. Cycle too far out and you will incur a fee. Furthermore, users often leave them parked across the pavement, blocking the way for pedestrians. To overcome this nuisance, Hackney has now designated more than 70 official bike parking spots within its boundaries – a sensible move by any measure.
But will shared e-bikes continue to be a part of the city furniture, or will they be quickly consigned to the increasingly toxic trash heap of history? Icon ventured to Shoreditch, London's early-adopting, start-up friendly neighbourhood to find out more about dockless e-bikes and their users.
Chris Coombe This is my first time using a shared e-bike. I have a bit of a time to kill and wanted to see some shops that are a fair walk away. I've never used this kind of service before. I saw the bicycles out of the window this morning and wanted to have a go. I just downloaded the app – it all looks pretty easy and convenient so far.
Ella Davenport I've used a shared e-bike once or twice. The first time I did it was a sunny day and I wanted to be more conscious of the environment and not take an Uber. It actually ended up being more being expensive! I would definitely use them regularly if they were cheaper. The bike I last used was good and I wasn't at all tired after. I definitely wouldn't use them during the winter – it's just not very nice.
Daisy Hilliard I regularly use the Santander cycles, but have never tried the Lime or Uber e-bikes. I have the impression that the Santander ones are cheaper. There's more of them and I can rely on them. But a lot of my friends use the dockless e-bikes and say they're really good, I would definitely be willing to give them a try in the future.
Michael Chibueze I've only tried them once, but it was overall a good experience. The bicycle worked, the app worked, though at first it felt a bit slow. Afterward it picked up speed and was much easier to ride. I actually found the service to have a very, very good price. I would absolutely, 100 percent use them again for commuting – it's just great to be riding among people. I was actually considering picking one up today, but it's raining.
Sophie Ng I use dockless e-bikes fairly often to commute to work. I found that the docking stations for Santander cycles don't always have available spots to park them. Although the Jump is more expensive than the bus, it's much nicer as the buses get quite crowded during peak times and are generally much slower.
Images courtesy of Jump Bikes
---