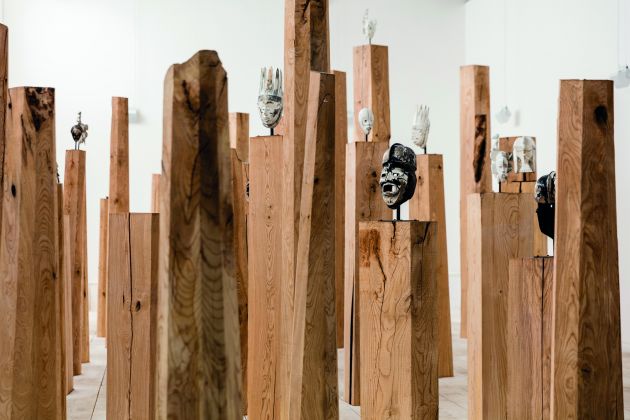 Installation view of Amalgam at the Palais de Tokyo. Photo by Chris Strong, courtesy of the artist
The little known history of the island Malaga provides a compelling focus for the artist's polymorphic work, writes Joe Lloyd.
In the aftermath of the American Civil War, Malaga — a small island off the coast of Maine — became home to an anomalous interracial community. 'The island,' writes the American artist Theaster Gates, 'was an amalgam, filled with trees from other places, micro-climates and people who represented the unrepresented. The island in a sense may have been post-modern in the late 1800s.'
In a country riven by racism and segregation, this paradise was soon lost. The local press slandered the island as a den of degenerative iniquity. Motivated by eugenics-inspired fears of racial mixing as well as an abortive plan to turn Malaga into a tourist resort, in 1912 the state governor evicted its 45-strong population. Several residents, including a family of seven, were placed in a psychiatric institution. The bodies of their predecessors were even cleared away, severing all ties to the island. Today, Malaga lies forlorn and forgotten. Amalgam at Tate Liverpool, Gates' first museum exhibition in Britain, serves as something of a memorial to its heyday.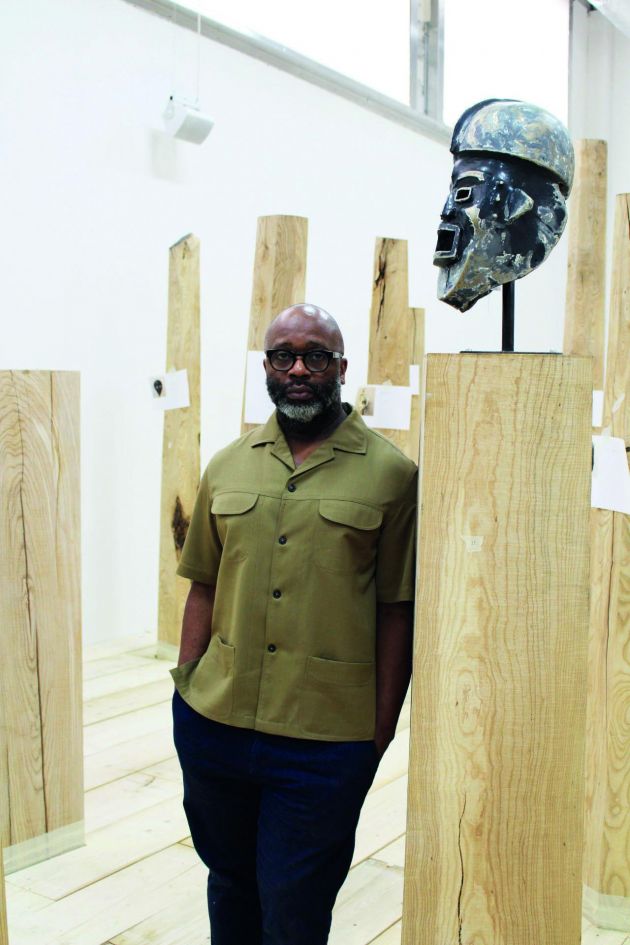 Portrait of Theaster Gates, courtesy of Palais de Tokyo
Gates is among the emblematic artists of the past decade, and Amalgam is aptly named. His work is eclectic in form and synoptic in spirit, drawing together sculpture, ceramics, painting, film, dance, music and architecture. He is genuinely socially engaged, with a proportion of his income funnelled into community projects in the impoverished South Side of his native Chicago. And – in common with contemporaries as various in medium as Danh Vo and Kara Walker – his oeuvre represents a sustained challenge to white, Western-centric accounts of cultural history.
Gates manifests these aims in his attempt to restore the status of black cultures, from American-American cuisine to Christian iconography. By homing in on the brief flourishing and appalling fate of Malaga, Amalgam distills Gates' many-pronged practice into a tightly-woven sampler. It's perhaps the neatest encapsulation of his polymorphic processes to date.
The exhibition begins with Altar, a humungous, sloped structure clad in slate tiles, which represents the dimensions of the average three-person Malaga house. It appears as if sunk in the ground: an inert, inaccessible remnant. Nearly, a circle of broken slates serves as base for rotating neon sign spelling out 'MALAGA.' As visually impressive as these pieces are, the message – tourist tat sprouting from smashed lives – is blunt.
It is when Gates contextualises Malaga that Amalgam becomes richer, a nexus of overlapping voices. An expansive blackboard is chalked with a capsule history of colonisation and civil rights, which weaves collective occasions and individual lives into a polyphony. Pivotal moments in recent African-American culture – Halle Berry's 2001 Oscar win, Sam Gilliam's 2018 solo show at the Kunstmuseum Basel – are presented alongside incidents from Liverpool's role in the transatlantic slave trade.
Malaga Department of Tourism, installation view, Palais de Tokyo. Photo by Chris Strong, courtesy of the artist
The two-room assemblage Island Modernity Institute and Department of Tourism sees Gates take a museological turn. Six cabinets collect objects purportedly scooped from Malaga's ruins. Some resemble ethnographic treasures, others household fixtures. A few might be intimated as instruments of imprisonment and transportation, carried to the island as a reminder of traumatic pasts. Gates is ambiguous as to what is genuine and what is fictive. The factual and the symbolic are intermingled, a ferment compounded by the presence of Gates' own sculptures. These often integrate found objects with scrap material. One particularly affecting piece sees a tiny African mask delicately submerged in tar.
One of Amalgram's recurring strands concerns interracial romance. A woodcut-like image depicting a mixed-race couple sharing a kiss is concealed behind a mock-up tourist office. In Gates' film Dance of Malaga, a pair of dancers draw close to kissing but never quite manage it. Their movements, filmed on Malaga itself, are interpolated with footage from Douglas Sirk films, TV documentaries, home videos, recorded sermons, and more. Quotes from US state laws condemning interracial marriage highlight the institutional underpinnings of American racism. While the dance sections are somewhat stilted, the film as a whole provides a devastating rebuke against those who seek to separate, today as much as in 1912.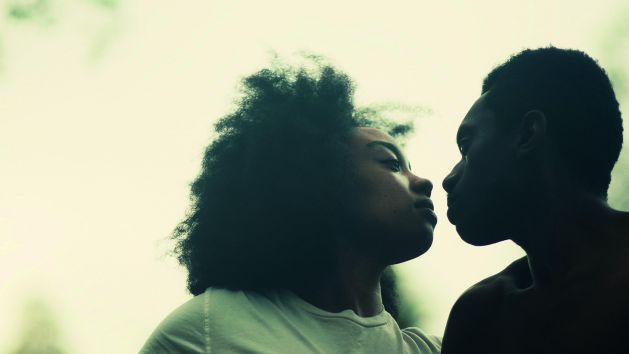 Still from the film Dance of Malaga. Courtesy of the artist
Dance of Malaga is ably soundtracked by Gates' bluesy band The Black Monks. That group also make for a startling sonic presence in Amalgam's elegiac closing statement, the installation So Bitter, This Curse of Darkness. 70 pillars hewn from salvaged ash trees are topped with bronze casts of six African masks, which each originate from different parts of the continent. At once communion of lost peoples and an elegy for a utopian Malaga that may never have been, it is here that Gates' amalgamating becomes most sonorous and resonant.
Theaster Gates: Amalgam is showing at Tate Liverpool until 3 May. This review is included in the spring 2020 issue of Icon, Icon 199
---