The pandemic has provided a powerful case for the neighbourhood as a self-sustaining microcity. Architecture and urban planning should learn from this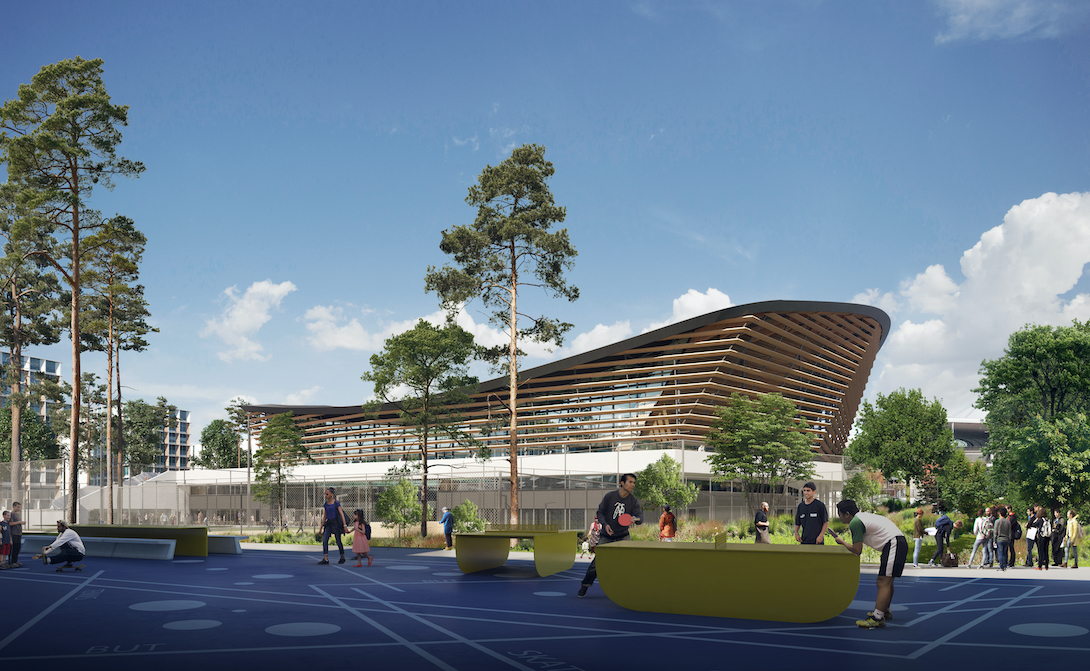 Aquatics Centre Paris 2024. Credit: VenhoevenCS/Ateliers234
Words by Ton Venhoeven
These days, more and more attention is paid to energy transition and material use in architecture to successfully reduce carbon emissions and combat climate change. However, against the background of all sustainability challenges, these attentive projects are unfortunately just a drop in the ocean. 
Some of the greatest environmental threats we currently face include loss of biodiversity, depletion of raw materials and pollution. Our collective footprint is simply far too big. The solution? Using far less agricultural land, reducing fishing, restoring coral reefs, reusing materials, and preventing pollution of all kinds is a start.
We can deal with all these challenges by dramatically reducing the land use our lifestyles require and – crucially – by improving our cities. Because here's the thing: environmental sustainability and social sustainability are inextricably linked, and this symbiosis needs to be more commonly addressed in mainstream architectural and urban planning discourse. 
The power of community is at the heart of a successful and sustainable city. Design, too, can help create self-sufficient and attractive places that cater to inhabitants such that people want to live and work there. By transitioning from a linear to circular economy, we can develop thriving cities and communities across a diversity of regions, encouraging inclusivity and greater social cohesion.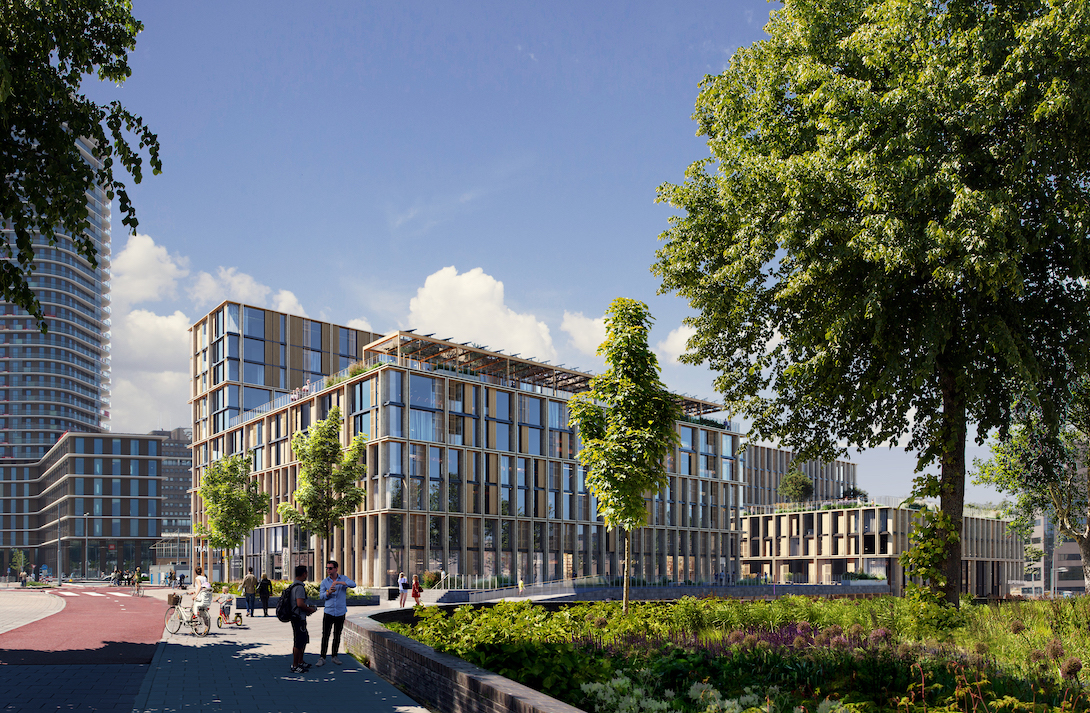 AMST, Amsterdam. Credit: VenhoevenCS
In a self-sustaining circular economy, raw materials are repaired, reused and re-manufactured locally. Car usage is reduced, opening up space for alternative community functions, and improved public transport links ensure inhabitants can travel easily.
Historically, cities worked with much less mobility, grounded in the power of local communities, the energy of the sun, wind, rain, other renewable resources, and the skills of local craftspeople. If we can re-engineer this knowledge for contemporary urban spaces, we can reduce our ecological footprint whilst creating walkable cities, promoting green space, ensuring access to resources, and creating stronger and more caring communities – essentially, the things that make people happier.
The pandemic has provided a powerful case for the neighbourhood as a self-sustaining microcity. In a year of lockdowns, crucial questions arose regarding quality of life in one's local environment: What can I do within walking distance? Can my child play outside safely? Which services are available and how can I work from home if I don't have much space? Could we have community gardens where we grow our own food?
Het Platform by VenhoevenCS. Credit: Ossip
These practical considerations deserve urgent prioritisation alongside careful use of materials and well-executed details of sustainable buildings in order to achieve long-term social sustainability and wellbeing.
Let's take Amsterdam as a case study: it has roughly 870,000 inhabitants and the cost of living – combined with the fact that most low-paid jobs are difficult to reach by public transport – means that 400,000 vehicles drive from affordable suburbs to and from the city centre every day. This system not only leads to cultural, social and political division, it is also environmentally unsustainable.
The city council therefore formulated a new Housing Agenda in 2017 which includes a policy to stimulate affordable housing whilst promoting the highest sustainability standards – including social sustainability. To prevent segregation, every new project must have a mix of 40% low-cost housing, 40% affordable housing, and 20% free market housing.
AMST, Amsterdam. Credit: VenhoevenCS
The first and so far I believe the most important result of this policy is the AMST project. Situated across from Amstel station, it has been designed by my company VenhoevenCS architecture+urbanism. Because this is a densification project, people from the neighbourhood participated in the formulation of the design requirements.
AMST is conceived as an attractive, high density, mixed-use contribution to the neighbourhood, with low cost and affordable rental apartments, incubator spaces for artists with collective exhibition space, a food market and restaurant, and three-storey units with a licence for retail or workspace. 
With collective facilities like a living room, playground, roof terraces and community gardens – which also contribute to the building's water neutrality goal via retaining and reusing rainwater – AMST aims to become a socially inclusive and vibrant living environment in the city centre of Amsterdam. 
The required technology for self-sufficient, localised economies is largely available, it only needs to be applied in the right way. This requires implementation of new economic models and political decision-making, a collaborative, multidisciplinary approach, and a genuine, profound understanding of the needs of the local people. 
Ton Venhoeven is the founder and the principal architect and urban planner of VenhoevenCS architecture+urbanism 
---