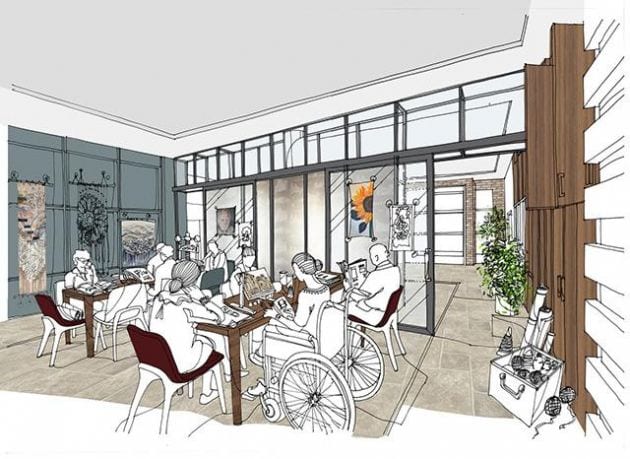 It may not be an infectious disease, but loneliness is an epidemic that has significant consequences for health and disproportionately affects older people. Eugene Marchese, founder and CEO of Guild Living, believes that residential designs appropriate for later life could be the remedy.
In her timely book A Biography of Loneliness, published last year, the cultural historian Fay Bound Alberti traced the origins of a condition which for many is now an unavoidable part of daily life.
Loneliness, Alberti believes, is now woven into the fabric of our society. Such is its ubiquity that prior to the COVID-19 outbreak, some commentators were describing loneliness as a national, or indeed global, epidemic.
Just a few months into a new year, a new decade, and a different kind of epidemic arrived. Now, almost all of us have recent experience of what it is like to feel shut off from society.
This last week was Loneliness Awareness Week, and for the past few days, there have been a number of stories about how loneliness can be every bit as deadly as COVID-19.
According to the Campaign to End Loneliness, loneliness is as bad for you as smoking 15 cigarettes a day or being chronically obese, and can trigger other life-threatening conditions such as dementia, heart disease and depression.
Moreover, loneliness disproportionately affects the elderly and vulnerable. Age UK believes that 3.6 million older people in the UK live alone. Of these, 2 million are aged 75 or over.
There is a real and pressing crisis around how we look after older people in the UK. Now that we all have more direct experience of loneliness and isolation from loved ones, perhaps it is time to really do something about it.
At Guild Living, we want to address this crisis in later living and consign heart-rending stories like the above to the past. We want to bring older people back into our minds and into the hearts of communities, and recognise the valuable contribution they make to society.
One way we have sought to do that is through placemaking and development. With the backing of Legal & General, we are developing four later-living communities in the UK.
Each site will be specifically tailored to that particular urban environment to ensure that our residents feel integrated within that community. What is important is that we are not trying to create "new communities, but rather "extensions of those that already exist". Moreover, we want to guarantee that our residents' physical environment works to help reduce loneliness, supported by sensitive and progressive therapeutic and care facilities.
Our second site, a 4.5-acre community in the heart of Bath, will deliver over 300 new age appropriate homes close to essential amenities and existing high street services..
By locating our scheme within the Bath urban context, the site will provide the residents with the intergenerational interaction which is vital to maintaining a sense of connectivity and personal wellbeing.
Moreover, we are engaged in a rigorous research programme in partnership with the University of Bath which will flow into the facilities we design and develop.
We also intend to hold a series of think tanks among professionals of different disciplines throughout the year to discuss the research, after which potential design interventions will be tested out in our later living communties.
It is our intention to make this research an open-source repository, so that our experience and expertise can guide other developers towards building schemes that give older people, and our urban centres, a new lease of life.
Campaigns like Loneliness Awareness Week are useful in helping to open up conversations around loneliness in old age. But what we really need is to change the narrative of social isolation among the elderly.
Investing in later living schemes is one way that we as an industry can ensure that, in the future, fewer older people are left to fend for themselves.
---