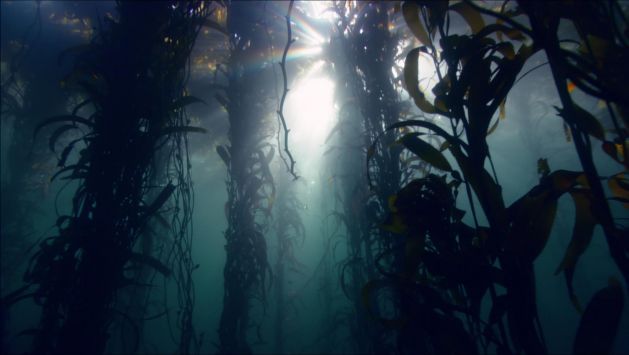 Still from Vertigo Sea by British filmmaker John Akomfrah, 2015. Image: Smoking Dogs Films.
MCA Chicago explores how the source of all life also nourishes humanity's most destructive, exploitative tendencies. By Vasia Rigou.
Earth has a lot of water. Actually, 71 per cent of the blue planet's surface is covered with it. But this doesn't mean it is merely a natural resource. Instead, water takes different shapes and forms. It constitutes not simply an environmental space, but a political and an economic one too. It is our life's source but also a powerful force of nature. Its peaceful, glass-like surface can swiftly turn to roaring waves crashing into the abyss. That feeling, between harmony and horror, is overpowering when entering the Museum of Contemporary Art Chicago (MCA) exhibition, Water After All. 
In an effort to define the connection between humans and water, the MCA brings together works from its permanent collection, all centred around John Akomfrah's film Vertigo Sea. The three-channel installation premiered at the 2015 Venice Biennale and explores humans' relationship with the sea and its role in the history of slavery, migration and conflict. A significant figure in the black arts movement, the Ghana-born British filmmaker draws inspiration from two classic literary works: Herman Melville's Moby Dick (1851) and Heathcote Williams' epic poem Whale Nation (1988). He then masterfully weaves found and archive material to create vignettes of terror and beauty. 
The juxtapositions are striking. At first glance, the work brings a wildlife documentary to mind –commanding images of land and seascapes. But a closer look reveals something entirely different: hunters take down polar bears, slaves are thrown overboard, whales are split open and dissected, and immigrants drown, their bodies washed ashore. Nature's beauty and glory are compromised. The sea is not a source of life any more, rather a site of mass murder, nuclear testing and political instability. Human intervention seems irreversible. 
It is all too much to take in: too much blood, too much greed, too much exploitation of the planet. As the ecological and the political collide, ever- relevant issues of slavery, global migration and the refugee crisis inevitably rise to the surface. The viewer is left stranded in despair. Even hope feels too much to hold on to. 
The vast gallery suddenly feels small and stuffy, but moving on offers little escape. The colonisation of the ocean and of the natural environment as a whole are palpable throughout the show. So are the devastating consequences of human intervention. 
Further into the exhibition, Chicago-based artist Pope.L recreates his installation, Flint Water Project (2017). Calling attention to the water crisis in Flint, Michigan, he bottles contaminated tap water and sells it at a makeshift pop-up shop within the gallery, in an effort to shed light on environmental racism against the town's predominantly black communities.
Basim Magdy brings his signature 'pickling' technique – film developed with household chemicals – into the mix with An Island Recalls the Tangled Details of Its Past Life as a Poem of Solitude and Unrecorded Events (2016). But don't let his humoristic approach and pop art sensibilities fool you, for his perspective is a grim one: whether we are living in an ideal world or a post-apocalyptic dystopia is unclear.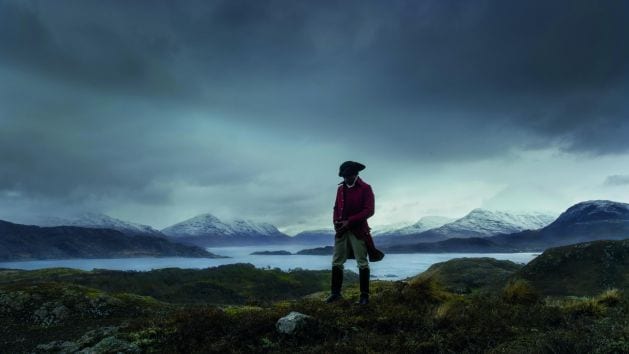 Vertigo Sea explores the ocean's role in the history of slavery, migration and conflict. Image: Smoking Dogs Films.
Elsewhere, John Gerrard's series, Flag (Amazon, Nile, Danube, Yangtze) (2017), catches the eye. Gerrard digitally renders polluted bodies of water from around the world. Iridescent gasoline spills float aimlessly, almost hypnotising. The water, our life's source, is yet again compromised. It's becoming harder and harder to watch. 
Lynn Davis' large-scale minimalistic photographs of icebergs exude serenity, but not for long. Since 1988, when Icebergs (Disko Bay, Greenland) was created, the rate of ice melt has dramatically increased. This has a direct effect on coastal populations around the globe. It also means that Davis' icebergs have now melted into the water that used to surround them. 
Around the corner is Boris Mikhailov's black-and-white Salt Lake series. The artist captures summer days at a lake in Ukraine near the birthplace of his father. But this is not your typical vacation. Contaminated by a factory spill, the lake was believed to have healing powers because of, not in spite of, its industrial waste. Women in bikinis and swim caps, men riding bicycles near the shore and old people seeking relief from their medical conditions are photographed against the backdrop of factory buildings and runoff pipes – a striking glimpse of life in the USSR. 
Another work that confronts the apathy that exists towards toxic waste is Alfredo Jaar's Geography = War (1991). Photographs of toxic-waste dumping in Nigeria are placed in lightboxes, which the artist has suspended over 55-gallon black steel barrels. The lighted images are reflected in the still water. 
Literally hanging above it all is a bright blue banner: 1000 Flags/1000 Waters, an ongoing project by artist Jenny Kendler and activist Mara Robbins to empower frontline communities to protect their water from pipelines and fossil fuel. 
Water After All is much greater than our relationship with water. Between beauty and the sublime, it carves out a space for thought, about and for nature. There, modern society is no longer separate from the natural world. As towns and cities grow more packed and natural resources are compromised, rural areas become more than an idyll for tourism and recreation – they are all we have left to protect. Realising the interconnectedness of all life, it becomes obvious that the exhibition forces the viewer to look inward. Images and sounds are indelibly etched in the observer's mind, changing them forever. 
But the looming question remains: is it possible to redefine our relationship with water? Can we ever satisfy our thirst without massively depleting the planet's resources for reasons that seem shallow, unnecessary and, beyond all, selfish? 
---