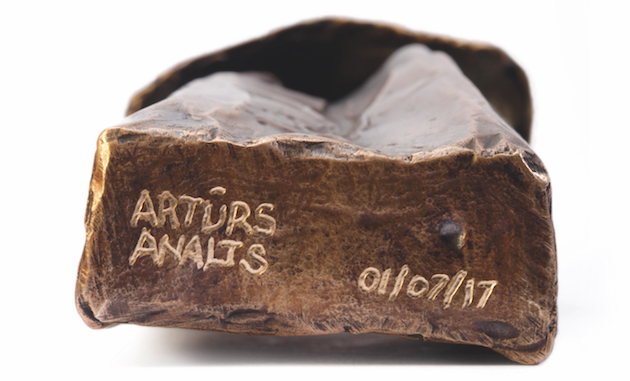 'It was the last cigarette pack she ever bought. After she finished the pack, she threw it in the garbage,' begins Latvian designer Arthur Analts. 'I scooped it out. I didn't tell her but I knew I wanted to do something with it.'
Analts' story is about his friend Agate and an old Marlboro packet. The designer, whose installation for the Latvia pavilion recently won the award for 'most exceptional design' at London Design Biennale, resolved to cast the jetsam in bronze.
It is something like a trophy: 10.5cm high, 5cm wide and a couple of centimetres deep. A 1:1 replica of a slightly crumbled, tired old habit, with the embossed Marlboro logo just visible in the cast bronze. He dated it '01/07/2017' and called it 'Motivation'. 'With each day the value of this object grows,' explains Analts. 'If she buys another pack, it's meaningless. It's a gift as motivation.' Agate, an artist, currently keeps the sculpture of her last pack on a shelf in her apartment in Riga.
If bronze-casting an old fag packet sounds peculiar, consider that Analts and his friends are in the endearing habit of making one-off design objects for one another. Analts has handmade postcards from Porto, Vienna and Barcelona, 'heart-warming and sweet' gifts from his friends' travels across Europe. He plans to return the favour during his stay in London.
Analts' installation at the Biennale, Matter to Matter, transforms water into vapour, and invites visitors to write a message in the condensation, destined to disappear in moments. His favourite postcard, too, was a reminder of a fleeting instant. Thinking of a friend living in Portugal who was missing the vivid Latvian autumn, the designer sent her a morsel of the moment 'when the trees look like they're burning'.
Go to @iconeye on Instagram to see more from Analts' project including a 360-degree video
---