The London studio's designs for Max & Benito aim to evoke a coastal road trip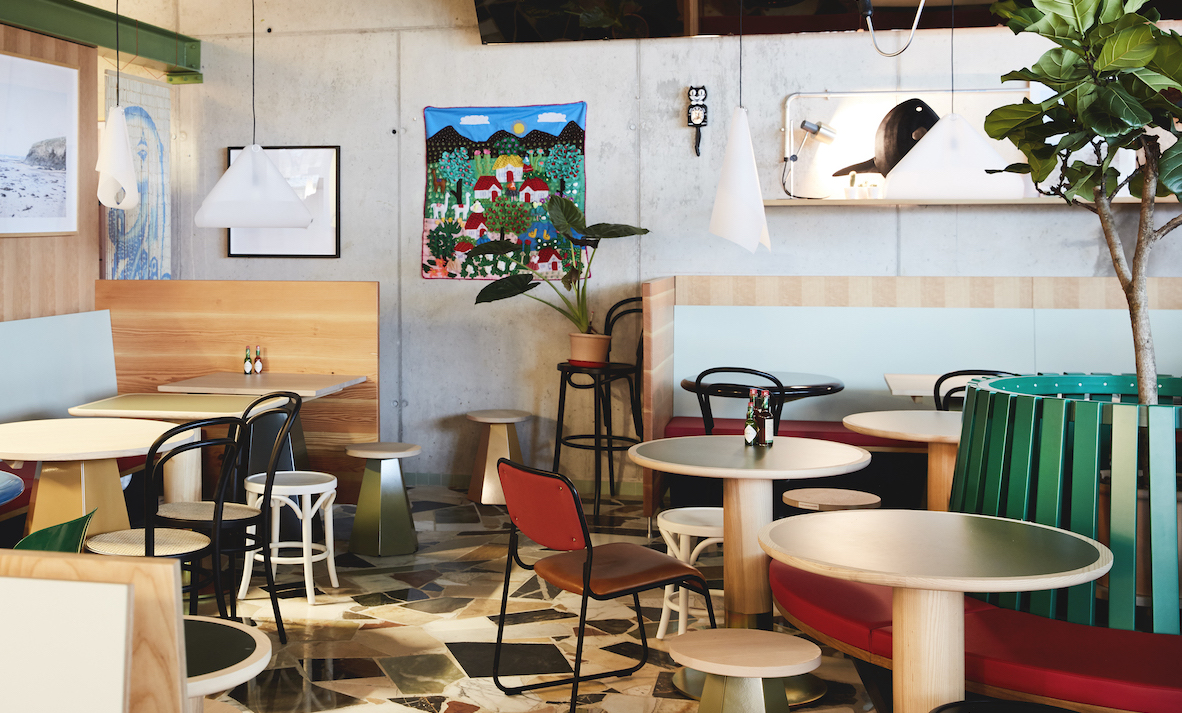 London design practice Studio Alt Shift has designed interiors and furniture for a new location of Max & Benito, the burrito-focused cafe in Vienna. The new space forms part of Vienna's Austria Campus – an emerging financial and tech hub beside the Vienna University of Economics and Business.
Studio Alt Shift's task was to bring character and a personal touch to an empty space. They did this through taking a narrative that relates to Max & Benito's Californian-style Mexican cuisine – a road trip along the Pacific Coast Highway – and imbuing the space with this sunny, west coast aesthetic and populating it with souvenir-like objects.
'We worked for a long time on finding a way to make the space feel like a beachside diner in the middle of a Californian highway adventure, somewhere that had organically grown over time,' says Andrew Haythornthwaite, Studio Alt Shift co-founder.
'The found objects work very hard in the space,' adds co-founder Shai Akram. 'They reinforce the idea that a person chose and selected them. Most are one-offs or samples from the making of the space. We really wanted to evoke the feeling of travel where you collect curiosities and memories along the way – a lot of the imagery on the walls come from our own journeys.'
In addition to these diverse collected objects, Studio Alt Shift crafted specific furniture and decorative features for the project, including a series of sculptural fish carved by hand in their London workshop, a large and colourful abstract mobile for the restaurant ceiling, and a bold terrazzo-style flooring pattern using offcuts of natural stone.
The studio worked with Bill Attlee, a Cornwall-based master surfboard shaper, to create special tables. Attlee took the foam material that is used to make surfboards and shaped it into dimensions specified by Studio Alt Shift, and then employed the process of 'glassing' – a board-finishing technique in which multiple layers of resin are applied to create an intense shade, while ensuring a robust surface.
As well as the surf-inspired tables, the studio also paid tribute to the architecture of the seaside in a family of heavy-duty 'Post' tables in various heights. These feature iridescent metal casings and chunky wooden posts evocative of masts, pier legs, moorings and other nautical structures.
The lighting was also carefully designed for the space. Paper Spring lights have translucent shades made from hand-folded A1 paper sheets, while wall-mounted Fold lamps pivot on a hinge away from the wall. Above the burrito counter, a custom-made series of headlamps is designed to resemble a stage-lighting rig.
Across the space, varied textures are created by a material palette of woods, wicker, cane, rattan and Forbo laminate in a spectrum of colours.
Photography by Lucas Hardonk
---