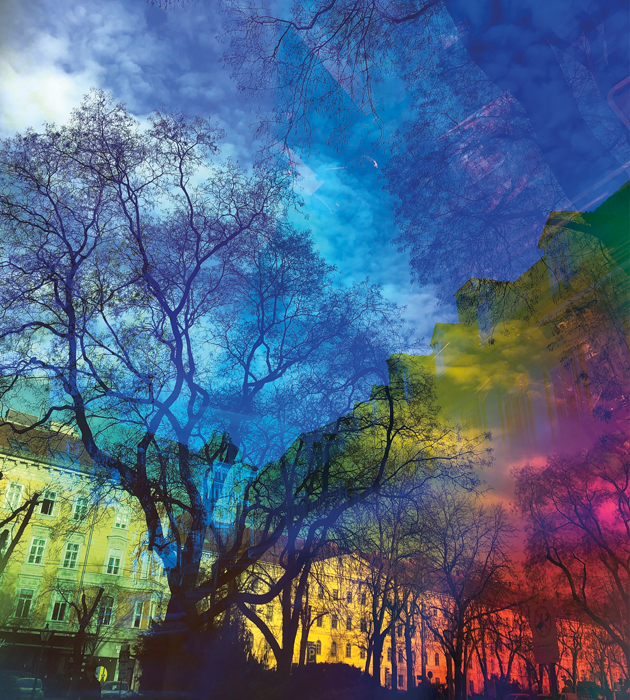 Looking Glass smartphone filter, Klanglicht festival, Graz, Austria, 2019
In the digital age, Jordan Söderberg Mills is going against the grain by creating real-world experiences using glass and light. But the results are still shareable, finds Debika Ray
While design today increasingly translates from the physical into the digital realm, Jordan Söderberg Mills is going against the grain by creating real-world experiences with a distinctly digital flavour. Perhaps the best illustration of this is an object he showed me when we first met in 2017. Looking Glass is a handheld cube that, when placed on your smartphone, amalgamates three different perspectives into one, creating a colourful, other-wordly image without the need for Photoshop or Instagram filters. When we talk this January, he is getting ready to launch a limited edition run of these at the Klanglicht light and sound festival in Graz, Austria. 'I think it's an interesting idea – facilitating the creativity of others, allowing other people to use pieces of my work to create their own set of images and video,' he says of the design.
At the same event in April, he will unveil a piece of work at the opposite end of the spectrum in terms of scale, but which demonstrates a similar interest in light, colour and experience: the facade of a historic luxury Austrian department store, Kastner & Öhler. 'I started researching the idea of luxury, which comes from the Latin word for "light". The idea is that the jewels we wear are little traps for light. I'm going to be using different optical coatings on all the windows, and turning the entire building into a jewel.'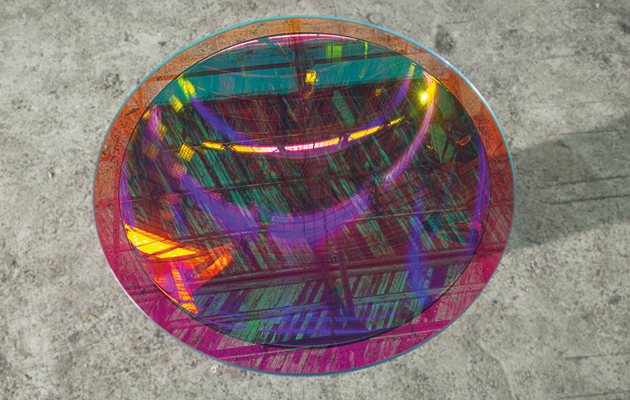 Parabola I, a parabolic mirror that distorts images of its surroundings, 2016. Photo by Devin Lund
These two projects demonstrate the divergence of Söderberg Mills' practice into both much larger architectural structures and smaller designed objects. While he has tended to focus on temporary installations so far, he is now in the process of making permanent works. At present, he is in talks to create a series of artworks, up to 20m wide, for all of the new metro stations being built in Dubai for the 2020 World Expo. He is also gearing up for a residency in Istanbul, where he will work with local artisans on a collection of furniture, mirrors and tableware that reinterpret traditional Turkish techniques such as glass blowing and carving. 'It's going to be about the space around the objects, as well as the object itself,' he says. 'I'm looking at how they catch, sift and create patterns using light. It's an opportunity to look outside my own cultural context at a completely different history of decorative arts and interpret it in my own way.'
It's not the first time the Canadian-born artist and designer has plunged into a new context. After studying in Barcelona, he did his master's degree at Central Saint Martins in London. And he has recently moved to Berlin, where he is in the process of refurbishing an old nine-bedroom house just outside the city that he and his partner inherited. He plans to transform it with artworks he has made, drawing on Germany's abundance of glass manufacturers and lens fabricators.
Perhaps his most formative experience was an apprenticeship in Chile with artist Francisco Gazitua. At the time, Söderberg Mills was studying art history at Trinity College in Toronto, with a view to joining his mother's business, which involved constructing and fabricating artwork for major figures such as Anish Kapoor. But he found himself wanting more. 'I was miserable working with other people's ideas when I had so many of my own,' he says. Gazitua, who was working with his mother, responded to his concerns with an invitation to move to his property in central Chile to learn how to be a blacksmith. 'Two weeks later, I was on a plane to the Andes. I lived in a little shack on his property on the side of a hill, with wild horses coming to my window to wake me up in the morning. I built a small home and a studio, and ended up spending almost seven years there.'
Adidas concept space in Boston, US, designed with Sid Lee Architecture, 2017
During this time, Gazitua taught him how to sharpen tools and maintain machines, as well as passing on some important life lessons. 'I spent four or five days painstakingly making this beautiful knife, and after I was finished, he took it from me, put it in a vice, cut it in half with an angle grinder and said, "Okay, now make two". It was a traumatic experience, but it taught me that once you invest all this time, love and energy into something, you have to let it go.'
Apart from making him comfortable with the concept of ephemerality, this period ended up influencing Söderberg Mills in a more substantive way. 'I started paying attention to the way that light and shadow were casting on the iron and thinking about the shadows these objects would cast into the space around them. I started thinking about an object not just as a solid thing that's defined by its own silhouette, but how it occupies space, how it relates to the space around it and how lights and perception can change objects.' This thinking is apparent in the artworks he has produced since: immersive installations that use mirrors to reflect and refract light and play with the viewer's visual perception. These have been displayed in spaces that range from stark, empty warehouses to institutional settings such as the Art Gallery of Ontario in Toronto.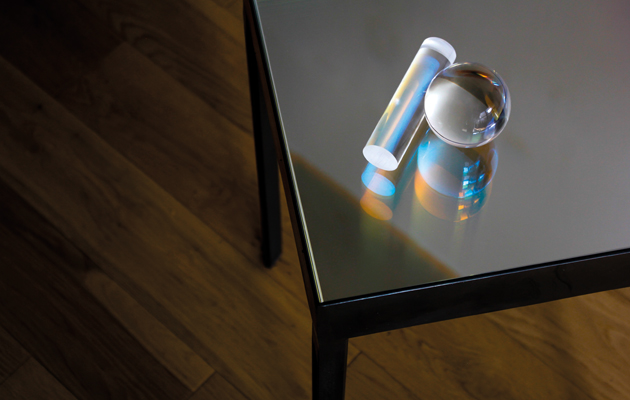 Split Light, detail with side table, graduate work for Central Saint Martins, 2015
He never did return to Canada from Chile to finish his undergraduate degree, but he did study architecture for a brief period while he was there, which no doubt helps him conceptualise his larger works. During his master's degree in London, he refined his interests in light as a material. 'It's about breaking down these media until you get to their base components, then figuring out ways you can rebuild with them,' he says. 'Basically, how can I control lights with a physical object?'
His investigation ranged from the safety and security industry to the use of glass in the aerospace industry, and how to stop astronauts from getting sunburnt. As part of his process, he contacts material manufacturers with requests for samples to experiment with their particular optical qualities and how they bend and shape lights. 'I'll approach companies that work, say, with retro reflectors and I'll have an idea in my head of a retro reflector with a particular type of optical film having a certain type of effect. It comes down to experimenting in real time, shining lights at different angles to give light a sense of volume and a sense of weight, and seeing how I can divide it into its colours, and then rebuild those colours in a certain way. Then it's about how I can turn this into an experience.'
He mentions artists such as James Turrell and Es Devlin as having influenced him, but he draws less on other designers and artists and more from his own cultural interests. 'I try to find my inspiration from science fiction, literature, things like role-playing games, and the nerdy, comic stuff I used to play when I was a kid, like a Fortress of Solitude in Superman. At the moment, I'm obsessed with Liu Cixin, who is a Chinese science fiction author. I explore how I can create objects that look like they don't belong in our world in a way.'
Whatever size, shape and form his work takes, the goal remains the same: to captivate and excite his audiences. 'I want to bring a little wonder into people's lives.'
---