A new concept from the international design company facilitates touch-free plane journeys post-Covid
Words by Francesca Perry
As international travel creaks back to life following pandemic lockdowns, many are left wondering what the future of plane journeys might look like amid heightened needs for hygiene and personal space.
In response, Pure Skies – a new concept from industrial and transport design company PriestmanGoode – re-imagines business and economy class cabins for post-Covid air travel. It harnesses design, technology and material innovation to help support journeys centred around personal space, hygiene and touch-free interactions.
In the economy cabin, named Pure Skies Zones, dividing screens are positioned every other row between the top of seat backs and the ceiling, for greater physical separation. Redesigned seats minimise dirt traps and hard-to-clean gaps and staggered seat configurations maximise the feeling of personal space for passengers.
Nevertheless, commercial concerns still underpin the concept, with in-flight entertainment screens removed and offered as hireable add-ons.
In the business cabin, named Pure Skies Rooms, each seat is a fully enclosed space, partitioned by full-height curtains. In-flight entertainment systems are gesture-controlled and synched to the passenger's own device.
Antimicrobial finishes are embedded within surfaces and fabrics throughout. "We've taken hygiene to a whole new level by leveraging the latest developments in CMF [colour, material and finish] and completely re-thinking the seat cover construction," says Maria Kafel-Bentkowska, PriestmanGoode's head of CMF.
"We've eliminated all but the essential seat breaks needed for functionality. Other split lines have been treated with heat welded tape that eliminates places for the virus to hide."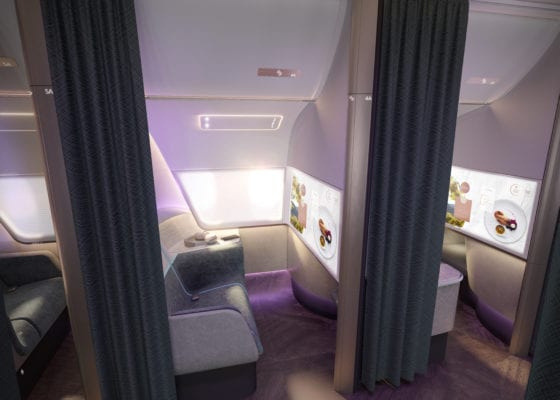 Photochromic and thermochromic inks that react to new cleaning methods are used to make visible messages of reassurance on fabric surfaces while boarding. These then disappear once the passenger is settled.
Colour psychology has also played a role in the design, with hues chosen to help create a sense of calm and security onboard.
PriestmanGoode, co-founded by Paul Priestman and Nigel Goode in 1987, has long pushed forward transport concepts that champion efficiency and innovation – and has been responsible for the Hyperloop cabin interiors, the Airbus A380 cabin and the New Tube for London.
With Pure Skies, says Goode, "we've looked ahead to imagine future scenarios and taken into account new passenger behaviours driven by the global pandemic to ensure our designs can be implemented within a few years."
He continues: "We have not only taken on board present anxieties but also tried to ensure our solutions are future-proofed against future pandemics, recognising the significant commitment and investment involved."
All images courtesy of PriestmanGoode
---