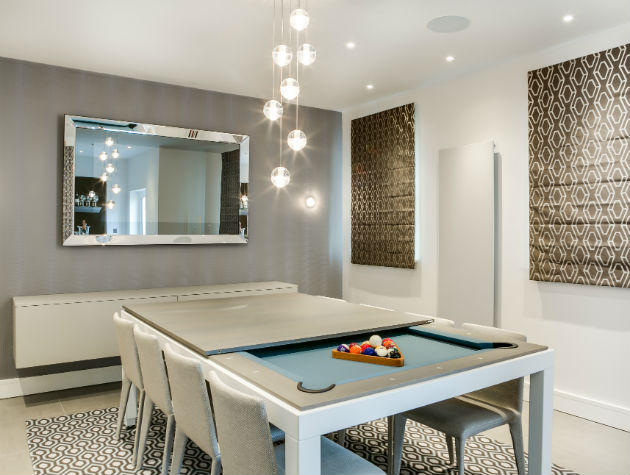 In these modern times, space is becoming an expensive commodity and a real interior design challenge.
For most of us, having a pool table at home is an unaffordable luxury. However, Fusiontables's design collection could probably encourage both professional pool players and contemporary design fans to play pool in the comfort of their own homes.
Well-known for their creativity, flexibility and know-how, Belgium-based Saluc are part of Iwan Simonis, a world leader since 1923 in the manufacturing of competition pool cloth and the production and marketing of high quality billiard balls and associated products.
Eight years ago, Saluc decided that it was time for a new pool table concept, and, working with the unusual mantra 'something my wife will accept in the living room', the Fusiontable was born. The Fusiontable is naturally based on the shape and dimensions of a traditional American pool table, but offers it as a combination of a pool table and a modern dining table. The sleek and light- looking design of the Fusiontable creates a zen, elegant lounge atmosphere, something that can rarely been said about a traditional pool table.
Fusiontable's design team have managed to completely conceal a real slate pool table of more than 300kg into a 11cm deep minimalistic dining table frame in various colours of metal and types of wood, and – the cherry on the cake – the table is equipped by Iwan Simonis high-quality cloth, available in more than 25 colours.
These ground-breaking tables also tackle the question of differentiated heights between pool tables and dining tables, thanks to a patent pending Easy Lift System which enables users to raise the table within five seconds. And finally, you won't need to sacrifice one room to house your table. It won't be tucked away in an unused corner or a dark basement, but it will become the centrepiece of your living room and a vital feature in your home life.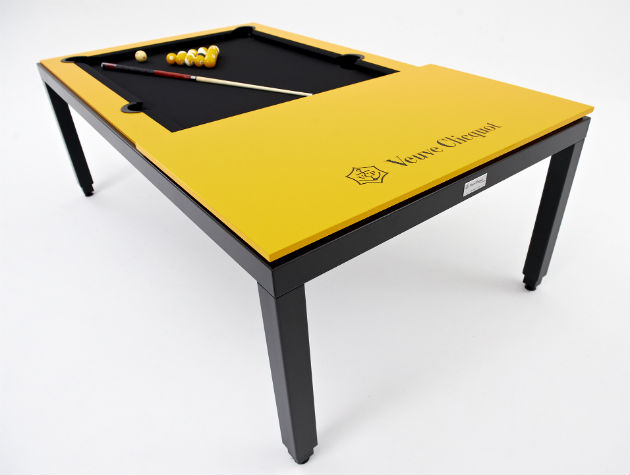 The Fusiontable's powder-coated steel legs and frame are sleek enough to cover up its traditional pool tracks, the extending nylon pockets are invisible when the table is not in use for a game, and the state-of-the-art veneered wood cover gives a pleasing feeling of elegance.
With its wide collection (901 combinations are available) Fusiontables will definitely satisfy your taste for amazing minimalistic contemporary interiors made of high-gloss white pieces or loft industrial tones, mixing reclaimed wood and metal, or even a natural Zen chalet touch, and your need to enjoy precious moments with your friends or family. So turn off your TV or computer, and come back to relaxing sensations of fun and socializing with Fusiontable.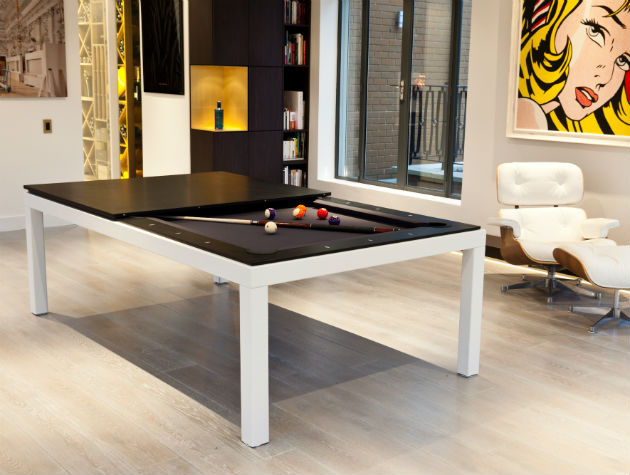 ---