Pollution from single-use plastics has finally become a hot topic. A new wave of designers and researchers are tackling the problem by rethinking the way we look at waste, writes
Anna Winston
At the end of last year, China made a decision. From the first day of 2018, it would no longer accept imported post- consumer plastic waste for recycling. The news hit headlines around the world – China is one of the world's biggest manufacturers of recycled goods and processors of recycled materials, and its decision will have massive ramifications for the handling of waste internationally.
Until January, Britain was shipping around two-thirds of its used plastic to China, and it currently has no other way of processing this volume of waste. That's approximately 500,000 tonnes of plastic. Or, very approximately, 7.8kg per UK resident. And no one really knows what to do with it.
The problem of plastic waste – particularly that created by single-use, disposable products like plastic bags, bottles and even sanitary towels and nappies – has been around for decades. But it seems we've finally reached the point where the astronomical proportion of waste accumulating around the world has become so unavoidable that consumer sentiment is tipping.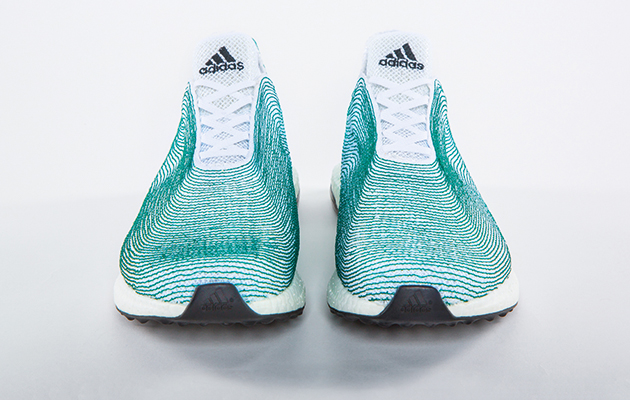 Parley for the Oceans trainer for Adidas, made from plastic waste collected in the Maldives
From homemade videos of floating trash 'islands' taken by divers in the Caribbean and spreading across Facebook like wildfire, to David Attenborough's pleas for urgent action in the hit nature documentary series Blue Planet II, the world has suddenly woken up to the fact that every single piece of plastic ever created is still here and isn't going to magically disappear.
But this is not quite a #timesup moment for disposable and single-use plastics. Plastic is everywhere. It's in the products we use every day – the mobile phones and laptops, the cars, the credit and debit cards, the shopping bags, the Amazon delivery packaging, the wrapping for our foods. Our clothes are made from it, our furniture is made from it, our sanitary products are coated in it.
'As a material it has so much potential, but we are not using it properly,' says Caroline Till, co-founder of material futures agency FranklinTill and head of the Material Futures MA at Central St Martins.
According to Till, the problem with plastics is not that they are everywhere, but that we have become too comfortable with throwing them away. 'Plastic has the ability to be infinitely recyclable and you can keep it in a circular system, which is incredible,' she explains. 'But often with materials it is about building a system around it, and often our emphasis is on a take, make, discard system.'
'We need to start thinking of everything as a resource,' says Till. 'We need to put a stake in the ground, stop focusing on raw materials and use the materials that we already have.'
Design has played a big part in producing products that focus on convenience and profit rather than longevity and responsibility, but it could also offer some suggestions for a way out of this mess. Till and her partner Kate Franklin have been researching alternatives to the prevailing 'use and dispose' attitude, and are about to publish a book on the subject titled Radical Matter. It includes the work of designers who are already trying to think differently about the future of plastic.
In some cases, such as with disposable packaging, this means replacing it with other biodegradable materials, but it also means rethinking what we do with what we've already produced and not ruling out a plastic future.
One piece of the puzzle lies in the fact that the word plastic now applies to a huge variety of materials with profoundly different properties. Some are more suited to a cyclical design process than others, but it's potentially counterproductive to tar all plastics with the same negative image.
Sophie Rowley created a blue foam material from waste plastic
'Plastics have had a very bad press because people talk about them as a whole,' says Sebastian Bergne, industrial designer and head of the Product and Furniture Design MA at Kingston University. 'Plastics are a moulded material, and that way of manufacturingis a way of producing complicated shapes at a low cost. There are a lot of components out there that need to be made in this kind of way, otherwise they just can't be made economically. It's what you put into that mould that should be different, not that you should get rid of the whole process.'
The history of modern, synthetic plastics begins with Parkesine – a kind of plastic made from cellulose, displayed at the Great Exhibition in 1862. Bakelite marked the arrival of synthetic plastics as a glamorous design material, but during the Second World War the development of cheap, robust and lightweight synthetic plastics exploded – PET, the plastic used for disposable bottles, was invented in 1941. The end of the war created a huge glut in production, to which the solution was consumer products.
Designers began exploring the potential of plastic, both as a mass-market material and a tool for radical design. Among them were Charles and Ray Eames, who famously launched the first mass-produced plastic chairs in 1950. Plastics began replacing natural materials in all sorts of homewares, from storage to fashionable furniture – from Tupperware at one end of the spectrum to Eero Aarnio's Bubble Chair at the other.
In 1957, Roland Barthes described plastic as 'the stuff of alchemy' and 'the first magical substance which consents to be prosaic'. This prosaicness is perhaps at the root of today's problem with plastic waste. Since the 1980s, the ubiquity of plastics in packaging and cheap, disposable goods, has undermined much of their value to consumers. Dutch designer Dave Hakkens is among those trying to change the perception of plastic as a low-value material with Precious Plastic, a project that makes recycled plastic manufacturing available to the masses.
Debuted in 2013 as his graduation project at Design Academy Eindhoven, there are now over 40,000 people involved in the scheme internationally, with designs for four processing machines available to download for free online. The results range from the rough-and-ready to the highly considered, and from purely artistic to structural and functional. 'One of the things I really like with Precious Plastic is that when you show people what is possible, they begin to see it as a raw material and not something disposable,' says Hakkens. 'They start creating.'
Reusing old plastic instead of relying on so-called 'virgin' plastic seems like an obvious way forward both ecologically and, in the longer term, economically as it becomes increasingly expensive to buy the raw materials needed to create plastics. Countries such as Finland have proven that it is possible to incentivise consumers to return plastic for recycling with a bottle deposit system, and others are considering following suit.
But many manufacturers are still wary. Not all plastic is suitable for recycling using currently available processes. Cleaning, sorting and preparing the material for reuse can be complicated, while the quality of the material that comes out at the other end can be unpredictable. And there is also an assumption that consumers are more comfortable with virgin products.
'The industry kind of has a problem with recycled plastic,' says Hakkens. 'Everyone hates working with it. It's so much easier if you have virgin plastic because you know the properties and you can achieve the same results every time. But I think people are ready for it more and more.'
'The consistency of waste can vary quite a lot,' confirms Sophie Rowley, a Berlin-based designer who has also been experimenting with reimagining what would normally be seen as waste materials to create beautiful sculptural design objects. 'But I also like to use the fact that it looks different to a virgin material, it has a different effect, and you can play with that to create a new aesthetic.'
Plastic waste is so widespread that recycled plastic could be considered a local material even in some of the remotest places in the world. Giving it a new kind of value could transform economies from a micro to a macro level.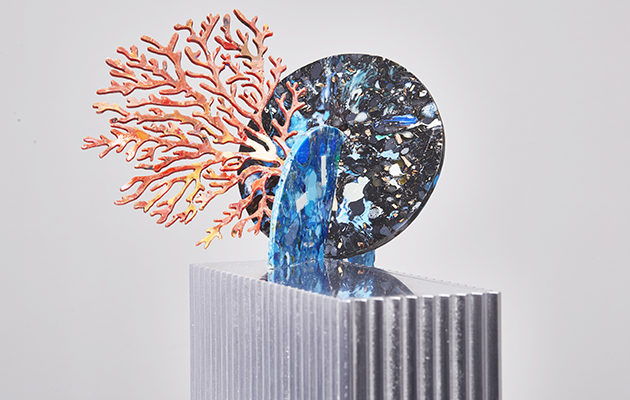 Indian ocean, part of the Gyrecraft collection b Studio Swine
But, despite their very different approaches, Rowley and Hakkens both struggle with another challenge: the words 'recycled materials' often come loaded with a pre-existing value system – one that some consumers and manufacturers too easily associate with a compromise on quality.
'I always hated the word recycling. If you say yeah, I work with waste materials, everyone says oh, recycling, which is frustrating,' says Rowley. 'I like to give waste materials the same appreciation and thought as I would give to raw materials. Applying time-consuming processes and craftsmanship to waste might make these materials more valuable, as opposed to the standard recycling processes.'
If both plastics and recycling have an image problem, the variety of responses suggested by Hakkens, Rowley and their contemporaries could offer a way forward. The surge of interest in their work and the mounting public pressure for more widespread solutions is even filtering through to the big players. In February, IKEA launched its first kitchen fronts made using recycled plastic. 'We are working to make all materials in our products more sustainable, including plastic,' said a statement from the flatpack giant. But it could be speaking for the whole design industry when it adds: 'We still have a long way to go.'
---