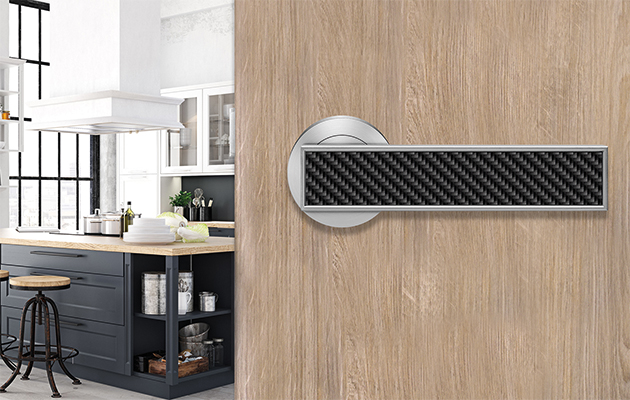 Designer door handle Torino with ebony inlay on 3-piece rose matching to interior design
Karcher's new Torino range was created with Italian designer Itamar Harari, and contains small recesses to enable customisation with patterened inlays
Variety is what defines this new door handle by Karcher Design. Italian designer Itamar Harari gave TORINO a basic rectangular shape with a round neck. Its surface contains a small recess that's only a few millimetres deep to make room for possible inlays. This is why TORINO adapts to any interior element.
Inlay door handle Torino R53 in stainless steel on 3-piece rose
Karcher Design offers a great number of inlays made of different materials: these include thin wooden plates for example in light oak or ebony, genuine leather pieces or even real carbon. Laminate inlays will be available in plain white, cream white, black or with concrete texture. There are inlay designs for every taste! The edges enclosing the inlay are rounded much like a typical picture frame, making it easier to slightly adjust the depth of any inlay if necessary – while ensuring the overall appeal of the design.
The door handle itself will be available in satin nickel or chrome finish. It can be mounted on any Karcher Design rose type. The customer chooses if they want the patented Karcher 3-piece rose or the Plan Design rose, each either round or square.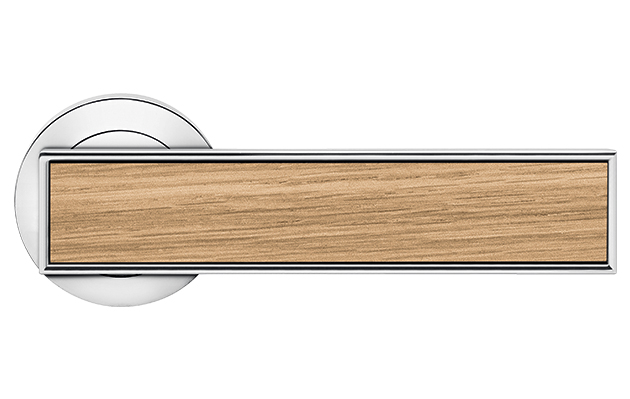 Inlay door handle Torino R53 with light oak inlay in stainless steel on 3-piece rose
There are more than 100 possible combinations for your own unique choice. Torino is also available without inlay to all customers who wish to use their own. Companies specifically can order logo inlays as well.
Torino R53 is a seemingly small detail that can make a huge difference for any room.
This is an advertorial feature
---