STACK – High density rolling storage part of the Silverline range by Group S
Silverline, part of Group S, introduces a wide range of smart storage solutions for the workplace including secure powered lockers to charge your personal devices easily
Group S specialises in the design and manufacture of office furniture solutions for the commercial interiors sector. The steel storage division, Silverline, and screen and acoustic division, Screen Innovations, work closely together developing smarter workplace solutions, for example, powered personal lockers and high density storage to respond to hot desking environments and the trend towards agile working environments.
SWITCH room set from the Silverline range by Group S
Silverline's latest products include Switch, Sleek & Stack. Focusing on Switch, this new personal locker allows you to charge up multiple personal devices, quickly and securely within a multiple locker system. Designed with a tidy integrated power bar which can be accessorised with a range of 'clip on /clip off' USB connectors and three-pin plugs allowing you to power your devices easily and safely in busy environments. For added versatility, a variety of our latest options are available with SWITCH including acoustic panels, white boards and coat hooks.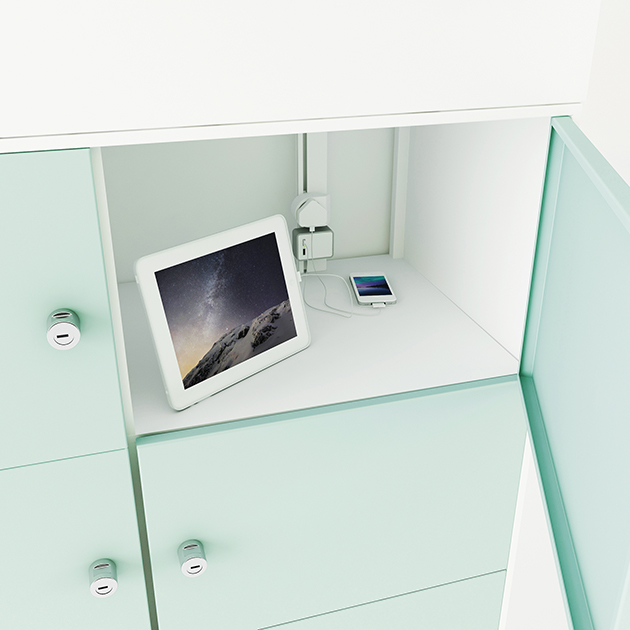 Close up of switch locker – Secure powerbar integrated in the SWITCH locker system
Group S manufacturing plants are located in Norfolk & Suffolk and the company prides itseld on being a long established family run UK business. Due to the nature of the product and the limitations of the raw material used in Silverline's products, as well as responding to market trends, innovation lies in incorporating features that offer benefits such as reconfigurable solutions for future scenarios and consideration to the end of a products life. Each product reaches, at some point, the end of its life so Silverline design to ensure there is ease of entry into the recycling chain. Silverline continually invest in state of art machinery. its most recent purchase was a £350,000 laser cutting machine to increase flexibility, quality, and to be ahead of potential new expectations that develop in the market. Silverline see this type of investment, which improves processes and increases capacity, as key to future growth and stability in the marketplace.
Screen Innovations – SPLIT with integrated powerbar for tidier work surfaces
The Group S showroom, The Gallery, lies with in the heart of Clerkenwell. It's a vibrant space which is shared with a small selection of other complementary manufacturers within the industry.
Find out more here: www.group-s.co.uk
This is an advertorial feature
---