Foam Party (2012). The chairs are fabricated around the sitter
Martijn Rigters' exploratory approach to materials has led to remarkable creations in foam, clay and human hair. But there's more to his work than experimentation, writes
Joe Lloyd
Human hair is not every designer's first choice of material. But in 2016, when Martijn Rigters decided to embark on a collaboration with his Royal College of Art classmate Fabio Hendry (of Studio ilio), the pair found an unconventional solution to their search for a sustainable, readily available material. 'We were looking at different techniques and we wanted to use a material that's abundant in London,' Rigters explains. 'And we realised that there are hundreds and hundreds of hairdressers in the city, all of whom have this constant supply of hair.'
Cutting Edge sofa (2013), made with a bespoke foam-cutting machine
The duo started picking up hair cuttings from salons. Then they applied strands to a series of heated metal surfaces. Due to the qualities of the protein keratin, the cuttings permanently carbonised into an ink-like substance, leaving patterns on the surface of the metal. Rigters and Hendry applied this technique to a series of furniture objects – low tables, trays, counters — in an array of patterns. Some resemble the graceful swoops of calligraphy, others the entangled branches of plants; and a series of tumblers have designs that variously call to mind lattice-work and abstract spot paintings.
Later, the two designers applied it to tiled metal surfaces too, working with British architectural panel manufacturer Solomon&Wu, and to tabletops with US office furniture brand Steelcase. This year, the project appeared on the cover of Radical Matter, a major publication by futurist research agency FranklinTill about innovations in materials.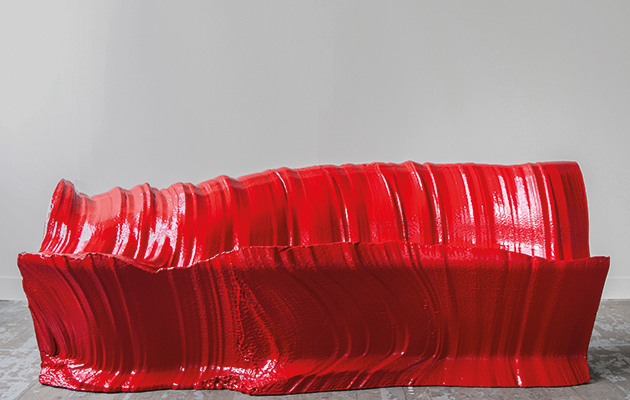 The sofa's irregular foam frame is coated in rubber
The Colour of Hair project, as it was titled, typifies Rigters' exploratory approach, which was influenced by his education. He earned his bachelor degree at the Royal Academy of Art in The Hague. 'It was a tiny, tiny course with only ten people,' he recounts, 'And it was very experimental. It shaped my approach: less about function, more about testing the boundaries of what's possible with production.' He then moved to London to undertake an MA in Design Products at the Royal College of Art. 'The RCA added a sense of relevance,' Rigters says, 'of designing objects that are more than just experiments.'
Foreign Affair, a set of tools designed for space travel
Some of Rigters' works roam the conceptual outer reaches of design, yet they are all tethered to recognisable typologies. Foreign Affair (2016), for instance, is a collection of hammers and spirit levels designed to be adapted for interplanetary travel. It was inspired by the Moon Hammer designed for astronauts aboard Apollo 12. By altering the hammer's weight, one can retain its forcefulness across different gravities. The spirit level works with the same accuracy across the universe. It comprises a metallic fan-shaped device with a long arch-shaped tube containing a large bubble, which taken as a whole looks like a shiny retro sci-fi milieu. These are designs whose moment of utility has yet to come; the opposite of ancient artefacts.
Yet Rigters' oeuvre also exists in dialogue with the past. The technique used for The Colour of Hair was an adaption of that used in traditional Japanese raku pottery, which is made of clay that is rapidly heated and then swiftly cooled. Rigters and Hendry aim to eventually get back together to extend the scheme to ceramics, taking it back to these roots. One Rigters solo project, Lathe Take Away (2013), saw him sculpt a set of vases by hand, using a chainmail glove to manipulate the clay as it was heated. 'I really like the act of throwing clay,' he explains, 'but I wanted to make it so that you can use your hand as if it were a sculpting tool. It's about combining an industrial material and process with the fine touches of a hand, finding somewhere where manufacture meets craft.' The finished vases have an aesthetic that sits somewhere between classical architectural features and appliances such as screws; a near embodiment of their concept.
If there is one commonality across most of Rigters' output, it is an interest in subjecting materials to novel processes. 'I think so far my work has been process-led,' he explains. 'A lot of projects start with a material development.' The Cutting Edge sofa (2013) is a case in point. Inspired by the idea of visualising movement in physical form, it begins with the construction of a large cutting machine featuring a series of hot wires. A block of foam is then passed through the wire to create an ever-changing ridge effect, which can be altered with each iteration. 'The base is about creating this framework, these parameters,' says Rigters. Within this process, near-endless variations on the same model can be created. The sofas are finally coated in rubber, so far in bold white, royal blue and scarlet colourways, which allows them to be durable in outdoor climates. Sleekly matte but organically irregular in form, the final products are highly distinctive.
Is there, I ask, a performative aspect to these creations, whereby a display of the method forms part of a final product? An earlier project, Foam Party, which was demonstrated at Milan's Salone del Mobile in 2012, saw Rigters fabricate chairs before a live audience. Subjects were encouraged to sit on a form base as it expanded, allowing a seat to be moulded to fit their dimensions in a process took just 15 minutes. 'We sometimes feel like performers in how we present and explain our work,' says Rigters. 'I think that performance is often present in design.'
This autumn is shaping up to be busy for Rigters. He will present two projects at the London Design Festival. One will appear at Horror Show! Frankenstein Reimagined, an exhibition celebrating 200 years of Mary Shelley's gothic novel organised by former RCA students. And at Dutch Stuff – a dedicated showcase for Dutch design at the London Design Fair in the Old Truman Brewery – he will exhibit an extension of Cutting Edge, featuring a collection of smaller iterations of the earlier version of the sofa. He considers the original as a gallery piece and now wants to turn it into an accessible object that can decorate a home.
Perhaps the most strenuous pursuit, however, is a move from London to Vienna. This was partially motivated by the economic landscape. 'Although London is a great place to be,' he says, 'the market is so saturated that it can be difficult to find your place.' Rigters believes that the Austrian capital's design scene – which has been developing over the past decade with initiatives like Vienna Design Week and the Vienna Biennale – presents the opportunity to make a mark. He also admits that, after several years in London, he would like 'to have some time on the continent again'.
With the move to Vienna, Rigters plans to apply his conceptual know-how to more functionalist ends; intimations of this transition can be glimpsed in Dee Table (2017), an anodised aluminium side table designed with Hendry for the Polish brand Tre Product, which has an elegantly astringent aesthetic. He also wishes to extend his practice into interiors, and to collaborate on works in Mongolian cashmere with his partner Namuun Zimmermann, a product design and lecturer at Goldsmiths, University of London.
It's an eclectic array of interests, but given Rigters' clever, varied work so far, it seems safe to bet that he'll pull the combination off.
---