The emerging British designer collaborated with Benchmark for his narrative-infused first consumer collection

Words by Francesca Perry
Mac Collins, an emerging Nottingham-based designer and maker, has already scooped awards for his narrative-infused furniture – comprising craft-led pieces which aim to blend European, African and Caribbean references. Now, though – two years after graduating from Northumbria University – Collins has launched his first consumer collection with Benchmark.
Named the Iklwa family, the collection consists of a large lounge chair, a smaller lounge chair and a side table. The wooden furniture pieces have evolved from Collins' initial Iklwa chair he developed at university and which won the inaugural Cræftiga Prize in 2018.
The word 'Iklwa' refers to a type of short spear historically associated with the Zulu people. Collins' original chair – characterised by a large, curved elliptic backrest and spear-like legs, all stained an ultramarine hue – was envisaged as a kind of throne, inspired by ideas of Afrocentrism and Afrofuturism. 'The imposing backrest was intended to frame, empower and enhance any person who sits in the chair,' Collins tells ICON. 'It was also an intentional consideration for when the chair was idle and devoid of human participation. When standing alone, the chair visually dominates its surroundings – a powerful and unapologetic presence.'
Working with Benchmark, Collins developed the original chair into a series of three lounge pieces produced in ash or oak, including a version of the original Iklwa lounge chair. 'The original chair was designed to put the sitter in a nonchalant and empowered sitting position,' says Collins. 'It felt right to continue this principle into the rest of the collection. These following pieces possess the same visual language as the first piece, with bladed spear-like forms and imposing backrests.'
A new colour palette was chosen, leaving the ultramarine the domain of the original project. An Earth Orange stain was selected, alongside a white oil finish. 'We felt it would be important to have a conspicuous and distinctive tone for the collection to pay some kind of homage to the vibrancy of first Iklwa lounge chair,' says Collins. 'The [Earth Orange] colour was synonymous with the vibrant, yet dull clay tones of sub-Saharan African soil.  Sitting on the opposite side of the colour spectrum wheel, this earth orange seemed like a fitting progression from the original vivid blue.'
There is a sense of Scandinavian mid-century design in the slim, elegant lines and smooth planes of Collins' wooden pieces – but the designer has added many more layers of narrative and design references to this. 'I had always been exposed to Scandinavian designers, throughout college and university, and was encouraged to understand their approach as commendable,' he says. 'However, I wanted to push that and bring in inspirations from other less appreciated/accepted influences within design.'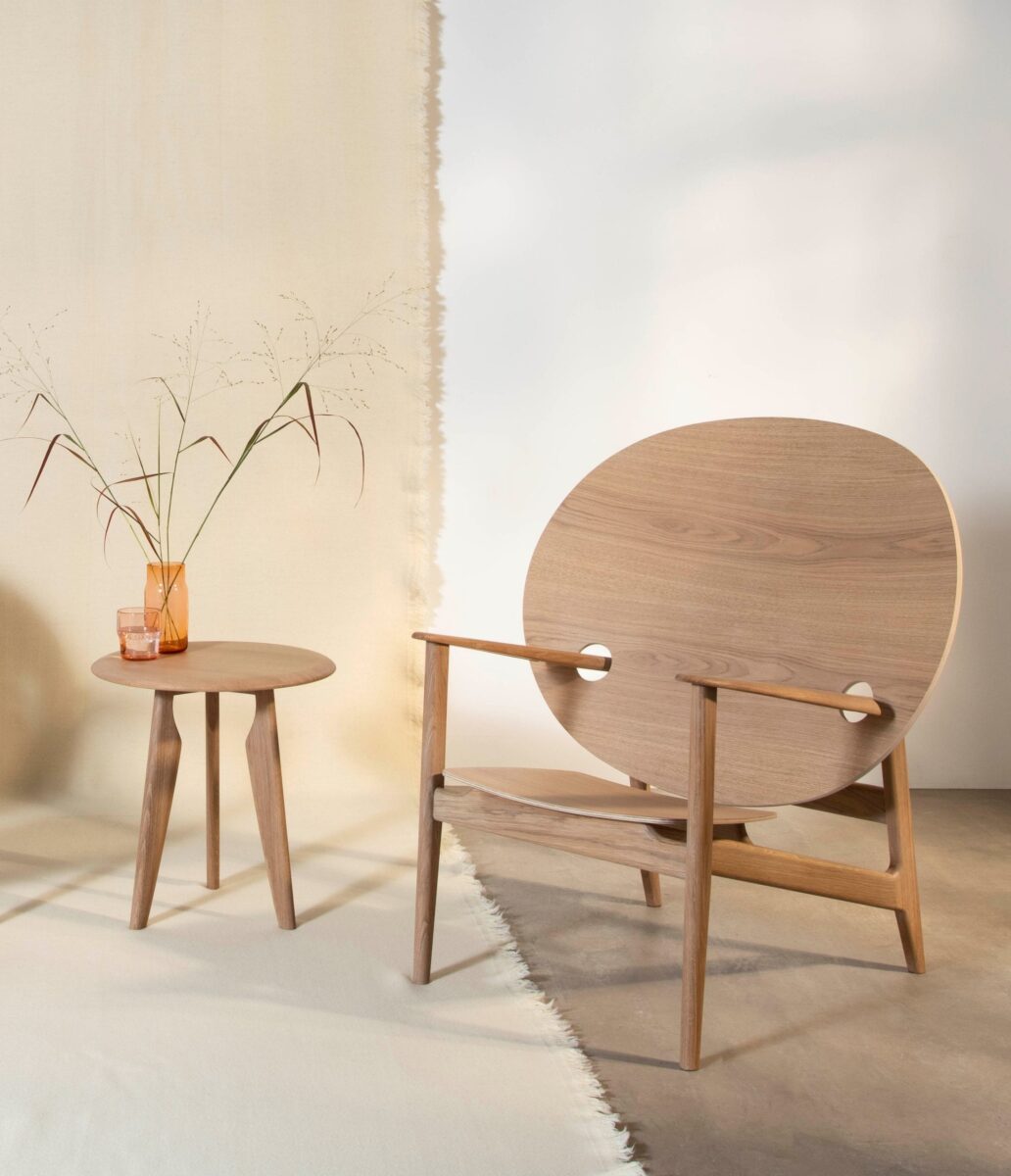 Does he see challenges in blending the conceptual with the consumer – as in, making something infused with particular meaning and narrative which nonetheless has to appeal to and be sold to a mass audience? 'I did initially worry that commercialising the piece would diminish its sentiment,' says Collins. 'However, we did not have to change the original chair that much at all. Plus, I feel it is important that this concept is exposed to a wider audience than I could have ever made possible.
'We surround ourselves with objects, and these objects influence our thoughts and actions. I think it is important that we surround ourselves with objects that also carry narratives or perspectives that we might not have considered previously or would perhaps instigate conversations and debates. More of a reason to exist than just an attractive surface to sit on.'
He continues: 'I also wanted this piece to become more visible. It is great to have experimental and speculative pieces of furniture, but they can only exist in the sphere of one-off art; their conceptual reach is limited to the occasional show and some Instagram posts – one day perhaps sold to a collector who will love and then hide it. It is good that more people may encounter the pieces and experience the intended feelings for themselves, physically in the real world. A lot went into making the piece comfortable and it was designed to entice human interaction.'
The Iklwa Collection features in the 300 Objects: An Inaugural Exhibition for Modern Day Patrons as part of London Craft Week until 10 October 2020
Product photographs: credit David Cleveland
---