Lucy Koldová in her Prague studio. Photo: Everbay
Czech designer Lucie Koldová's glass lighting systems juxtoposes the mastery of Bohemian glassblowing with contemporary technology
When the Muffins collection first came out Lucie Koldová was already a well-respected designer in the furniture and lighting fields. It is undeniable, however, that her enduring partnership with traditional Czech glass makers Brokis has catapulted her into the mainstream. Today, her Muffins (designed with Dan Yeffet) – and subsequent ranges, Balloons, Macarons and Capsulas are mainstays in interior design pages, and in the homes of the discerning design industry types.
Koldová is having a productive 2018. She took centre stage at the interior design stage at imm Cologne designing the Das Haus installation, following in the footsteps of Louise Campbell and Sebastian Herkner. Koldová chose to shape her model house around light installations and simple soft-furnishings, creating a peaceful, if slightly other-wordly atmosphere. "In my 'Haus', light plays the main role, and the furniture complete the rooms –and not the other way around," says Koldová of her creation.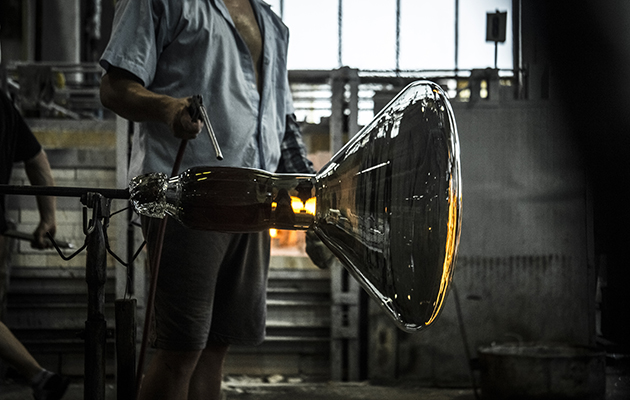 Muffins being handmade at Brokis' Bohemia facility in Czechia.
She's following-up from her stint at Das Haus with a retrospective of her work, including some of the key pieces designed for the imm installation, at Kvalitar gallery in Prague.
A cornerstone of Prague-based Koldová's work is the exploration of the juxtaposition of the traditional making and handling of Bohemian crystal, with contemporary, cutting-edge design. All of her glass and lighting pieces are made by hand to order in Brokis' Bohemia facility. Since 2013 she has also served as Brokis' art director.
She has since split the partnership with with Yeffet that yielded many of of Koldová's early successes, but Muffins remains her most successful design and is one of Brokis' best-selling items, but a slew of new products launching in 2018 might change that.
Designed for Das Haus, the new Ivy pendant light, "or lighting system" as Koldová describes it, is a delicate string of pearly orbs that fade in and out in a soothing pattern (but can also be set to stand still), that can be combined to create a veritable garden wall of ethereal light.
The new Puro – a minimalist pendant light that again can be deployed as a single unite or in a bunch – is an elegant reimagining of old fluoro tubes.
As well as lighting and glass, Koldová also has a handful of wood and metal pieces, developed apart from her role as art director for Brokis. Her lines include the Chips chair, which once again integrates traditional production methods (manually bending wood to form hoops, in this case) with almost futuristic design and bold, urban colours.
But it's in glassworks and light design that Koldová stands out. Below is a selection of some of the designer's most successful works.
Muffins, designed by Lucie Koldová and Dan Yeffet and handmade by Brokis in Bohemia
Muffins
Featuring a billowing glass shade in either ochre, iron or clear shades, mounted on a solid wood stand, Muffin is makes a virtue through simplicity. The naked filament bulb is softened by the delicate contour of the glass, and grounded by the wood stand.
Macaron designed by Lucie Koldová and handblown by Brokis
Macaron
Enclosed in opposing domes of delicate handblown glass, a flat piece of onyx stone becomes a moonscape afloat in its own cosmos. The light source casts its glow upward from the onyx base to energize the meandering chalcedony veins in the centre onyx plate and create a subtle and mesmerising lighting effect. Natural imperfections in the glass and the diversity of structures in the stone make each light unique.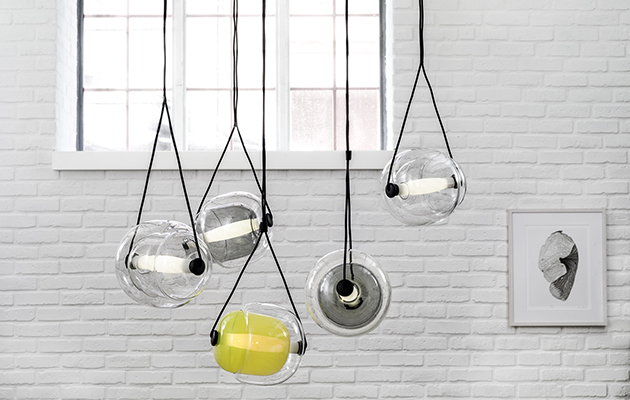 Three pieces of glass within one another, Capsula by Koldová and made by Brokis
Capsula
Designed to resemble a pill, Capsula comprises of three tubes of glass which fit within one another, with a tube of LED lights in the core. The layering and overlapping of these three distinct components creates a clever illusion of overlapping colour and floating orbs.
---