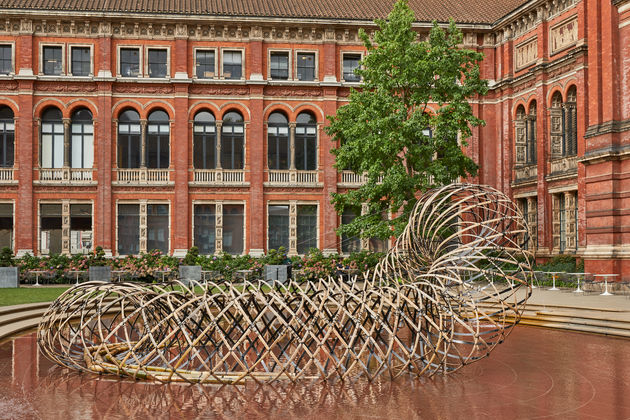 Bamboo ring at Victoria & Albert Museum. Photo by Ed Reeve
Kengo Kuma explains how his LDF creation experimented with materials — and not just cable ties. By Jessica Mairs
With its cable ties, tethers and props, Kengo Kuma's Bamboo Ring: Weaving into Lightness installation for the London Design Festival, read more like a patchwork of corrections than the refined experience the name might suggest. Ostensibly, the installation showed the 'pliancy, precision, lightness and strength' of a new material made from laths of bamboo laminated with a layer of epoxy and carbon-fibre backing – said to make its host material up to ten times stronger while still remaining lightweight.
Kengo Kuma & Associates worked with Ejiri Structural Engineers and the Kengo Kuma Laboratory at The University of Tokyo on the project for LDF curated by Clare Farrow, who has previously hosted exhibitions on weaving and timber construction for the V&A museum, where the installation was displayed in The John Madejski Garden.
The effectiveness of the material was demonstrated in the form of a woven doughnut, raised from the surface of the water at one side, in a display of its strength, by a clumsy tripod of bamboo poles and a fishing wire tether. Cable ties and great lengths of bamboo gave further support to the installation. The execution of the coiling form, coupled with its watery, bowl-shaped setting drew unfavourable comparisons during the press tour.
'It's for safety. Sometimes the wind here is very strong,' said Kuma of the aids, which if removed he said would have no impact on the integrity of the structure – weather permitting. By linking several of the units together and covering them in textile, it's hoped the material will increase in strength, and is in fact destined for its first scale application in the form of a house in earthquake-prone Hokkaido.
Kengo Kuma & Associates previously worked with a thermoplastic-carbon fibre composite, using threads of the material to reinforce the wooden structure of a fabric factory in Ishikawa Prefecture, this is the first time the studio has combined the fibres with bamboo.
An advocate of timber construction, Kuma, explains the project is a way to reinvigorate traditional bamboo and wood structures in Japan. 'Wood and bamboo used to be the normal materials in Japanese houses because of their lightness,' says Kuma, 'but in the 20th century concrete and steel came to Japan. Those materials destroyed our tradition completely. Using bamboo and carbon fibre [means] we can go back to the past. For us with earthquakes, a heavy structure and heavy materials are not fitting.'
'Bamboo is an old material but recently people don't use it so much,' he says 'Bamboo has a future I think. We tried to combine new technology with bamboo.'
---