Get a bitesize overview of the week's headlines and events with Icon's round-up
SCENE
Foster+Partners have unveiled yet another new airport, despite signing up to Architects Declare. Image Courtesy of Foster + Partners.
AIRPORT TROUBLES
Singapore-based Changi Airport Group and architect Moshe Safdie had to defend themselves against an accusation of plagiarisms earlier this month after CEO of Qatar Airways accused 'another country' of copying the design of the newly unveiled expansion plans for Hamad International Airport in Doha. The project will include a waterfall canopy-funnel within a vast shopping mall, but the Qatari exec seems to have forgotten that Singapore Airport's Rain Vortex was designed in 2013 and has been operational since April 2019. Meanwhile, Foster+Partners has unveiled yet another airport, despite signing the Architects Declare Climate and Biodiversity Emergency charter.
FISHY BUSINESS
University of Sussex graduate Lucy Hughes has won the international James Dyson Award for MarinaTex, a compostable plastic alternative made from fish skins and scales, one of the major waste streams produced by the fishing industry. Hughes announced she will use the £30,000 prize money to further research ways in which the material could be brought to the market. And just in case you're wondering, no, MarinaTex does not smell of fish.
Tesla's first European Gigafactory will be based near Berlin
BERLIN BENEFIT
Elon Musk has announced that his electronic car manufacturer in Tesla will open its first Gigafatory near Berlin, citing Brexit uncertainty as a reason not to locate it in the UK. But the factory, which is projected to start production in 2021, will be located on a large, wooded plot of land, leading locals to worry that swathes of the forest will be cleared to build the production line.
TED CULLINAN
The 2008 recipient of RIBA Gold Medal Ted Cullinan, has died aged 88. The architect was well-known and widely praised for his humane outlook and environmental focus of his practice.
DIARY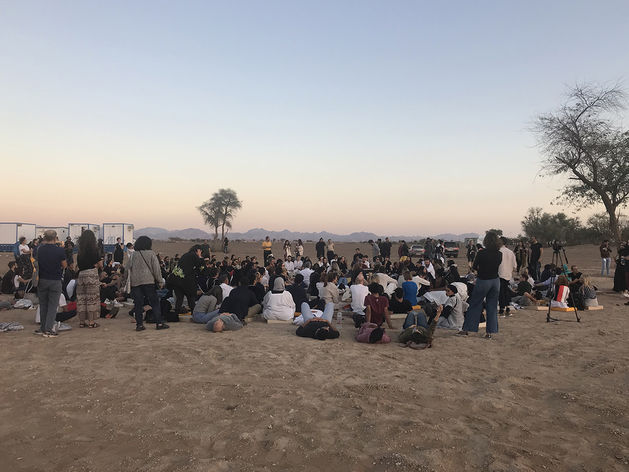 Sharjah Architecture Triennale visitors gather for a performance in the desert. Photo by Priya Khanchandani
Sharjah Architecture Triennial, Al-Qasimiyah School, Sharjah
The first ever Architecture Triennial in the region looks at the 'rights of future generations', despite omitting to mention the right of UAE citizens now (Read Icon's review here). Until 8 Feb 2020
sharjaharchitecture.org
Two Together, Zeitz MOCAA, Cape Town
Zeitz MOCAA unveils a new exhibition, highlighting the most important Africa and its diaspora with art drawn from the museum's collection. Until 25 Oct 2020
zeitzmocaa.museum
Medicine: The Wellcome Galleries, Science Museum, London
Designed by WilkinsonEyre, the new permanent exhibition looks at evolution of medical practice, research and tools. From 16 November 2019
sciencemuseum.org.uk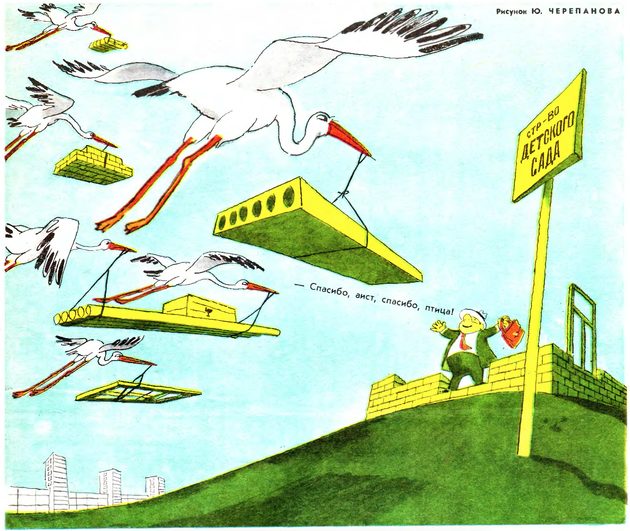 Thanks cranes, a Soviet poster celebrating advances in concrete panel construction. Image courtesy of ArkDes
Flying Panels: How Concrete Panels Changed The World, ArkDes, Stockholm
Love it or hate it, the post-war construction boom, in which millions of housing units were realized using concrete panelized systems, has changed the face of the East and well as the West. Until 1 March 2020
arkdes.se
Art on Display, 1948-1969, Calouste Gulbenkian Museum, Lisbon
This meta exhibitions explores the way in which post-war architects, such as Lina Bo Bardi, Alison and Peter Smithson and Aldo van Eyck, as well as museums such as Lisbon's Gulbenkian, invented novel ways to display art. Until 2 Mar 2020
gulbenkian.pt
---