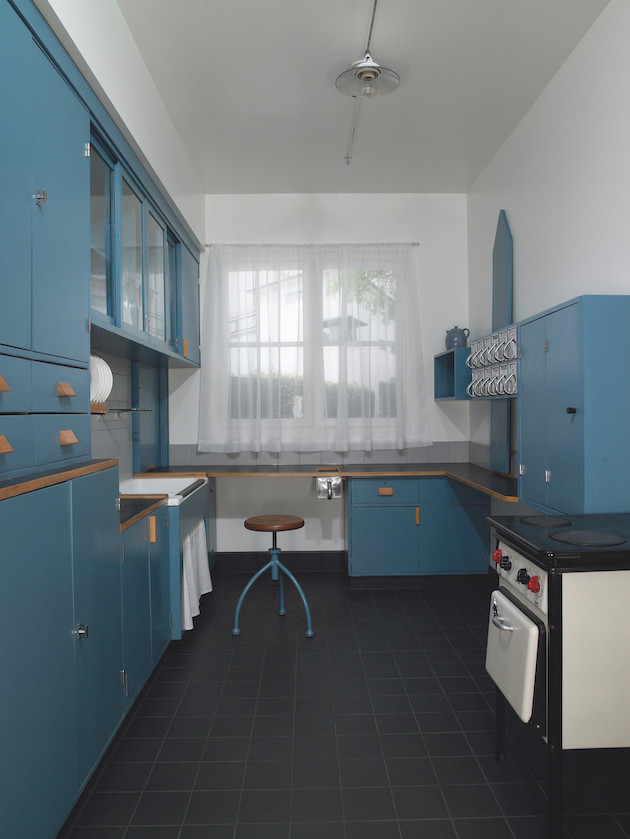 The Frankfurt Kitchen. Courtesy of the Minneapolis Institute of Art
Margarete Schütte-Lihotzky's mass-produced, modular kitchen transformed domestic life but shows that modernist efficiency didn't necessarily lead to equality, writes John Jervis
The Frankfurt kitchen, designed by Austrian architect Margarete Schütte-Lihotzky in 1927, was the most successful product to emerge from early modernism. The Bauhaus pursued utilitarianism, but in reality fashioned expensive, handcrafted objects. In contrast, Schütte-Lihotzky's cheap, modular, mass-produced kitchen was installed in over 10,000 social-housing units in the late 1920s.
Its success inspired imitations – some still in production – in Sweden, Belgium, Holland, the Soviet Union and, eventually, the prefabs of 1940s Britain. The French government even attempted to wrangle 200,000 as war reparations. Yet its legacy was a mix of radical and regressive, liberating the newly enfranchised women of Weimar Germany from domestic labour, but facilitating redomestication as social conservatism escalated.
The first female architecture graduate from the Vienna School of Arts and Crafts in 1919, Schütte-Lihotzky was employed by Adolf Loos to develop housing for veterans. On the strength of his recommendation and her kitchen designs, she was recruited in 1926 by Ernst May, chief architect of 'New Frankfurt'. Pursuing reformist capitalism, the city rehoused 60,000 citizens in 23 modernist estates during his brief reign. For their kitchens, Schütte-Lihotzky applied scientific-management principles to domestic life, an approach pioneered by American writer Christine Frederick, and embraced by modernists, including Charlotte Perriand, as chiming with 'existenzminimum' – efficient, compact apartments answering the needs of the working classes.
Schütte-Lihotzky's was not the first such kitchen, but was the most rigorous in conception and application. Benita Otte's 1923 design for the Bauhaus's Haus am Horm had typified modernist rejection of the disorder of traditional 'live-in' models, but was unresolved in form and appearance, displayed a Bauhausian weakness for material and technological expense, and presupposed the assistance of a maid. Frankfurt kitchens accommodating domestic servants were available, but single-user galley versions – little more than niches with sliding doors – predominated.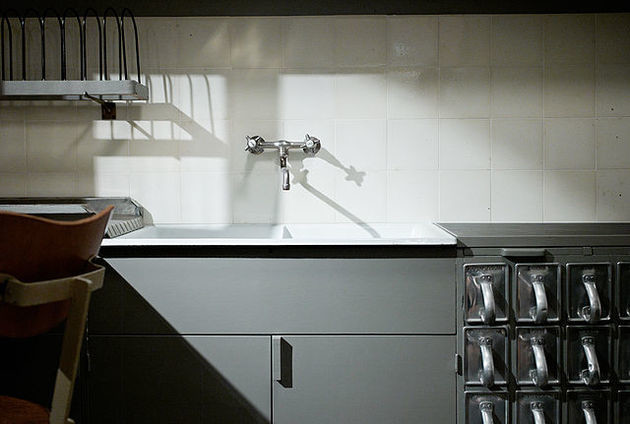 The Frankfurt Kitchen on show in MOMA, New York. Photo by Jonathan Savoie
In a space less than 3.5m long and 1.9m wide, the housewife was encircled by built-in cabinets of interchangeable parts (painted in 'fly-repellent' blue), flush surfaces covered in wipe-clean linoleum, 18 aluminium storage bins, a low workstation with adjustable seat, movable track lighting and a fold-down ironing board. This layout resulted from exhaustive time-motion studies – distances travelled were, it was claimed, cut by two-thirds. Technology was limited to cut costs, thus there was no fridge, but ovens used electricity as part of the city's long-standing championing of its cutting-edge (and hygienic) qualities.
Schütte-Lihotzky acknowledged, presciently, that it would take a generation for this rationalising of housework to be accepted – certainly the reception among tenants varied. Electricity proved expensive and slow: the practice of boiling laundry on hobs was unaffordable; a pre-work coffee was a protracted undertaking. There were complaints of isolation: the social life of the home happened elsewhere, with children struggling to squeeze into this antiseptic space. In typical modernist fashion, such complaints offered an opportunity to mould tenants to their kitchens rather than vice-versa: instructional films and classes on the benefits of electric hotplates and galley layouts followed.
The Frankfurt kitchen was intended to dignify the profession of housewife, reducing the time consumed by domestic work and freeing women to pursue public and private lives. In practice, it served to confirm the role as a primary calling, consigning women to repetitive tasks at home and, as wartime radicalism faded, freeing them only to undertake low-paid labour outside. This pragmatic approach to emancipation was perhaps sensible, yet it sits uneasily with Schütte-Lihotzky's vigorous idealism and lifelong communism.
In late 1930, as economic and political situations worsened, May left for the Soviet Union. Many of his team, including Schütte-Lihotzky, followed. After Stalin expelled foreign advisers in 1937, she pursued a diverse career in China, Cuba, Turkey and beyond (including four years imprisoned for activities in Vienna's wartime resistance), finally settling in East Germany, where she was 'rediscovered' in the mid-1980s.
In some ways, the timing of the Frankfurt kitchen was perfect, first for the Great Depression's servant-less middle classes, then for the postwar social-housing boom. Its successors, often disingenuously labelled 'American' or 'Swedish', soon furnished 90 per cent of flats in Holland and remained the model for East German kitchens into the 1970s. The benefits of these efficient, affordable kitchens were meaningful, though it is doubtful their galley layout was ever popular beyond architects and developers.
In the affluent 1960s, open-plan kitchens on American models spread, retaining many elements of the Frankfurt Kitchen, including its sleek aesthetic suggestive of efficiency, while rejecting others. Ironically, by reverting to layouts vilified by modernists, a pact between European 'existenzminimum' and the American 'idol of the house' was achieved. The kitchen as consumer good had finally arrived – a lucrative shrine to the hedonistic possibilities of food preparation, to stylish display, to social interaction. But no longer to rational architectural inquiry.
---