ICON speaks to British sculptor Jason deCaires Taylor, who has sunk a 165 tonne greenhouse in the heart of the Great Barrier Reef to offer experiential learning about reef restoration.
The Coral Greenhouse, located 50 miles off the coast of Townsville, Queensland, is the newest addition to the Museum of Underwater Art project by British sculptor and underwater photographer Jason deCaires Taylor.
The 165 tonne structure is comprised of a heavy concrete base and church-like cross sections designed to offer a unique and education diving experience.
"I looked at many different designs for the Great Barrier Reef and considering the amount of coral bleaching it would have been very easy to focus on the negative impact of human activity," deCaires Taylor tells ICON. "However I sometimes find that this type of work can demotivate communities and leaves the viewer with a profound sense of futility. I want to engage the audience and transmit that we can have a positive impact on our oceans and that we can live in symbiotic relationship."
But more than just a conceptual artwork, the greenhouse and its 'reef guardians' are also designed to practically allow for the propagation of coral. The structure is made from corrosion-resistant stainless steel and PH-neutral cement which will institigate coral growth.
"The Coral Greenhouse sculpture brings into focus diverse fields of study – marine science, coral gardening, underwater and environmental art and architecture – providing a starting point and new perspective for an understanding of the Great Barrier Reef and its ecology," he explains.

The spires atop the greenhouse oscillate in the reef's current.
"The design of the greenhouse is biomorphic, its form determined by the forces of nature. As the Greenhouse is slowly colonised and built upon by the reef, it will be gradually absorbed into its surroundings, illustrating an organic architectural philosophy which centres on the unification and connection of designs to their surroundings."
Inside, intricate spaces suit small fish looking for a place to hide, while glass enclaves provide shelter for octopus and sea urchins.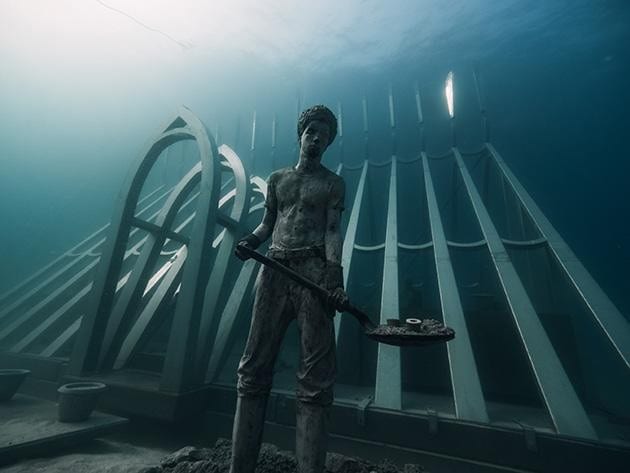 One of 20 'reef guardians' in the installation. Photo: Richard Woodgett
While the greenhouse structure itself is extraordinary, borrowing at once it seems from the design of expansive Victorian botanist glass houses and the exposed bones of a sunken ship, it's these 'guardians' that bring life to the installation. The forms and expressions of the 20 human sculptures, based on children from both local and internation schools, that fill and surround the greenhouse feel pensive and reflective.
Human forms are common to many of deCaires Taylor's works, which includes underwater installations in both US and European waters. But what is it that makes the body such an engaging and uncanny form in this setting?
"I have experimented with many different forms underwater. The process of marine colonisation is form of natural abstraction, I have found it best to start with the most recognisable form in the human psyche, our own body. As the works rapidly morph into natural forms there are always trace elements that are recognizable to us. I also work in countries and communities around the world and focus on environmental stories, I find the human body is a universal language that helps reach a wide audience."
This nuance in his sculpture offers a unique opportunity to explore the artworks in the underwater environment, with a full 360 degree scope unique to diving. Access to the Greenhouse is provided by three large two-metre entrances points and expansive floor space allows for divers to rest and view the artwork.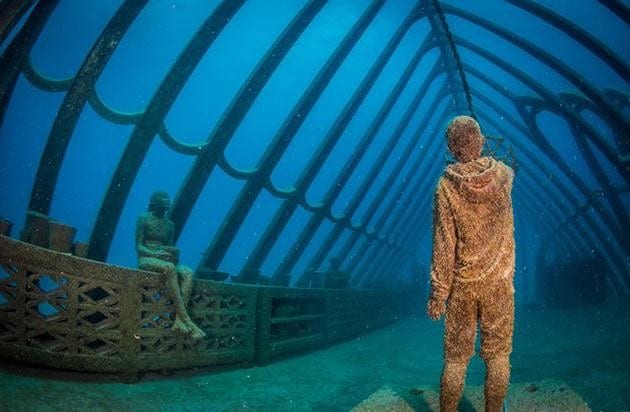 Photo: Matt Curnock 
The experience of viewing art underwater is completely different than on the surface, the artist explains: "Light is different as it refracted through a moving surface, colours are absorbed differently, objects appear at a different scale, sense of time is altered as colonization is rapid, sounds travel very differently, perspective and scale are completely different as you are not subject to gravity and tend to float above or around the artworks."
"In my mind being suspended in water, which is far denser than air, leaves the viewer feeling more connected to place, more connected to the work. Once you submerge below the surface it is like entering an alternative sense of consciousness or dream like state and you view everything through this lens."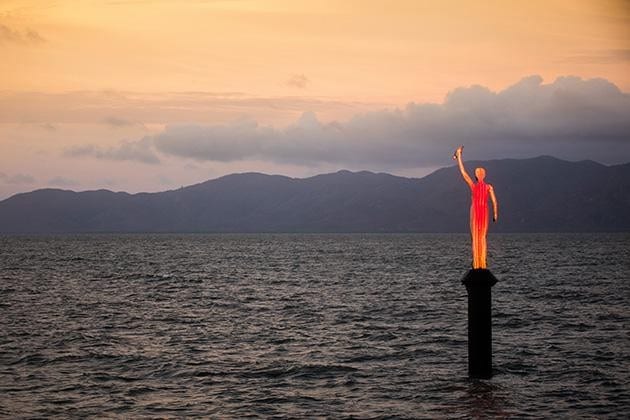 When the Ocean Siren is lit in red and orange, it signifies temperatures that are damaging to coral life. 
The Museum of Underwater Art project also extends beyond these watery depths, creating a connection to the mainland. On the coastline, some 50 miles away in Townsville, Queensland, the inaugral sculpture of the MoUA, Ocean Siren, stands proud. The form, which is based on local Wulgurukaba Traditional Owner Takota Johnson, reacts to temperature recordings from the Davies Reef weather station on the Great Barrier Reef and changes colours. Reminsicent of a body heat map, it offers a live visual representation of when ocean temperatures reach heights that may be damaging to coral reefs.
---