The S- 1500 chair by Snøhetta uses recycled plastics
Is it too late for plastic to start over? New developments suggest that there could be an alternative way forward, finds Peter Smisek
Plastic has had a hard fall from grace. Its reputation peaked in the 1950s and 60s, around the time that Alison and Peter Smithson introduced the House of The Future during the 1956 Daily Mail Ideal Home exhibition. This was a vision of a future dwelling whose plastic modules could be continuously upgraded and discarded as soon as new ones came onto the market. 'The overall impression should be one of glamour,' wrote Alison Smithson at the time, tellingly failing to mention what would happen to all of the waste this constant renewal would generate.
And while our houses and workspaces may not be made of plastic (unless you happen to work at Second Home), they are full of the stuff. We've made about 8 billion tonnes of it and currently add another 322 million tonnes every year to that figure. Some 8 million tonnes end up in the ocean each year, accumulating in the now infamous 'garbage patches'. The largest of these plastic gyres, the Great Pacific Garbage Patch, covers roughly 1.6 million sq km (77 times the area of Wales) and contains between 80,000 and 100,000 tonnes of plastic, broken up into 1.8 trillion pieces. Its existence prompted the Ocean Cleanup, which was set up in 2013 by former aerospace engineering student Boyan Slat. This year, the organisation is finalising testing on a full-scale prototype plastic trap, which, when used as part of a fleet, could help to remove 50 per cent of the plastic from the gyre in five years.
But of course, nightmarish though images of seabirds entangled in old fishings nets, or of children swimming in 'plastic soup', undoubtedly are, ocean plastic is not the end of the story. The oil industry, which extracts the raw materials for plastics, is a major polluter in its own right, while some 79 per cent of plastic has simply been buried in landfills, never to decompose.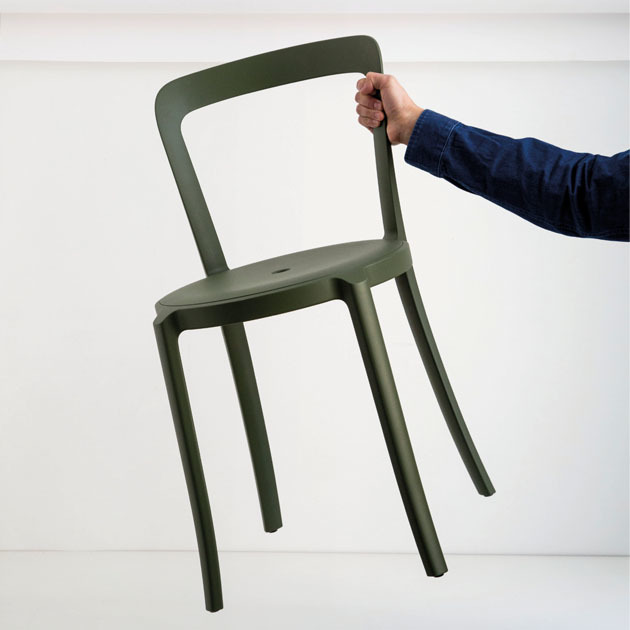 The On and On chair by Barber and Osgerby for Emeco
It's not surprising, then, that in recent years many designers have been shifting away from the use of plastic, proclaiming the virtues of more natural materials like wood and marble instead. And yet, plastic once again stole the limelight at this year's Milan Design Week – albeit in recycled form. Rossana Orlandi, design gallerist and one of Milan's most respected kingmakers, has set the tone: last year's day of discussions was named Senso di Colpa (sense of guilt), in which the great and good of the design world convened to discuss the dangers of, and possible solutions to, our plastic problem. This year's exhibition, Guiltlessplastic, will celebrate recycled and recyclable plastic. Together with the first annual RO Plastic Prize, whose categories include design, home textiles, packaging solutions and 'conscious innovations projects', Milan attempted to make plastic great again, albeit in its newly waste-conscious form.
In practice, recycling plastic is difficult. When different sorts of plastics are not properly separated and are amalgamated during the recycling process, they end up losing some of their specific and desirable properties. This means that what were once distinct types of high-grade plastic often end up combined as sturdy outdoor furniture.
Yet despite these challenges, a growing number of designers and manufacturers are taking up the cause. In 2014, Dutch denim brand G-STAR Raw collaborated with R&B artist Pharrell Williams and a company called Bionic on its RAW for Oceans range – and sequestered about 9 tonnes of plastic waste in the process. Meanwhile, H&M got in on the act in 2017 with its Conscious Collection. Of course, using recycled plastic in high street fashion lines with notoriously short life cycles does present its own contradictions – even if the intention was (at least partly) noble.
Items with more longevity – home and office furniture, for instance – seem to be a more logical destination for recycled plastic. One such example is the S-1500 chair by Snøhetta and Nordic Comfort Products (NCP). Initially designed in the 1960s as R-48 by Brendt Winge, for use in schools and offices, the redesigned seat – slightly narrower and more upright than its predecessor – has a beguiling, marble-like sheen. The plastic is reclaimed from old nets from fish farms near NCP's factory – as Stian Alessandro Ekerness Rossi, an architect who worked on the project, points out, 'Bioplastic, which requires arable land, is unnecessary due to the amount of plastic already in existence.'
Wästberg's w182 pastille lamp, made of castor beans. Photo by Gilbert McCarragher
Ikea, too, has released a recycled plastic chair, designed by Form Us With Love, while Denmark-based Mater also re-released a mid-century design in recycled plastic guise in Milan. Now called the Ocean collection, the laid-back outdoor chair, bench and table were originally conceived by Nana and Jørgen Ditzel in 1955. These products combine the firm's current fishing net plastic waste 'obsession', as Mater's founder Henrik Marstrand puts it, with his long-standing wish to revisit the Ditzels' back catalogue.
'With each chair we make, we remove 960g of plastic from the sea,' says Marstrand, who also notes that the chair saves 1.6kg of carbon emissions compared to virgin plastic. In May, Mater will be releasing an entirely new design by OEO Studio: a table made out of recycled yoghurt pots. 'The challenge is for manufacturers to find innovative ways to use recycled plastics and other waste materials and make quality products that people want to buy. We are not going to change consumer behaviour, so we must harness it to affect change.'
Many manufacturers seem to opt for familiarity when it comes to using recycled plastic. Emeco – long known for its recycled aluminium wares – used the material in its 2010 111 Navy collection, a set of chairs and stools made of upcycled consumer waste that reimagines its signature 1066 Navy collection. This year, the company has teamed up with Barber & Osgerby on the On & On collection, which is inspired by classic bentwood cafe furniture. Made out of PET bottles, as well as 25-30 per cent fibreglass to increase its strength, the black range uses dyes derived from car tyres. The chairs can be 'fully recycled into an identical product', according to designer Edward Barber. He attributes this to advances in material research, and to recycled plastics beginning to match the standards of their virgin counterparts. He also speculates that we could see a spate of recycled plastic re-releases of the pair's polypropylene and polyamide designs in the next few years.
But according to some, recycling plastic distracts from the real issue. 'No, recycling plastic cannot save the planet,' says design curator Jan Boelen. 'Recycling plastic is bullshit. It is not a solution, it is downgrading a great material.' According to Boelen, plastic is part of the fuel industry, which stifles innovation, so instead of using durable plastic for short-term applications, we should back biopolymers that 'can disrupt the traditional plastic industry'.
Emeco's Reclaimed Chair
Bioplastics are derived from a variety of natural sources such as vegetable fats and oils, starch, straw, food waste or wood chips. Currently, they represent a tiny share of our polymer production – according to the most optimistic estimates, as of 2018 about 2 per cent of global plastic comes from biological alternatives, while about 14 per cent is recycled.
Apart from needing land to grow the crops that will be used in its production, the name 'bioplastics' creates an image of enlightened environmentalism that does not tell the whole story. Lego may have begun using plastic derived from sugar cane in its Flora bricks last year, but these are not biodegradable, even if they represent a step in the right direction and can be recycled. Biodegradable and compostable plastics often require the introduction of specific micro-organisms or conditions (high heat and moisture) as well as a relatively long time to decompose.
Designers working with bioplastics will admit as much. Arthur Mamou-Mani, who worked on Icon 191 for this year's Milan Design Week, 3D-printed his work using polyactic acid (PLA), which he half-jokingly describes as a mixture of starch, vinegar and glycerin, but will add Douglas fir wood shavings, creating a composite material. He says that the non-toxic material will only decompose at 60ºC and at 100 per cent humidity.
PLA is fairly well established, and further research, which aims to make it more versatile, has been conducted by Crafting Plastics, a design studio founded by Vlasta Kubušová and Miroslav Král. In 2016, the duo began designing luxury eyewear from their specially formulated bioplastic, hoping that the added value of the product would spark interest and eventually help to bring down the price.
By 2018, the studio, together with researchers at the Slovak University of Technology, had tweaked their Nuatan bioplastic formula by blending PLA with polyhydroxybutyrate (PHB) – a material that can be derived from used frying oil. This second-generation bioplastic was presented at London Design Festival last year and has been shown to decompose under domestic compost conditions, in which temperatures hover between 20 and 30ºC. Kubušová and Král are currently preparing for a full-scale commercial release of Nuatan in 2020.
Using biomass that does not compete with land for crops is another avenue of research. This approach is capable of producing products like Wästberg's w182 pastille, a table lamp designed by Industrial Facility and first presented at Orgatec in Cologne in 2018. A handsome, pared-down light fixture, 60 per cent of its material comes from castor beans, which grow wild and do not take space from food production. Chief executive Magnus Wästberg is pragmatic about the prospect of bioplastics fully replacing their fossil-fuel based kin. 'Yes, from a technical and mechanical perspective they can,' he says. 'At the end of the day it is a matter of price – and that is a matter of supply and demand.'
It is anyone's guess whether we can solve our plastic problem soon enough. Designers and material researchers have provided us with an increasingly sophisticated set of tools. Recycling will always be necessary if we want to lock existing plastics into the circular economy, and bioplastics offer a way forward towards a more lasting form of high-quality material. But it will take a more concerted, global push – including an honest discussion about our consumption patterns – to make any meaningful difference.
This article was originally published Icon 191. Read more from the issue and get your copy here.
---