Last week, Fuorisalone and Salone del Mobile welcomed the design crowd back to Milan. ICON shares the latest news and inspiration from the world's biggest design fair
Photography by Maxime Verret featuring Hermès
Words by Jessica-Christin Hametner
As the world descended upon Italy's design and fashion capital last week, Fuorisalone and Salone del Mobile (7-12 June) returned in full splendour after a 2-year hiatus due to the COVID-19 pandemic.
From multi-sensory exhibitions to new product launches and designer collaborations, ICON has compiled a list of highlights as one of Milan's biggest and brightest celebrations returned in full swing.
Photography courtesy of Tom Dixon
1. Twenty by Tom Dixon
Leading British design brand Tom Dixon returned to Milan Design Week with Twenty, a new exhibition that commemorated 20 years of Dixon's global design empire he established in 2002.
Housed in Milan's neoclassical palace Palazzo Serbelloni, Twenty showcased both new and iconic collections, including Dixon's iconic Mirror Ball and Melt lights, as well as his new upholstery chair range Fat.
Elsewhere, highlights from Sotheby's Design Sale in Milan were also on view before bidding opens from 21-27 June. The first auction of its kind to be staged at Sotheby's Italy, the sale will include exquisite pieces by Milanese mastermind Gio Ponti, Venetian-born designer Gino Sarfatti and Ettore Sottsass, among others. Palazzo Serbelloni, Corso Venezia, 16
Photography courtesy of Tableau and Post Service featuring
Alexander Kirkeby and Lumière Bricoleur
2. Confessions by Tableau and Post Service
Exploring the relationship between art, design and mental health, Confessions is the result of a collaboration between multidisciplinary studio Tableau Cph and Copenhagen-based clinic Post Service.
The duo invited 14 male artists and designers—including Malmö design studio Lab La Bla, glassblower Alexander Kirkeby and Eindhoven-dwelling creative Willem van Hooff—to reflect on toxic masculinity and vulnerability.
Using these themes as a driving force to create a collection of unique and thought-provoking objects, the final pieces were shown at Alcova, while each artist's process was interpreted as a sound piece by Paris-based artist Cédric Elisabeth. Via Simone Saint Bon, 1 
Photography featuring KOHLER and Daniel Arsham's exhibition at Palazzo del Senato
3. Divided Layers by KOHLER and Daniel Arsham
American kitchen and bathroom brand KOHLER teamed up with New York City-based artist Daniel Arsham for their Fuorisalone exhibition Divided Layers at Palazzo del Senato, which won the Fuorisalone Award 2022.
Featuring a large-scale immersive art experience, the site-specific installation built upon the duo's release of Rock.01 – a 3D printed sink Daniel Arsham designed in collaboration with KOHLER back in 2021.
The immersive installation was made of a series of stacked panels combined to form a walkable tunnel, while a pond acted as a mirrored surface to double and reflect the opening of the cavernous volume. Read the full story here. Palazzo del Senato, Via Senato, 10
Photography courtesy of The Socialite Family
4. The Socialite Family Pensione and Coconut Bar
Media and home decoration brand The Socialite Family, founded by Constance Gennari, took over a quaint, two-storey town house in via Vitruvio during Milan Design Week.
Displaying a mix of furniture and lighting pieces as well as exclusive new designs, Gennari infused the space with a signature ease, adding eclectic touches throughout.
The pensione caught our eye for its colour and use of pattern, blending different styles and motifs together to create a unique aesthetic and harmonious look. Via Vitruvio, 25 
Photography by Adrien Dirand featuring Philippe Starck's Miss Dior chairs
5. Miss Dior by Dior
Dior Maison joined forces with French industrial architect and designer Philippe Starck to reimagine a classic icon.
The result, Miss Dior, was on show at Palazzo Citterio, an exquisite 18th-century palace located in the heart of the city, and takes its design cues from the French Maison's renowned Medallion chair.
Made in Italy, the timeless design features sinuous shapes and sumptuous materials, making the Miss Dior chair a tasteful add-on to homes, hospitality venues and lounges. Read the full article here. Palazzo Citterio, Via Brera, 12
Photography courtesy of Gabriel Scott featuring Kelly Hoppen's take on Gabriel Scott's Welles chandelier
6. Floating Ideas by Gabriel Scott
Nestled at SPAZIO Big, in Milan's Cinque Vie neighbourhood which is home to 5Vie, Canadian furniture and lighting brand Gabriel Scott celebrated its 10th anniversary with Floating Ideas.
For the exhibition, founder Scott Richler commissioned six designers and architects—Michelle Gerson, Sybille de Margerie, and Guan Lee, as well as Kelly Hoppen, Alessandro Munge and David Rockwell—to reinterpret the brand's Welles chandelier.
The jewel-like pendant is among Gabriel Scott's best-selling products, combining exceptional craftsmanship and timeless design to create a modular system of interconnected configurations with endless possibilities. Via Santa Marta, 10
Photography by Hugo Mapelli featuring the Surface bed cover by Hermès
7. Collections for the Home by Hermès
At Fuorisalone, French luxury design house Hermès presented its exhibition Collections for the Home, and with it, the company's quest for lightness, which was showcased in four striking structures.
Made of wood and covered with translucent coloured paper, the four constructions, in the shape of water towers, radiated light. Inside, each structure showcased the brand's latest launches.
With a focus on textiles, and exploring different manufacturing techniques, the new collection comprises five creations made from cashmere, one of the house's favourite materials. Featuring a beautiful colour palette and geometric shapes, the latter was assembled using a linking technique that evokes stained-glass windows. Via Palermo, 10
Photography by Maison Mouton Noir, Courtesy of Galerie Philia
8. Temenos by Studiopepe and Galerie Philia
Renowned contemporary design and modern fine arts gallery Galerie Philia unveiled Studiopepe's first limited edition collection during Milan Design Week.
Titled Temenos, or "sanctuary" in Ancient Greek, the immersive exhibition, which was inspired by the circular dimensions of ancient sacral monuments, such as Stonehenge, took over a vast 220 sq m space within the 1950s derelict Necchi factory in the Baranzate district on the outskirts of Milan.
The Italian duo crafted a series of elegant pieces, including a set of monolithic chairs, a console, a mirror and a lamp, each named after the nine archetypal entities of Egyptian cosmogony.
Together, the objects epitomise Studiopepe's ongoing anthropologic research on matter and exemplify the agency's ability to marry contrasting materials to create striking objects. Baranzate Ateliers, Via Milano, 251
Photography by Ilaria Orsini featuring Weave, Restore, Renew by LOEWE
9. Weave, Restore, Renew by LOEWE 
For LOEWE's sixth participation at Milan's annual furniture fair, the Spanish fashion house developed Weave, Restore, Renew, a poliform project dedicated to crafts and creation.
With a focus on repair and reuse, the exhibition demonstrated how items that would otherwise be unused or discarded can be turned into functional, useful and beautiful objects.
Highlighting the opposite of senseless consumption, artisans including Idoia Cuesta and Belén Martínez, among others, looked at what sustainable craftsmanship means today and in the future.
Showcasing traditional crafts both from Spain and abroad, the exhibition explored leather weaving, the Galician straw-weaving tradition known as Coroza and the Korean technique of paper weaving known as Jiseung, demonstrating how age-old techniques can be turned into something new and progressive. Palazzo Isimbardi, Corso Monforte, 35
Photography by Francesco Caredda featuring FLOS Orobia 15
10. Orobia 15 by FLOS
Italian lighting company FLOS transformed the sprawling industrial spaces of Fabbrica Orobia into a multi-experiential hub, inviting visitors to experience an immersive journey into the brand's design universe.
The exhibition project was led by multidisciplinary firm Calvi Brambilla and showcased the brand's timeless lighting collections by the likes of Patricia Urquiola, and a limited edition of the iconic FLOS Arco lamp, which is celebrating its 60th birthday this year. Fabbrica Orobia 15, Via Orobia, 15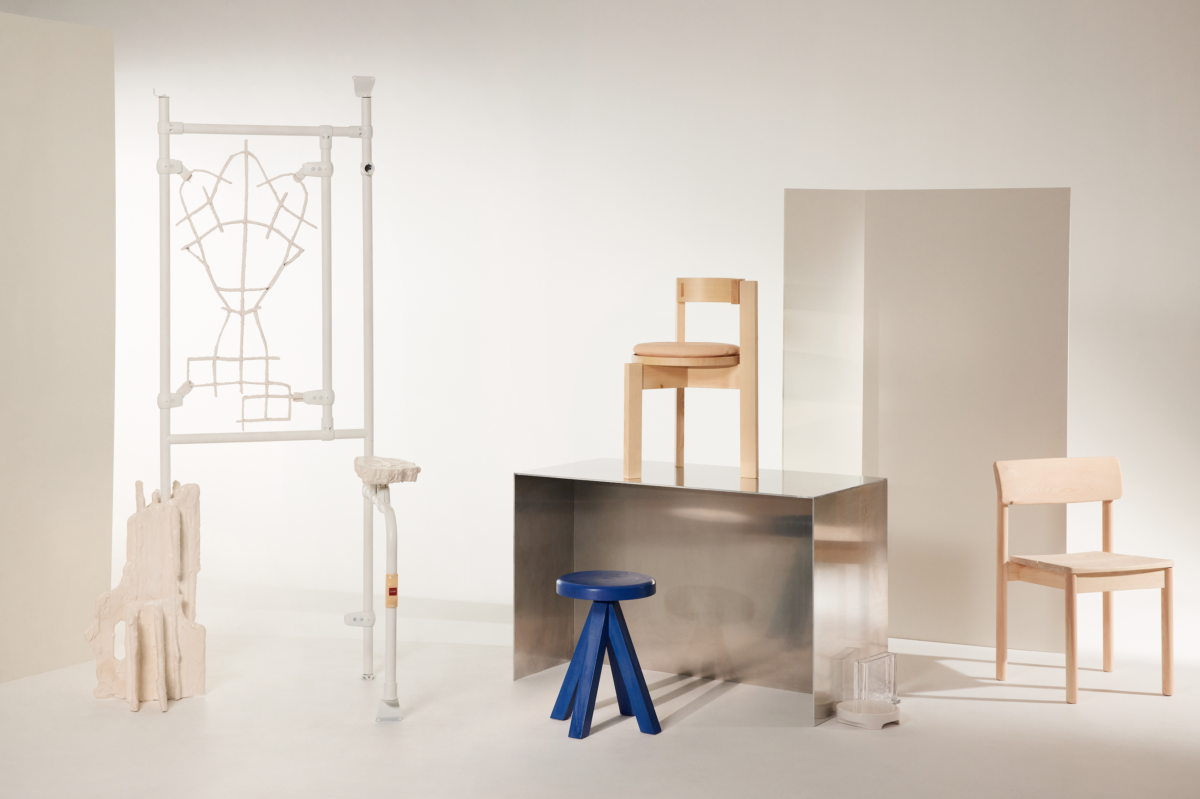 11. Matter by Norwegian Presence
Now in its eighth edition, Design and Architecture Norway (DOGA) returned this year to present Matter by Norwegian Presence, curated by former Editor in Chief of Bo Bedre Norge, Cecilie Molvær Jørgensen, and Oslo-based creative studio Kråkvik/D'Orazio.
Spanning emerging talent, experimentation and curation in an annual showcase at Brera's spectacular Galleria Milano, Matter by Norwegian Presence celebrated the material honesty, sustainable practices and nature-inspired pieces that define Norwegian design.
From Oslo-based product designer Anna Maria Øfstedal challenging the boundary between art and functional products to newcomer Poppy Lawman's sculptural pieces making use of fallen trees as a solution to environmental waste—Matter highlighted the possibilities of using natural and reclaimed materials by working with nature rather than against it. Read the full article here. Galleria Milano, via Turati, 14
Get a curated collection of design and architecture news in your inbox by signing up to our ICON Weekly newsletter
---