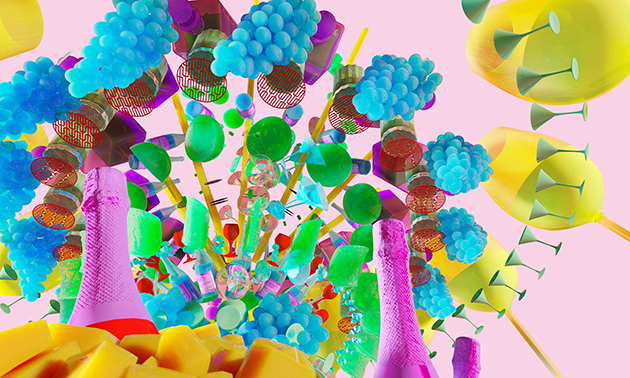 It's almost possible to eat while strapped into a virtual reality headset. The technology could take us delicious or downright disgusting places.
Jordan Littler, a designer specialising in restaurant interiors, is struggling with the practicalities of wearing a virtual reality headset while eating.
Littler's practice 3Stories, co-founded with Ben Webb, is designing interiors for restaurant chains Roast and New York-based Sweet Chick. But the pair are also interested in the associations we hold between tasting and seeing – and bending and breaking such expectations a little.
'There's an element of trust', Littler says, required when eating while plugged into a fictional landscape. 'You're asking someone to put some goggles on and eat something they can't see.'
He has a vision of a group of diners sat around a table, all in headsets eating the same food, but being optically fed very different experiences. Consider dining on a lofty mountain peak or in the ruins of the ancient Pantheon, being protected different virtual representation of the real world food. While Littler doesn't want to get too grim, it's easy to imagine eating grapes, while one person sees a fictional fruit designed to appear delicious, while another sees, say, eyeballs.
'There are a lot of options,' he says. 'And, as I say, you have to have some trust.'
At Sleep + Eat, the hospitality design exhibition currently taking place at London's Olympia, 3Stories has brought a set of Oculus headsets complete with virtual reality project renders by architectural visualisation specialists Different for Central London clients including a casual, neon-lit restaurant in Charlotte Street and a slick private members club in Kingly Street. But he is also testing locations never before eaten: like floating amid a constellation of exploding champagne bottles.
READ: Kaldewei's Award-Winning Steel Enamel Bathroom Solutions at Sleep + Eat 2018
Virtual reality visualisations have become a ubiquitous tool for architects and interior designers hoping to give high-end clients a better view of the projects, although Littler admits it can sometimes take away some of the exciting anticipation from the design process.
More speculative uses are still in their infancy. Littler points to a Star Wars roleplaying game recently on show in nearby Westfield Shopping Centre. Taking the form of an immersive video game, teams navigate a full virtual scenario – working together, pulling levers and exploring a spaceship – while seeing themselves and each other in the film's stormtrooper suits. All this virtual excitement is supported by the most basic physical structures – scarcely more than a maze of MDF walls erected to keep players on track.
Littler is aiming to develop VR tech towards something that is more than a simple gimmick, and sees an application in rewiring our ideas about eating – for example, using different imagery to take the phobia out of eating crickets, a sustainable source of protein that food scientists say could provide alternatives to environmentally destructive cattle farming.
Digital agencies like London-based Marshmallow Laser Feast have also put digital headsets into play for environmental ends, reconnecting people with natural environments using cutting-edge tech.
Littler cites Secret Cinema, whose immersive film screenings have launched an entertainment giant, and culinary designers Bompas and Parr as precursors in using experiential trickery and roleplay to expand the imaginary landscape of the city. We have the technology to bring back restaurants long lost to history or recreate the great feasts only imagined in fiction.
Littler shows a new virtual reality project that 3Stories has been developing about wasted food, an unfinished sketch in virtual reality. I find myself sat at a table with a meal laid out in front, while surrounded on all sides by the three-storey hamburgers and pineapples visualising the mountains of food waste that a restaurant produces in a year. Littler says it is just at the beginning of strange and disgusting places virtual reality tech could take dining, if can figure out how to actually feed ourselves with the headset on.
---