Even without a graduation show, these students kept creative in lockdown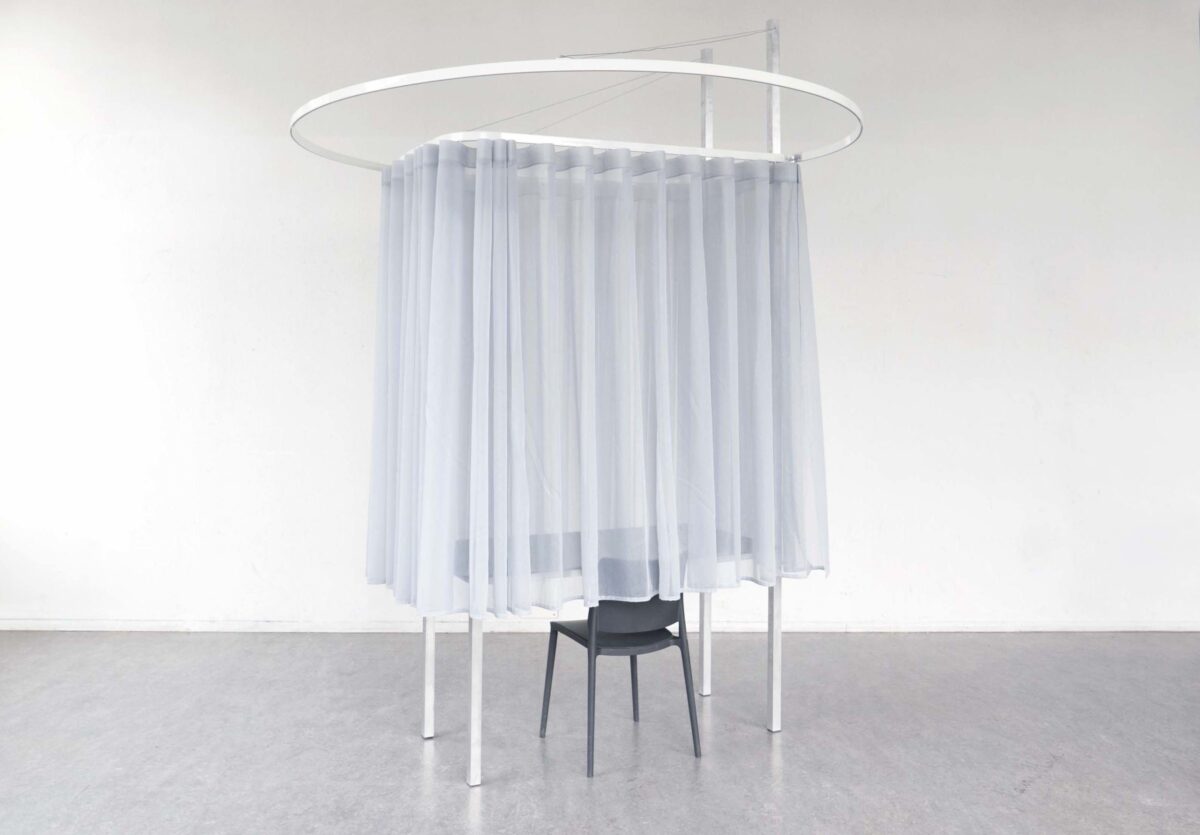 Due to the pandemic, design students around the world have been unable to present their work in physical graduate shows, usually vital events that help emerging designers get visibility and work.
Students at the Design Academy Eindhoven (DAE) usually stage their show at Dutch Design Week, held in Eindhoven every October. Such an exhibition was not possible this year, meaning the designers turned to exhibiting their work online, having already gone through the unusual process of creating work from home during lockdowns.
We've chosen some of our favourite projects from graduates of the bachelor's programme at DAE, some of which were inspired by the parameters of lockdown creativity.
Soft Spot by Enrico Rapella (pictured above)
'When the lockdown started and school closed I used my room as a playground to experiment and hang textiles,' says Italian designer Enrico Rapella. 'I covered every piece of furniture in my room with curtains which followed the outline of the objects. I chose to work on the table, and to explore its limits and presence using curtains and curtain rails.'
Rapella's desk design includes an elevated rail to hang a translucent curtain which wraps around the piece of furniture, creating a more private interior space when needed. 'The table can adapt to different situations and benefit from the soft divisions and sense of privacy created by the curtain,' he says. It's certainly an intriguing way to create greater focus in a makeshift home office.
Hemp-it-yourself by Hannah Segerkrantz
Segerkrantz knew she wanted to work with hempcrete, but when lockdown meant she couldn't collaborate with a specialist craftsman on a construction site, she took a more DIY approach. She developed a modular system and casting method for 'hemp-it-yourself' – a manual-based DIY method for working with hempcrete. The system is based on six shapes that are cast into fabric form-works and can be mixed and matched together to create objects with various heights, volumes and functions.
'In order to make the material accessible, I had to find a way to make the working process straightforward, using materials and tools that could be found within the domestic space,' Segerkrantz says. 'I wanted to challenge what ecological materials mean and what they look like, and with the principles of democratic design, make hempcrete widely known for a larger audience.'
Gravitate by Felina Hernández Del Barrio
Hernández Del Barrio's project comprises a series of 'gravitational accessories'. She says: 'Gravitate aims to question the current boundaries surrounding the dynamics of textile. The pieces open new layers of complexity and self expression, going past simple decorative accessories to change the nature of the clothing itself.' The accessories are filled with sand and rocks to create pieces of specific different weights. The various elements can be linked to others to increase or decrease the weight and with it, the effects created by gravity.
Specie by Mathias Brask-Nilsen Malm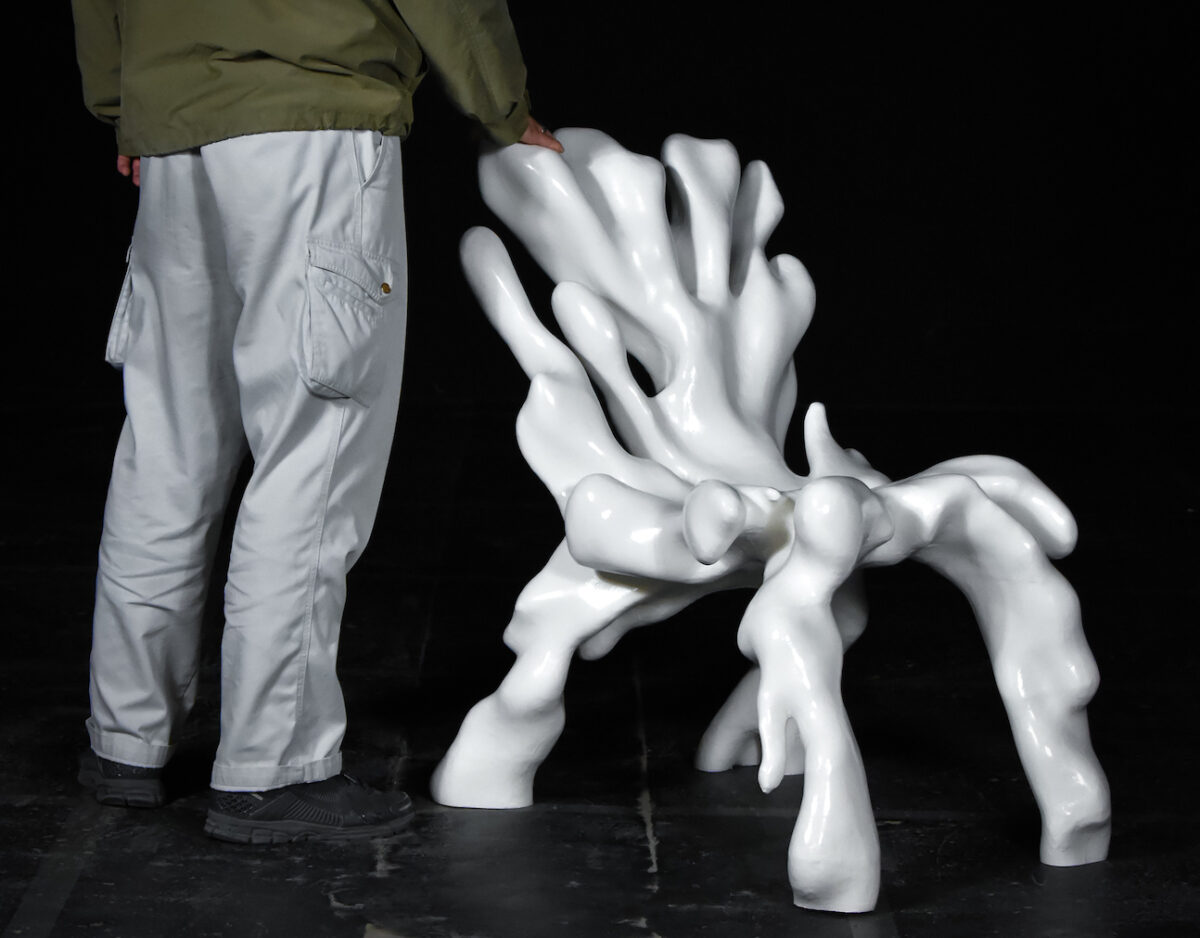 Norwegian-born Malm describes his work as 'tinkering around with computer generated modelling, while at the same time looking to the natural world for inputs.' For his final project, he created an algorithm that can generate shapes and forms in a random, natural manner. 'Specie', a striking and organic-looking chair, is one of its offspring. The chair has its own 'digital genome', derived from a piece of bleached coral. 'After millions of years of evolution, the nature that surrounds us holds the best designs,' says Malm.
Discarded Ingots by Baptiste Compte
Compte's project Discarded Ingots considers aluminium machinery parts, which are used and wasted in bulk by the manufacturing sector. Although aluminium is an almost infinitely recyclable material, a lot of energy is used to sort out, melt and re-cast the metal.
Compte challenges this waste and attempts to introduce an analogue solution: he mimics and scales up the geometry of a computer component, the heat sink, and highlights its properties to regulate heat in a room. By creating covers for architectural products , the excess of heat is absorbed, stored, and released when the temperature cools.
'I fiercely believe in the comeback to analogue solutions, allowing people to be more conscious and responsible about our consumption habits such as energy waste,' says Compte. 'This project is an attempt to translate this idea that we have enough material and immaterial waste around us waiting to be transformed and redefined.'
Stuck-at-home Masquerade by Santa Kupča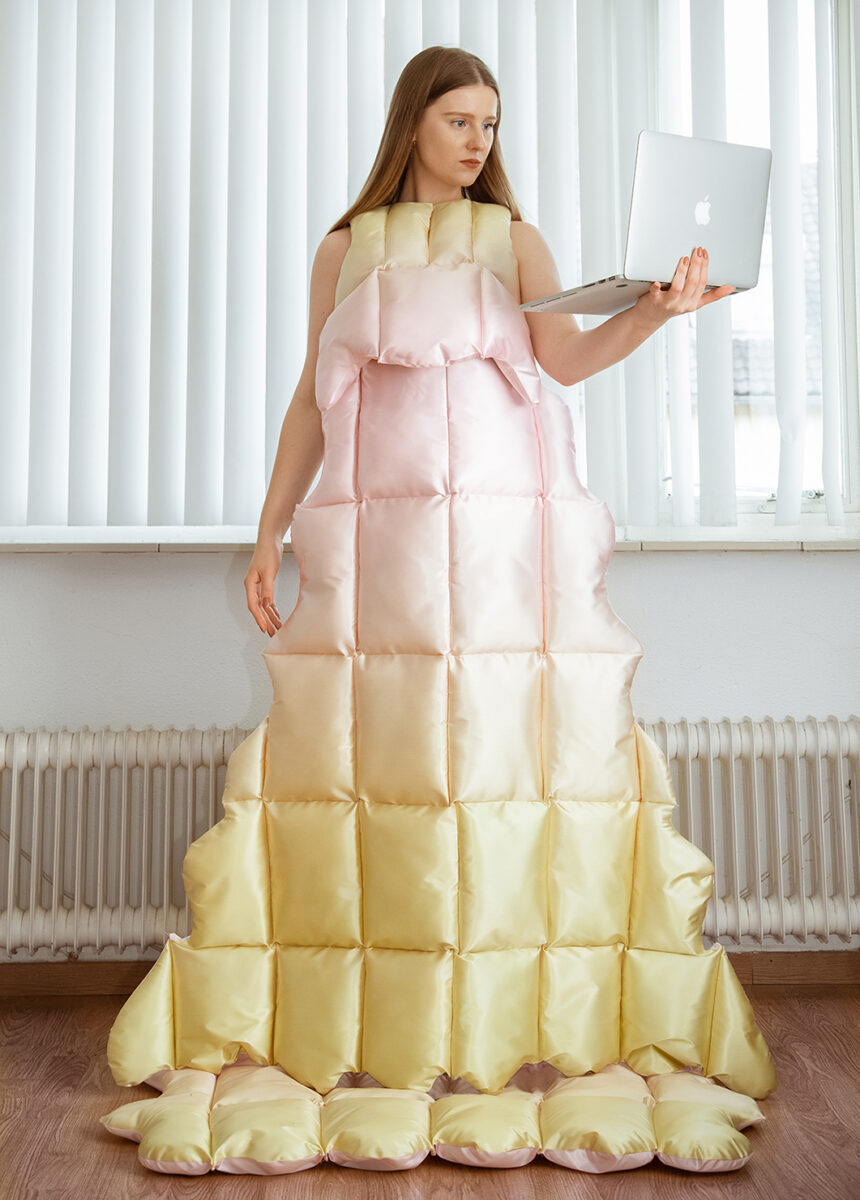 Kupča's project comprises three garment pieces – Hesitant to RSVP, Dolce far niente and Public Library – which aim to express how the Latvian designer feels being isolated in a pandemic and the 'absurdity' of socialising through screens. All the garments were created in lockdown at home, and the materials were made with a printer.
She says: 'During isolation every day can seem mundane, but what if we could make it more celebratory? Instead of feeling trapped at home, you could celebrate by being the queen/king of your castle. The three pieces blend with certain parts of my house. They romanticise the intimate state of what home symbolises for me in the shape of a soft duvet … The garments dwell in an exhibitionist masquerade where the wearer is the decor piece behind the screen.'
Roofers by Miles Le Gras
The roofs of central Paris – 70% of which are covered in zinc – form the inspiration for this French designer's project, which is a tribute to the traditional craftsmanship of zinc roofers. 'Zinc has been used since centuries to build architectural roofs, because of its technical and economical properties,' says Le Gras. 'In the old centre of Paris, the density and complexity of volumes force the roofers to build their workshop on site and fabricate every piece one by one in order to cover and adapt to each part to the architecture.
'Because direct access to the rooftop are barely legal, we seldom have the opportunity to see and be aware of the know-how hidden behind this metal skin. Fewer and fewer young people get interest into this job, and the city of Paris applied to recognise it as an Intangible Heritage Section of UNESCO.'
Le Gras has changed the context of this craft by using it to create interior objects, thus giving people more direct engagement with the creative practice. The objects and samples – including hanging lampshades – were developed using the same tools and materials the roofers do.
Urban Stem by Rollo Bryant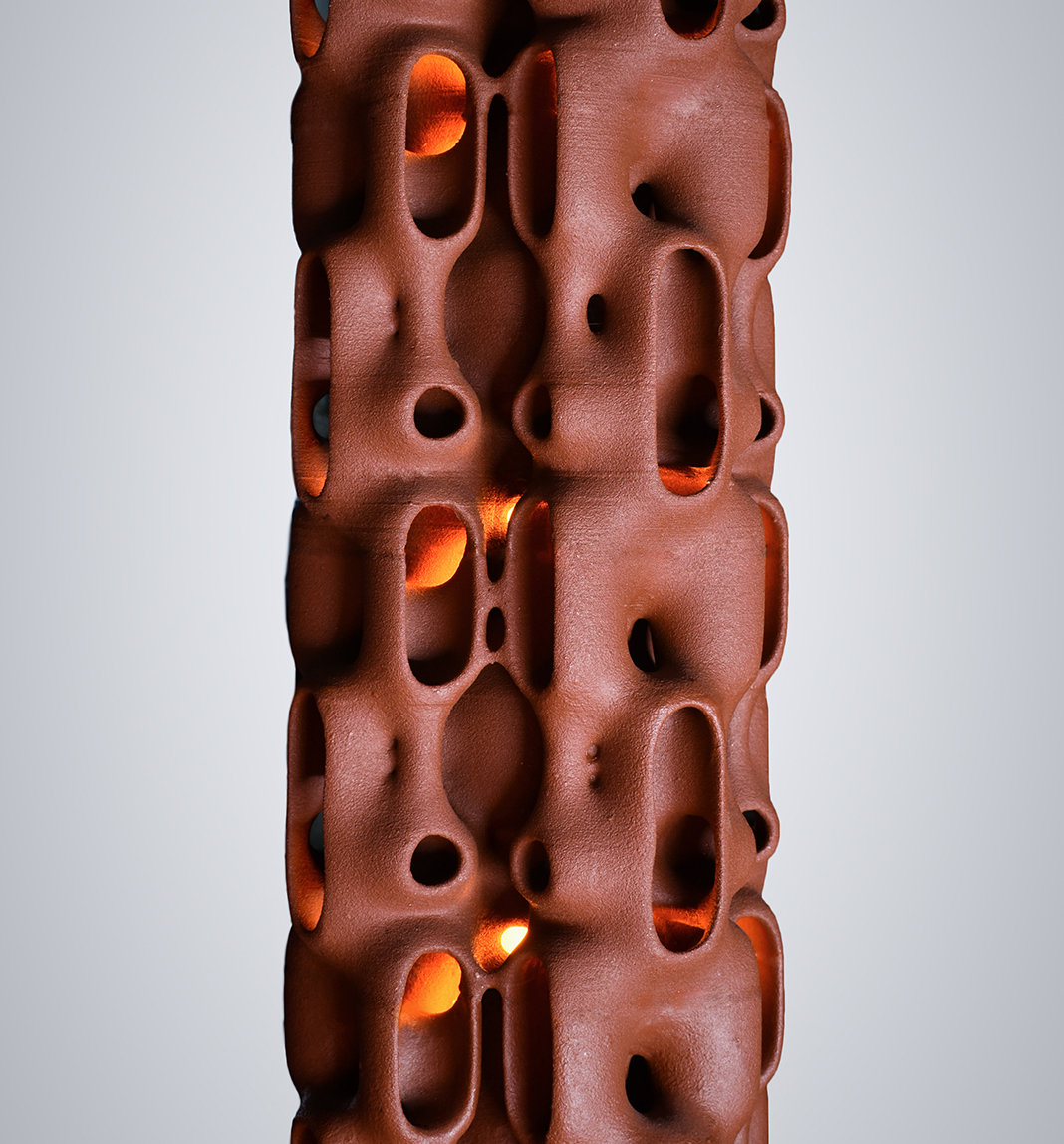 Urban Stem aims to demonstrate how lighting fixtures in public spaces can not only provide illumination but also support flora and fauna. The light is a speculative proposal for a new way to integrate artificial habitats into urban infrastructure.
'I wanted to create structures that looked as if they'd almost grown straight out of the ground,' says Bryant. 'The gentle curves are intended both on an aesthetic level, but also as a way to nurture and support surrounding growth. Moving towards greener cities that support and cultivate biodiversity is crucial to a sustainable future. Mitigating the depletion of wildlife is often focused on preserving large intact natural habitats, but the preservation of ecosystems should also be a priority in the urban environment.'
---