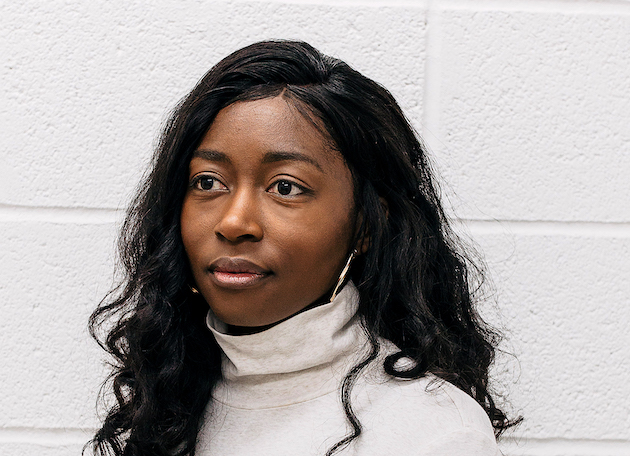 A portrait of Ella Bulley, one of the four new designers in residence. Image courtesy of the Design Museum
London's Design Museum has chosen four innovative designers for the 2018 installment of its 'Designers in Residence' programme – they meet Icon editor
Priya Khanchandani
The Design Museum has unveiled projects from its four new designers in residence who will tackle this year's theme of 'dwelling', touching on anything from smart homes to wildlife in post-war housing estates.
Work by Hester Buck, Ella Bulley, Eva Jäger and Dr Helga Schmidt will be on display at the museum in Kensington until 24 March 2019.
Earlier this year, Icon editor Priya Khanchandani sat down with the four designers to hear more. In this interview, which feature's in a book published by the Design Museum to accompany the residency exhibition, the designers discuss neural networks, family, and the reality of time.
Hester Buck is a member of design practice Public Works whose display at the museum uses living plants to celebrate the existence of green spaces within post-war social housing estates. Ella Bulley is a material futures designer who creates an installation of artisanal objects that examine the relationship between expats and repats from the Ghanaian community. Guilemette Legrand and Eva Jäger, who together form Studio Legrand Jäger, design an interactive experience and spectacular performance piece that interrogates the use of the voice in smart home devices. Finally, Dr Helga Schmid, a designer researcher and experience and communications designer uses immersive performance to deconstruct the concept of time and re-programme our body clocks.
Icon: Would you mind introducing yourselves and saying a bit about what you do?
Helga Schmid: I'm a design researcher with a background in visual communication and design interaction. I also teach at the Royal College of Art. For this residency, I continue my PHD work on uchronia, looking into alternative time systems. I'm taking a practice-based approach, and collaborating with chrono-biologists and chrono-sociologists. And for the residency, under the theme of dwelling, I am doing a project on circadian space, which looks at our daily body rhythms and how can you translate this into a spatial experience.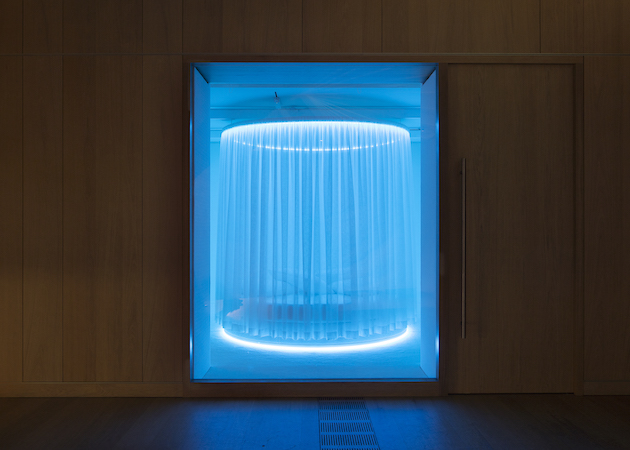 Helga Schmit's work tackles 'uchronic' time. Image © Francisco Ibáñez Hantke @estudioibanez
Hester Buck: I trained as an architect and I do a lot of work with communities. I'm part of the Design Collective Public Works. We're all trained as architects and we work in contested spaces, or spaces within the city where social communities are coming together around an idea or an issue. We collaborate with interdisciplinary collaborators, from performance artists, to graphic designers. Sometimes what we might produce is very much closer to art, but at other points it can be a building, or event, but with the same community.
My residency has involved working with residents on a social housing estate by Victoria Park, called Ramnall West. I've been setting up a community garden on the estate. What I've been interested in is the value of the green spaces of post-war social housing estates. Being within the museum has been an opportunity to step back from my project and research how I operate, but also to call out to gardens from across London to contribute photos and anecdotes about these spaces.
Ella Bulley: I'm an interior designer and I previously studied MA Textile Futures, now known as Material Futures, at Central Saint Martins. I often use materials as a form of narrative or concept in order to direct my work, based on research and experimentation. For this project, in response to 'dwelling', I decided to look more at the objects rather than the dwelling space itself by focusing on Ghanaian expats living in the UK and Europe, and repats.
The basis of this project are returning expats, Ghanaian expats to Ghana, and their children, who may have been born outside of Ghana, but are now returning, and it is about how they travel with certain objects and adapt to their new experiences, habitat and environment. The objects that I'm creating will explore this more in depth, and then hopefully also highlight different encounters people have.
Eva Jäger: I work with another woman called Guilemette and together we have a practice called Legrande Jäger, which is both of our last names. She studied textile design and I studied sculpture, and we did our masters together at Design Academy Eindhoven in Contextual Design. We actually graduated with a joint project looking at how technology is changing culture today.
During this residency, we're interested less in the physical architecture of the home, and more in the invisible infrastructures, power grids, and biometric datas that are being collected in our home. We're doing this specifically through devices like Google Home and Amazon Echo, looking at how those IOT devices are changing our relationship to the home. During this project we've been working with different stakeholders, [including] activist groups like Big Brother Watch, technologists like Mercedes Benz, policy experts, etc., and trying to map out how technology is changing the way that we dwell and our idea of privacy.
For the exhibition, we're going to focus on two biometric data points, one being the face as a way to extract Information about your emotional state, and the voice as a way of locating your identity and emotions.
Film Still of 'The Okay System' (2018) by Legrand Jäger. Image courtesy Design Museum/Legrand Jäger
Icon: Even if they're not working with objects in a literal sense, designers tend to have a fascination for the object or the material world. Could you say a bit about why that is your way into analysing and reflecting on the world, as opposed to say, policy, or some other way of affecting change? What is it about the object or the material word that captivates you?
Ella: As a designer, I like to experiment and challenge how we perceive materials, rather than just seeing them as a substance. For example, for the dwelling project, I'm using materials that I'm not creating. They're all existing materials, so glass, jesmonite, ceramics, and they all have a form of symbolism in the project. So glass feeds back to traditional glass making techniques in Ghana, which were used for bead making; and I'm using jesmonite to signify the re-development of an area of a city.
I like to show the ability of materials and use techniques from across each industry to produce something. Previously I've used textile techniques in ceramic design, to create different surfaces, for instance.
Icon: So you like to use materials in a way we wouldn't expect?
Ella: Yes. It's also to change our perceptions, or the audience's perceptions, of what materials are, especially in industry, where you get so used to assuming, 'this material can only do one thing.'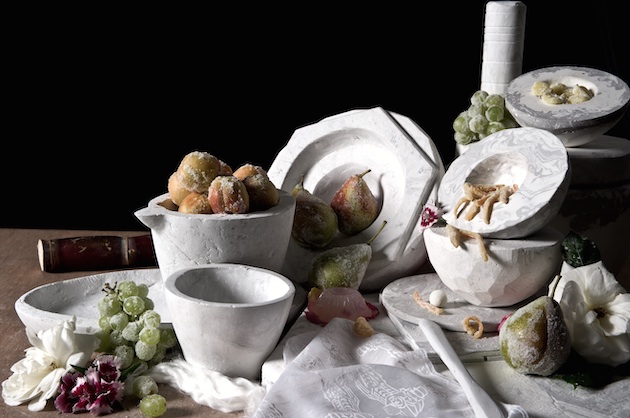 'Sugar Artefacts' by Ella Bulley. Image courtesy Design Museum
Eva: A material can be a very important signifier of something, for instance the grey colour of the first Macintosh computer, that hard plastic feeling with the texture, can bring an entire generation back to a moment in time. What's interesting to us about materials is they're not neutral. For instance, we worked on this project with Google called Software, and it was all about bringing the smart home device into the home through colour and materiality, adding soft felt layers to it, making it look more human. We would argue that's a manipulative way to use design, or it's adding a superficial layer that's really loaded.
Icon: Interesting. Why do you think it's superficial?
Eva: It's superficial in the sense that it's [creating] a physical comfort instead of a systemic comfort that would actually allow you to exist with those devices in a way that they don't turn against you, or use your work in the home as a way to produce money.
Icon: How is your work trying to challenge people's perceptions of technology?
Eva: All we're trying to do with this project is break apart the opacity of these big technology brands. And also ideas of infrastructural technology; something like a neural network, an algorithm, or an AI system that seems very impenetrable. It's not something, in fact, we have to completely understand, we just have to understand who's wielding the power in order to be able to protect our own autonomy.
Icon: The social interactions of design is one theme that runs through all of your work; would you agree? Why does this matter to you and how did you explore this? Partly it is to be expected, because you're exploring the idea of 'dwelling'.
Hester: I'm quite interested in how an object creates a social network around it through design actions that aren't always about a permanent object, like digging a hole for a tree. If you stage that in a certain way, you can gather a group around that tree who will then care for it. So, the design becomes about the object, but also about who else cares for the object, and how you create a social network around that.
For their exhibition, I'm hoping to have a series of plants around the gallery, but then design a public program around using the Design Museum to then care for those plants. The design, in a sense, is the survival of the plant, and the object, the plant itself, becomes that visual representation of that.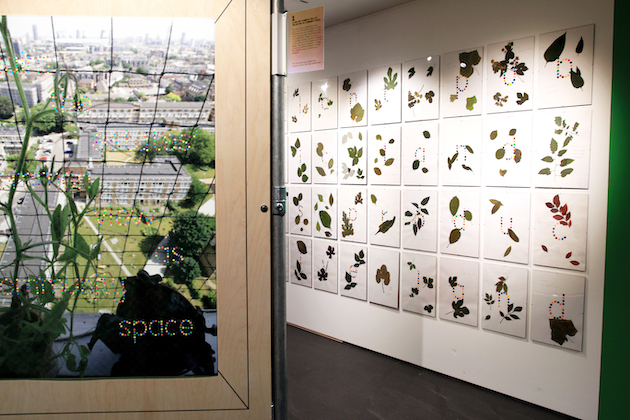 Installation shot of work by Hester Buck. Image courtesy Design Museum
Icon: Will your exhibition have a component beyond the museum within the social housing context where you have been working?
Hester: Yes. During this year, I've been having events in the estate and constantly working with this group called 'Edible Bow'.
Icon: Do you think the garden within a private space has a particular social function as opposed to a public park?
Hester: Yes. And what's interesting with the estate is, it is neither private nor public. Everyone who lives on the estate can see the garden, but they also have a right to the space – they have a claim on it – but it's a negotiated claim across a large group. In that sense, I think it exists between being public space that's looked after by a local authority, and a private space that's looked after by the individual.
Icon: Helga, in a world, in a city obsessed with busy-ness and efficiency, what role does a discourse on time have?
Helga: I think going back to what you said about the object, for me there was always this constant fight against the clock, so my work was never interested in it, because it represents the societal system, and it's just one idea. And it got us on this fast track, so the one linearity of acceleration processes. My idea is really to embed this [in a] kind of 'uchronian' thinking, as well as utopian thinking.
Portrait of Helga Schmid. Courtesy Design Museum
Icon: What does uchronian thinking mean?
Helga: It means you open up the temporality. So you allow different kinds of ideas on how we understand time. One example is based on your body and that's why I worked with chronobiologists; it's the idea of individualization. They deal with a much freer working model: not the typical nine-to-five, but [one in which] you work towards a deadline when you have to finish.
Icon: How can design help liberate us from the conventional constraints of time?
Helga: I try to move people away from the thinking in hours, minutes and seconds, and [encourage them] to think about other categories. This can be what you understand as a rhythm; it's body rhythms, natural rhythms, but it can be also the flow of a conversation. What I do as a designer is to design situations for people to experience time. If you woke up on a Wednesday at 11, and you didn't feel guilty, then I would know I have achieved something.
Icon: Could you tell me how you will you turn your conceptual thinking into something that is manifested in a space, that visitors can comprehend in an exhibition? Are you working together to form a narrative between the works?
Hester: In terms of what I'm thinking of presenting, there's going to be a trail of plants that run through the museum that then leads to the space. I've developed five manifesto points, or five ideas which sum up how you see the city, and how you interact with these green spaces, but also how they operate, so they can become a toolkit to set up other community gardens in London.
I shared each manifesto point with community gardens across London and asked for them to input information. The first one is about existing nature within the city, so it's going to be a sound file with animals from different estates in community gardens across London. That one's about taking time to appreciate what already exists within architecture but also within the spaces between the architecture.
Icon: Ella and Hester, you have both been working directly with communities in realising your work. How have you handled this process Ella?
Ella: I've been asking them to answer a short questionnaire which, hopefully, with lead to an audio and then a video interview.
Icon: What sorts of questions are you asking?
Ella: For the expats living in the UK, I've asked them which objects they brought back on their first trip to Ghana, other than clothes, and why. And then which objects they take back home when they're visiting relatives. And the last question is about something intangible that reminds them of home, like a smell or a sound. I have started looking into how I can use scent so that [the gallery] is not just a 'museum-type' room. Certain smells that I hadn't considered reminded me of certain elements of Ghana, being Ghanaian myself. The smell of clove oil reminded me of sugarcane fields after it's just rained.
Icon: How has doing this project made you reflect on your own heritage?
Ella: Because the project started when I had to come back to London after I was in Ghana, I was looking for a souvenir. I wanted one that would be complementary to my home in London but still have my traditions and my culture infused in it. I started with a tile. I'd just got back and I started designing this tile that was a take on the traditional wooden African mask. And then slowly but surely, I started introducing my own shapes with their own meanings and their own symbols.
Icon: Where do you want to take your work next? We could start with Eva's work because technology is probably the thing that's going to take us furthest into the future. With the advent of AI and drones and issues around privacy and the consequences of technology invading our lives, where do you hope that your work will take us?
Eva: I think it's important that artists, critics and designers – people who are not embedded in the technology world – participate in a critique of it and also use it for something that it wasn't intended to be used for, as a way of pushing its boundaries and understanding its infallibility.
Helga: I am also really interested in technologies because they speed up our lives. It's this two-way system: not only is technology making our life faster, but it is [making us] look at our phones, probably, every 80 minutes or even more. I think we should introduce time as a subject in school, almost like maths.
Icon: As a designer in residence, you're not subjected to the market and therefore in a perhaps more protected environment than you might be in the outside world. Do you want to extrapolate your ideas into the market or do you envisage having a more research-led practice?
Hester: My work would exist in research but also in education. Similarly to Helga, I think that's something that I've been developing through the residency. As part of my public program, I'm working with the education team. And the call-out to the estates across London is also about the educational role of the designer to collate information about the city and learn directly from the city, then repackage it and give it back out again.
Eva: For us it's very important that our work is what we call non-instrumentalised. We're not interested in making something with Google or selling something in mass production. The model that we currently have set up is that we each have jobs where we make money, and this practice is really about discursive research that has no strings attached.
Ella: I personally wouldn't make stuff for mass production. I get bored quite easily and I quite like the idea of just making a few items that people would value rather than having a thousand of something in circulation that it'll just lose its value over time. But I'd quite like my practice to focus on research. For example, looking at Ghanaian community that is somewhat either overlooked by the mass media falls under trend research; but I still want to be a maker, that's still [at] the heart of everything I do.
Helga: I think what's nice is we all have very different aesthetics as well. You have the conversations but along very different lines but respect everyone for their practice and their way of thinking; approaching something also.
Hester: It's amazing having left university to have time to really reflect back on your practice. That's such a luxury once you've graduated and are working.
---