Dubai Design Week is the biggest the most commercial of the Middle Eastern design events, and the two women running the main events mean business, writes
Rita Lobo
As far as design weeks go, Dubai is pretty unique. Firstly, it's unashamedly commercial; its main goal is to connect regional buyers with local talent. Secondly, it's spearheaded by a largely female team. Rue Kothari and Rawan Kashkoush, are Fair Director of Downtown Design and Head of Programming of Dubai Design Week respectively and have been the driving forces pushing the event forward.
Seizing on the emirate's entrepreneurial spirit, Kothari and Kashkoush are leading the way in a field that is still woefully male dominated, in the Middle East and beyond. 'It's a very entrepreneurial environment,' says Kothari, 'Women in Dubai are really good at supporting each other in business, and everyone's kind of pushing each other up the ladder.'
Rawan Kashkoush is Head of Programming Dubai Design Week
'There's a very exciting celebration of women taking over roles that traditionally men shy away from in the Middle East especially,' says Kashkoush, who works alongside William Knight the Dubai Design Week director. 'I think what it is is not so much gender specificity as it is filling a void that may be a little bit of a cultural restriction has left open for us. I don't know if that's a good thing or a bad thing, but the more and more we devise creative roles as high earning professions the more it becomes a competition between the men and the women. One of the issues that we still have is that men are mostly or predominantly the architects, and that's something that I'd like to change.'
The fourth edition of Dubai Design Week takes place 12-17 November 2018, and encompasses events like Kothari's Downtown Design and its showcase dedicated to limited-edition design, Downtown Editions, as well as Global Grad Show that brings together works from 100 of the most innovative universities across the world; and Abwab, the curated and interactive project containing original design from the Middle East, North Africa and South Asia.
Dubai Design Week is the biggest in a growing number of Middle East events, including Sharjah, Beirut, and Casablanca. 'We work very closely with the neighboring design weeks,' says Kashkoush. 'But what sets Dubai apart is there is no denying the international recognition and the international excitement with the high-speed development that the city is going through. With the hyper-development of Dubai, there's a global eye on us, and that means that we get to act as the neighborhood design week more than just the Dubai Design Week. We harness the talent from our neighboring states and our neighboring cities, and we celebrate a sense of unity in design.'
'But what we aim to do is to bring a larger audience because I think Dubai is culturally and geographically a lot more accessible,' adds Kothari. 'People already know how to do business in Dubai. We want to be able to offer designers to around the region at platform too much more easily access the market and the commercial opportunities that come with that.'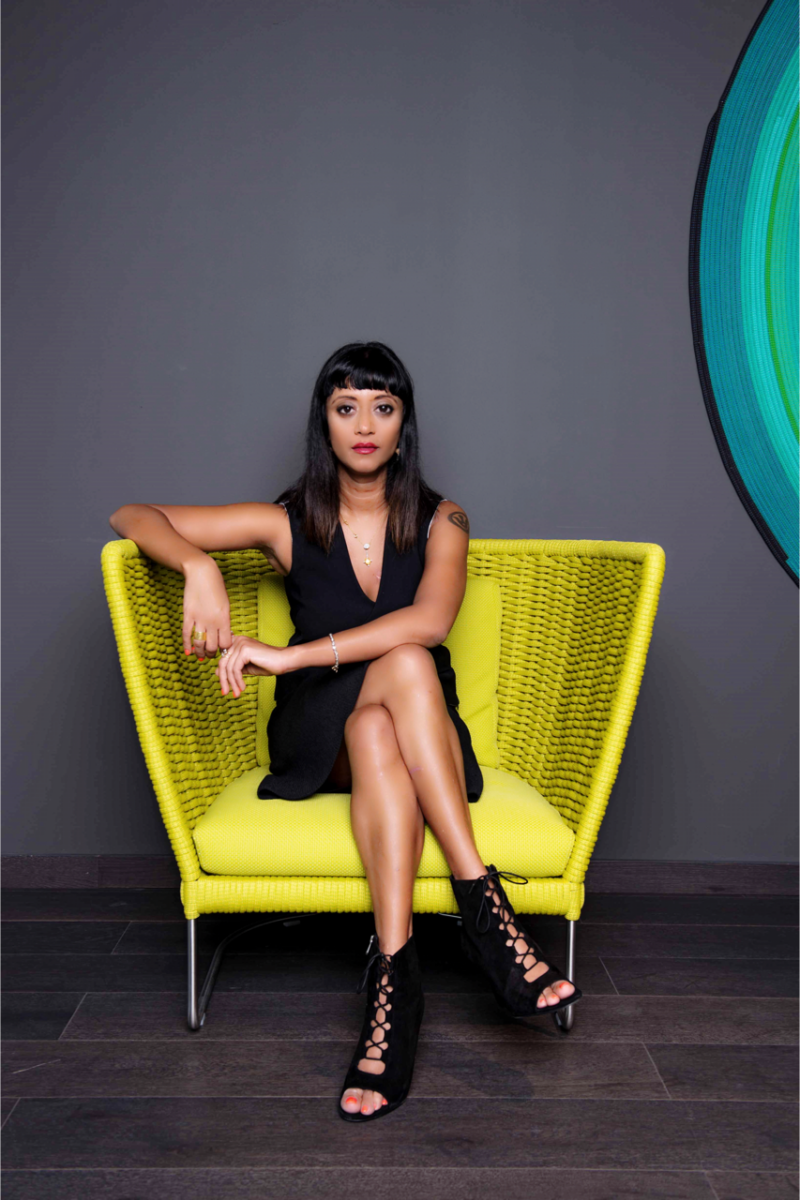 Rue Kothari heads up Downtown Design
Both women came to the Dubai design industry in roundabout ways. Londoner Kothari first moved to Dubai in 2002 looking for a change of scene and ended up staying eventually becoming the inaugural editor of Harper's Bazaar Interior Arabia. She took over the reins of Downtown Design four years ago and has been using her nous to make the event a must-do stop on the international design calendar. 'the original director had done an amazing job of establishing the DNA of the brand and ensuring that what was presented was of high quality,' she says. 'But at that stage, there wasn't enough focus on what the commercial return would be for people who were participating. When I came on board, we doubled the size of the fair that year. It was an interesting challenge for me because I've never done that job in my life. It was scary, but we filled the fair with good brands and this is the most important thing for us is the curation element that it is. I have to ask: 'Not only is it high quality but is it relevant to the market?''
Kashkoush grew up in Jordan and 'a few other Arab places, so I'm really a reflection of this kind of far-reaching Middle Eastern designer', she says. 'The reason I joined Dubai Design Week and what I do in Dubai Design Week is devise content that helps build careers for designers from the Middle East. It's basically about highlighting, promoting regional design talent, and finding ways to commission that talent to create really sensational projects that stay on the minds and in the hearts of our visitors.'
That is the sentiment that unites Kothari and Kashkoush and defines Dubai Design Week – it does not want to compete with bigger European or North American events, but wants to cater to regional buyers and incentivise the local industry. 'We bring buyers from all over the region to come and engage with brands, with designers, network, do business, and for us to become a kind of conduit for that as opposed to just a space with stuff in it,' explains Kothari. 'How do we facilitate the business side of things, it isn't just about showing pretty things? And also to subvert the weird notions that people have coming from the outside that Dubai was all about superlative luxury because actually, it's so not there.'
Dubai Design Week is certainly a work in progress, but it's growing fast. In 2017, over 60,000 visitors flocked to the Emirate for the event in November, a 50% increase from the year before. The success is largely down Kothari and Kashkoush who spend a lot of their time talking up the event, and building invaluable partnerships with international brands. This year Kothari has attracted big global names like Cappellini, Moroso, Artemide, and Preciosa – who are bringing their Breathe of Light interactive installation – and she is keen to make introductions between these global players and local talent. Part of the 'It's so key for the growth of the industry and being able to support regional designers it's something that's very important to me personally and I think to the industry because as much as it's great that we're doing all these international names, if you don't feed and nurture our own industry, we won't have longterm growth and exports, which is what we need.'
---