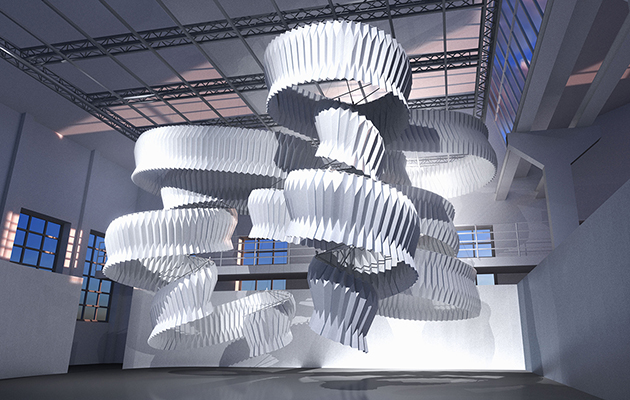 Fuorisalone installations are a big part of the hype surrounding Milan Design Week.
Rita Lobo

picked out some of the genuinely exciting exhibitions from 2018.

Fuorisalone installations have long been some of the most anticipated aspects of Milan Design Week. At once an explorations of the intersection of design, art and culture, and a chance for brands to splash their cash with abandon in true Milanese style. It seems like every year the bar is raised for extravagant installations, hedonistic parties and the occasional cultural exploit. Though flashy spots like The Diner by David Rockwell in Ventura Centrale attracted a lot of buzz, it was the more thoughtful and meaningful installations that really made waves.

A rare measured showing came from Sony, which set up shop at the Zona Tortona outpost of Italian menswear couturier Ermenegildo Zegna with their Hidden Senses show. The enormous retail area was emptied of its usual sharp suits and patterned shirts, and partitioned by billowing curtains; in each resulting space Sony presented a series of 'sensorial experiences' exploring how smart technology will change our homes in the near future. None of the pieces exhibited are prototypes or for sale, instead they are a technological show of prowess by Sony, employed in completely mundane action: an empty jug of water that reacted to a holding hand by feeling full, sloshing around, and making the same noises as real full jug of water would; spotlights that follow the reader's eyes and hands as they turn pages in a book on a table; a steel room divider that emits sounds of the forest when manipulated. The installation challenged the constraints and preconceptions between technology and human behaviour, and engaged visitors in genuine and fruitful interaction in a deeply contextual space.
Sony's Hidden Senses installation in Zona Tortona, Milan.
With so many brands taking over gleaming palazzos, exquisitely renovated to within an inch of rococo, it was refreshing to see Caesarstone partner up with Snarkitecture to take over a crumbling building, complete with dust and cracked walls. Altered States saw the main ballroom of an old palazzo within a stone's throw of the Duomo – now slated for renovation at the hands of Piero Lissoni to become the Milan Edition hotel – transformed into an ephemeral 'kitchen' exploring the changing shapes of water. The cavernous space was filled with hundreds of different volumes of wire mesh and Caesarstone engineered-quartz slabs, arranged around a central rustic wash-basin filled with water, ice, and steam.
Altered States installation, by Snarkitecture, for Caesarstone. Photo: David Zanardi
Hermès Maison has long since used Milan design week an opportunity to flex its architectural muscles. This year it chosen destination was La Permanente museum in which the luxury french homewares brand erected a labyrinth of structures covered in 150,000 Zellige tiles in bright colours. Each of the seven mini-pavilions was a different colour and scale, and displayed a different line inside, but it was the exterior view of the installation as a whole that proved most dramatic.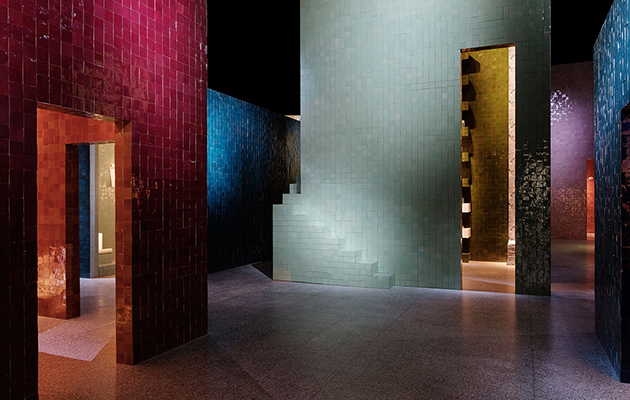 Hermès Maison's labyrinth of tiles for Milan Design Week
Sustainability was the stated theme of this years' Salone del Mobile, but it didn't filter through into Fuorisalone with any noticeable vigour. The exception, of course, was Kengo Kuma's pollution absorbing origami cloud installation, created with Dassault Systèmes. Breath/ng, was made from large suspended origami coils of a special pollution-neutralising fabric. Developed by Anemotech, it contains a nano-molecule core that separates and absorbs toxic molecules. Kuma intricately folded 175 metres of the material to create an awesome cumulonimbus of white and silver. The installation was built indoors, so it's unclear how much toxic smog it actually filtered, but it was visually striking nonetheless.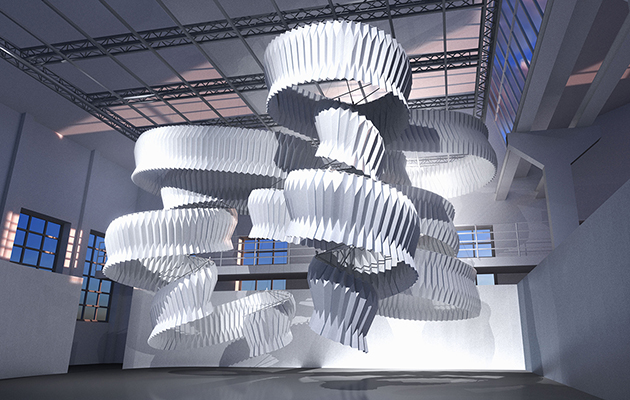 Dassault System partnered with Kengo Kuma in Breath/ng
---