Lucy Kuerrin's sofa for Offect will make its London debut at CDW2018
Clerkenwell Design Week is just around the corner. Here are some of the highlights of the three-day festival, writes
Bryony Hancock

.

Designers, architects and creative professionals will once again descend on London EC1 for Clerkenwell Design Week. Stretching from Spa Fields in the north to Farringdon in the south, showrooms, street installations and pop-up exhibitions will celebrate design from 22-24 May.

Showrooms

Furniture brand Deadgood, famed for its 'products with personality', will unveil a new showroom at 46 Old Street. 'Sitting alongside classic designs from our catalogue will be a variety of new product launches, developed in house and in collaboration with leading British designers,' say co- founders Dan Ziglam and Elliot Brook.

Alongside CDW's seven temporary exhibitions, more than 90 local showrooms will host special events. Head to Brewhouse Yard to experience Camira Fabric's sheep farm and learn how they blend their yarn. At Flokk's Central Street showroom, meanwhile, Swedish design company Offecct will launch Lucy (above), a new platform sofa by Lucy Kurrein. And in partnership with the Design Museum, Arper's Blogger's Lounge will return: a digital working space with free wifi.

Over on Great Sutton Street, Modus will transform its London showroom into a pop-up workshop to sell limited edition stools, courtesy of Swedish design partnership Claesson Koivisto Rune. Proceeds will be donated to CDW's charity partner, Maggie's.

Clerkenwell Presents

Specially commissioned one- off installations will adorn the area's most prominent locations. This year the historic St John's Gate will be transformed by Kinetech Design: the foldable structure specialists will unveil an installation inspired by Elizabethan ruffs, on a site where Shakespeare would have once brought his plays to be approved by the Lord Chamberlain. EC1's streets will be scattered with Kingston University graduate Lou Corio Randall's Pipe Line series – a collection of street furniture, all sprayed in Clerkenwell's signature pink.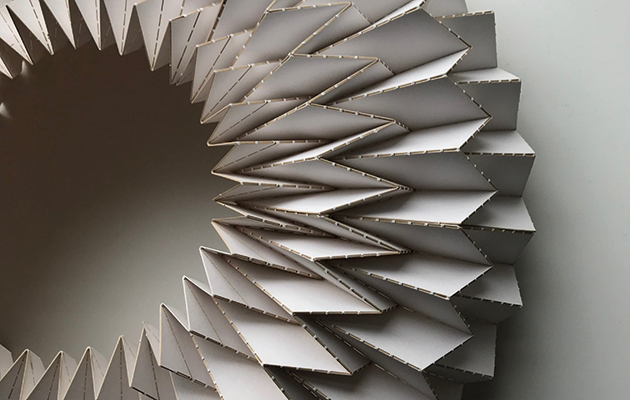 Kinetech Design's foldable structures will take over St John's Gate
Meanwhile, two initiatives from Clerkenwell's creative director, Max Fraser, will highlight the importance of sustainability. A screen press outside Farringdon station will invite people to reprint old tote bags, while several wayfinding sculptures will extend the lifetime of the problematic plastic, polystyrene. 'Polystyrene is considered one of the "bad" materials of our time as it can't be recycled through regular municipal schemes,' says Fraser. 'However, if it's sent back to the manufacturer, it is 100% recyclable.'
Light And Elements
This year sees two new temporary exhibitions join the scene. Alongside Platform, British Collection, Design Fields, Project and Detail, visitors can enjoy the inaugural editions of Light and Elements. Occupying the vaults of celebrated nightclub Fabric, Light will feature Brooklyn-based Rich Brilliant Willing, the mid-century stylings of Bert Frank, and Marc Wood Studio, which will present its debut collection.
Your Tote Counts will invite visitors to reprint old tote bags
In a pavilion on St John's Square, Elements will bring together ironmongery, hardware and architectural accessories from the likes of Forbes and Lomax and House of Eroju. Highlights from the British Collection include Benchmark (whose Gleda chair is pictured below), which will reveal a collaboration with Foster + Partners, and kitchen company deVOL, which will present cabinets developed by Sebastian Cox.
Fringe
In addition to furniture showrooms, Clerkenwell is home to other creative studios, who will their doors for fringe activities. Oriole (below), an award- winning cocktail bar located underneath Smithfield Market, will present a panel discussion about 'Designing the World's Best Bars'. Meanwhile McCaul Goldsmiths will demonstrate wax carving and diamond setting techniques in its Exmouth Market store.
In Brewhouse Yard, Habit Action will hold a seminar on 23 May to discuss the science of creating workspaces using 'left-brained research and right-brained creativity'.
---